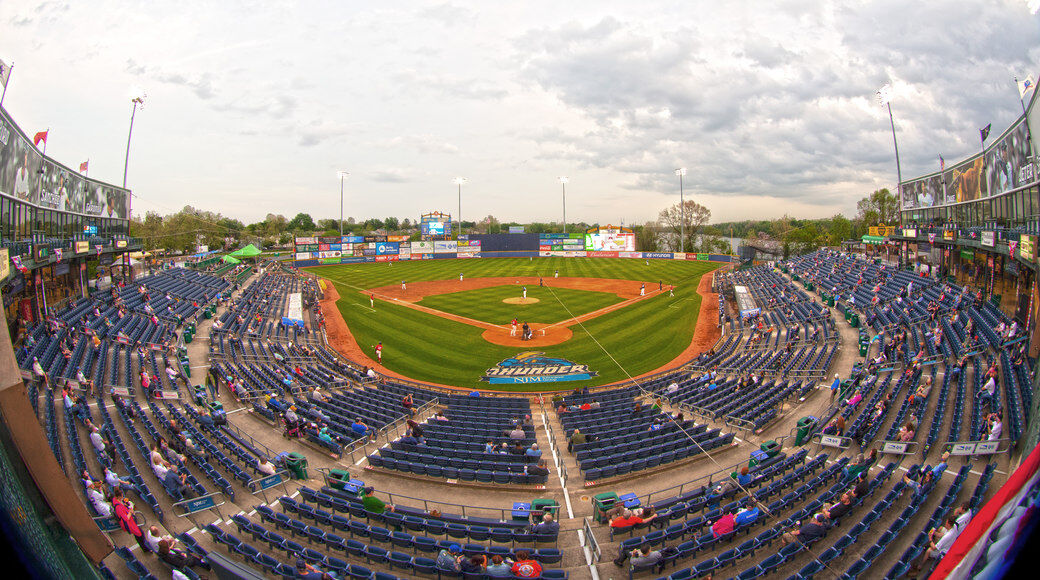 TRENTON, N.J. – If you grew up in Pilot Field and you were one of the millions who went through the turnstiles when it seemed like the period from 1988-1993 would last forever, you'll remember the ditty. 
You heard the singing, the horns and the drums over and over and over again. Before the game. When there was a run. After the game ended. On TV and radio. Buster Bison used to run the dugout roof all the time when it cranked up.
"Hear that Bison thunder. Feel that Bison beat. Buffalo. Baseball. Bisons. Stampede. Stampede. Stampeeeede!"
Less than 90 minutes before the Bisons finally returned to the field at Trenton Thunder Ballpark Tuesday night, the team tweeted that "it seemed appropriate to break out a classic." And maybe the good folks in New Jersey should add the song to their repertoire this summer.
After all, it was Opening Night for the Bisons and Opening Night for the Trenton Thunder. The Herd is back. And so are the Thunder.
Toronto's No. 1 prospect allowed one run and struck out eight in 3 2/3 strong innings to give the Herd a solid report to send to Toronto brass from its season opener Tuesday against the Worcester Red Sox.
The Bisons/Thunder were on top of their game in all phases in their season opener against the Worcester Red Sox, scoring two runs in the first and loping home with a 6-1 victory before a socially-distanced sellout crowd of 1,526.
It was a solid all-around effort in Casey Candaele's debut as Buffalo manager. Starter Nate Pearson struck out eight in 3 2/3 innings, right fielder Josh Palacios had a pair of RBI singles and center fielder Forrest Wall cracked at two-run triple. The defense up the middle was solid from second baseman Breyvic Valera and shortstop Kevin Smith and so was the pitching, as five Buffalo pitchers combined on a six-hitter with 12 strikeouts.
Candaele was thrilled with the performance, as he should be. But you knew a one-liner was coming when he started his postgame video call. I first met him 26 years ago when he was a veteran player in Buffalo, so I was ready. And he nailed me when I asked about the showing.
"It's just great managing actually," Candaele deadpanned with a laugh. "Just kidding. Honestly, the players were so excited to get out in the field and play a game in competition. And they were locked in and focused. They just went about their business. They've been wanting to do this for so long. And it was kind of so much excitement to get it going. The guys were locked in and focused. It's not going to be as perfect as it was today, every day. But it was a good start."
It was great to be back in the ballpark – any ballpark – as the Herd had not played a game in 610 days, since its 5-3 win at Scranton/Wilkes-Barre on Sept. 2, 2019. Wall had a home run that afternoon.
Everyone agrees this is one strange situation. But they also agree that the best part is they'll be playing baseball again Tuesday night.
Covid-19 protocols prevent a lot of pomp and circumstance with no mascots, batdogs or fans taking part in promotions allowed on the field. But Thunder mascot Boomer still played things up with a large tuxedo. And there were postgame fireworks set to Billy Joel tunes (since we were in Jersey, it was odd there was no Springsteen until a "Born in the USA" finale).
Absent the minor-league carnival, it's still baseball – albeit with the team 392 miles from home while Sahlen Field undergoes renovation and we wait for the imminent word on when the Blue Jays will be starting play in June. The Bisons are knee-deep in preparation to host the Blue Jays next month and have essentially turned over operation of their franchise to the Thunder, who have an excellent reputation in the game.
But there was still some sadness to it all. Bisons General Manager Anthony Sprague got his new job a little more than 14 months ago, a few days before the spring training shutdown essentially was the harbinger that there would be no minor-league season. He was like the rest of the staff Tuesday: trying to watch Opening Day on the Internet for a franchise they put their heart and soul into. But there were all sorts of technical issues that kept the feed from appearing for several innings.
"It's not certainly what I envisioned a year and a half ago, or however long it's been that this is the way it was going to go down for my first Opening Day," Sprague said by phone a few hours prior to the first pitch. "It's kind of disappointing that I don't get to see the first game. And I understand why but it's not lost on me. They're not here and we're certainly going to miss that."
Sprague said there has been regular communication with Thunder GM Jeff Hurley, mainly about MLB's Covid-19 protocols for the minors that, of course, didn't exist the last time a season was ongoing in September, 2019. The biggest liaison is longtime Buffalo clubhouse manager Scott Lesher, a Philadelphia-area native who has agreed to spend the entire summer in Trenton if need be to give some of the returning players a familiar face.
The 6-foot-6 Pearson is hoping to show he's healthy so he can be back in the big leagues in short order
"We are leaning on him heavily," Sprague said. "This is a huge, huge undertaking for him and we're certainly in debt to him being our eyes and ears there. It's still baseball and he's doing a lot of stuff he normally does, just in a different facility. And everything is new. New team licenses, new ballpark, new manager, mostly new players, new staff. It's a massive undertaking that honestly gets lost in the shuffle. Everyone's got their own challenge this year facing them, but I don't think anyone's got a bigger, bigger challenge than 'Lesh' does.
Keep this in mind too: If the Blue Jays get the go-ahead to return to Canada at some point this summer, the Bisons' plan is to return to Buffalo. But that won't be a couple-day flipping of the switch. Lots of things will need to be dismantled at Sahlen Field to rebrand the ballpark for the Herd.
"We're still trying to get in all of that information, and put it all together," Sprague said. "We want to have a really good idea and a really good guess and formulate a plan of action in the event that happens."
That's how the Bisons roll these days. There's today, there's next month, there's later in the year. It's all very complicated. Sort of like the press box announcements often made Tuesday referring to the "Buffalo/Trenton Bisons/Thunder." Or the Bisons wearing blue and black Trenton uniforms with their red and blue Buffalo batting helmets.
But a win is a win. Especially on Opening Day. When the night was over, the Bisons tweeted again and it said simply: "We still haven't lost in over 600 days!"