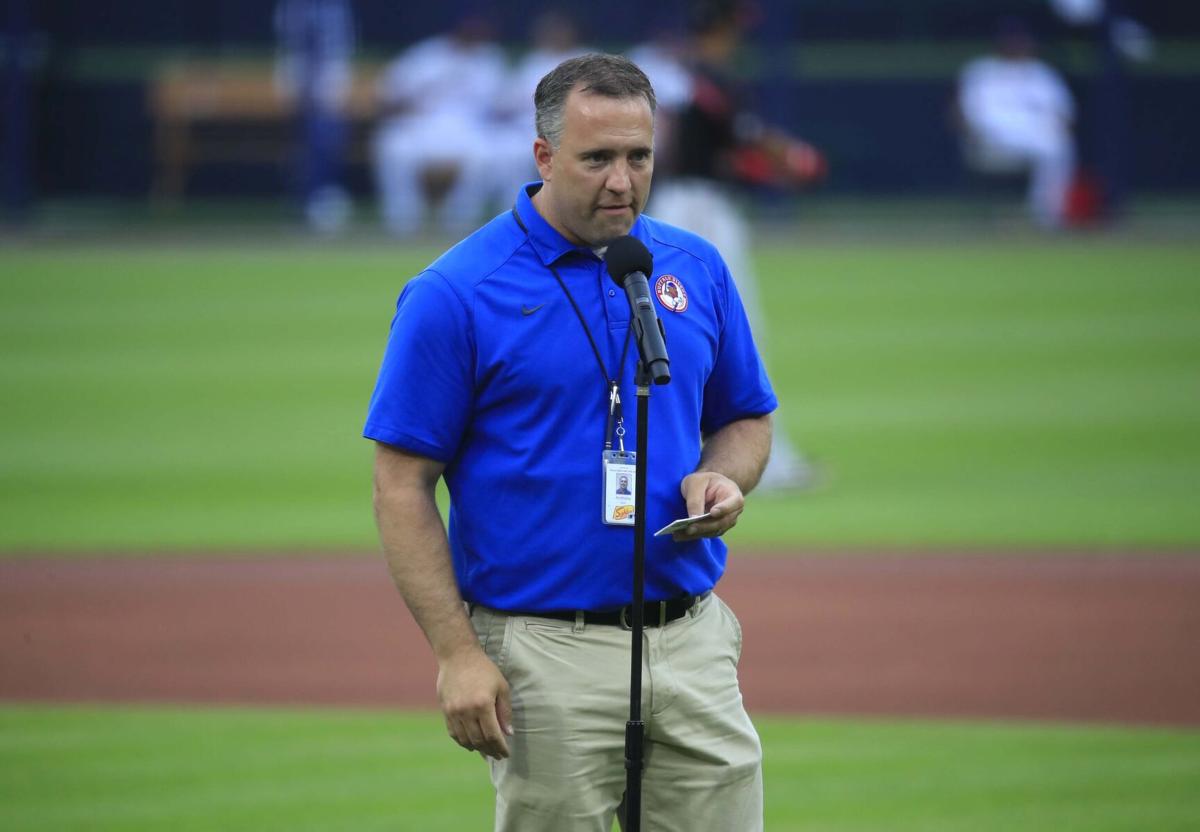 Two years of craziness in Sahlen Field finally ends Sunday.
The Bisons and Lehigh Valley IronPigs close Buffalo's home schedule with a 6:05 p.m. game in the final home contest of the season. The Herd is 3-1 in the Triple-A Final Stretch tournament after Saturday's 4-3 win over the IronPigs, their third straight after dropping Wednesday's opener.
Once the season ends Oct. 3 in Syracuse, the Bisons will retool and start to plan for 2022. The hope is that they will finally have some normalcy in the minor leagues.
The Bisons' top two plays of the year downtown both came in Game 3 of the Triple-A Final Stretch.
They'll always remember 2021 as the year the Toronto Blue Jays returned and pushed the Herd to Trenton, N.J. And as the year Buffalo persevered under first-year manager and former player Casey Candaele to set a franchise record with a 12-game winning streak and win its first division title since 2005.
They'll also remember it as a year they didn't get to chase a playoff championship. The everyone-in-the-pool approach of the Final Stretch isn't the way anyone decides a title in normal times, and the hope is playoffs return in 2022.
Colon, 32, has had a solid year for the Herd, entering the weekend at .266-15-50.
"It's the most Covid thing that could that could happen I feel like," general manager Anthony Sprague said. "It's just one final punch in the side. You have a great team, you have a great season and you can't decide it on the field. It's a perfect ending – what I hope at least to be an ending – to just a bonkers two years of complete craziness."
Sprague said he won't forget this club's attitude through all the uncertainty of the first three months, when they didn't know whether the Blue Jays were leaving Sahlen Field and whether the Herd would be coming back to Buffalo.
"It's easy to forget that they were in Trenton, you forget all that they had to do to get here," Sprague said. "You can forget all that stuff of how good of a team they are and how well they played and how well they were managed and what a good group of guys this is. I feel bad they don't get to show everybody that I do think they were a championship caliber team, especially now."
The return to Buffalo was not easy for Sprague and his front office. With the border closed, Canadian fans couldn't attend and they can account for up to a quarter of the attendance, and maybe more on weekends. With no idea when the home schedule would start (it turned out to be Aug. 10), there were virtually no group sales or major promotions.
Just as the Herd opened, so did the Erie County Fair. And the Bills preseason started rolling. High school sports practices began. And Buffalo sports fans had already spent lots of money on Blue Jays and Bills tickets.
"We got used to what this year was quickly," Sprague said. "I don't want to get used to it long term, but I think everybody understood what this year was and we were just thankful to open and have some semblance of a season, even though it wasn't perfect."
The Bisons are playing their latest home games since Buffalo swept three in a row in the old Junior World Series against Louisville in the final week of September 1961.
In the wake of the canceled 2020 season, attendance is down across the minors. The Bisons averaged 4,030 tickets sold for their 18 regular-season dates, barely half of their average of 7,981 from 2019. They've averaged 3,402 for their four Final Stretch dates.
Even given the ability to plan their season and promote, other prominent former International League clubs had similar issues this year. Indianapolis and Lehigh Valley were down about 2,800 per opening, while Charlotte and Rochester both dropped by slightly more than 3,000.
"Probably, as we got going into it, we didn't realize how many things were up against us," Sprague said.
As for 2022, the Bisons already have issues to deal with because of the schedule drawn up by Major League Baseball. They didn't get a home game on July 3 and thus will not have an Independence Eve concert with the Buffalo Philharmonic Orchestra on that night for the first time in 20 years. An alternate night, perhaps July 4, is being discussed.
"You put your requests in and you hope for the best at this point," Sprague said. "We're currently working with the BPO to try and figure out exactly what we want to do."
The team isn't thrilled to have a home and season opener on April 5 against an out-of-division team (Iowa) it hasn't played since 1997. It isn't happy to only play Rochester at home six times. Or the fact that it has 42 home division games but 60 division games on the road. Sprague had suggested a rotation of out-of-division opponents, but MLB seemingly made random choices to leave Buffalo meeting Iowa and Columbus 12 times.
The six-game series will stay the core of the schedule because it positively impacts player wellness. Each week sees a Sunday day game followed by a Monday off day. 
Buffalo held on as reliever Jacob Barnes struck out Lehigh Valley right fielder Cornelius Randolph with the bases loaded to end the eighth and then retired the IronPigs in the ninth around a single to earn the save.
In good shape in the playoff race, Aaron Judge and the Yankees open a series in Toronto on Tuesday. 
Center fielder Forrest Wall led the Buffalo offense with two hits and scored twice. Second baseman Cullen Large drove in two runs, one on a first-inning sacrifice fly that put the Bisons into a 2-0 lead they never relinquished, and the other on a bases-loaded walk in the fifth.
Starter Zach Logue (8-3) struck out seven over 5 2/3 innings to get the win. Anthony Kay (0-4) will serve as an opener in Sunday night's game. The Bisons will be off Monday and Tuesday and complete the Final Stretch with a five-game series in Syracuse.