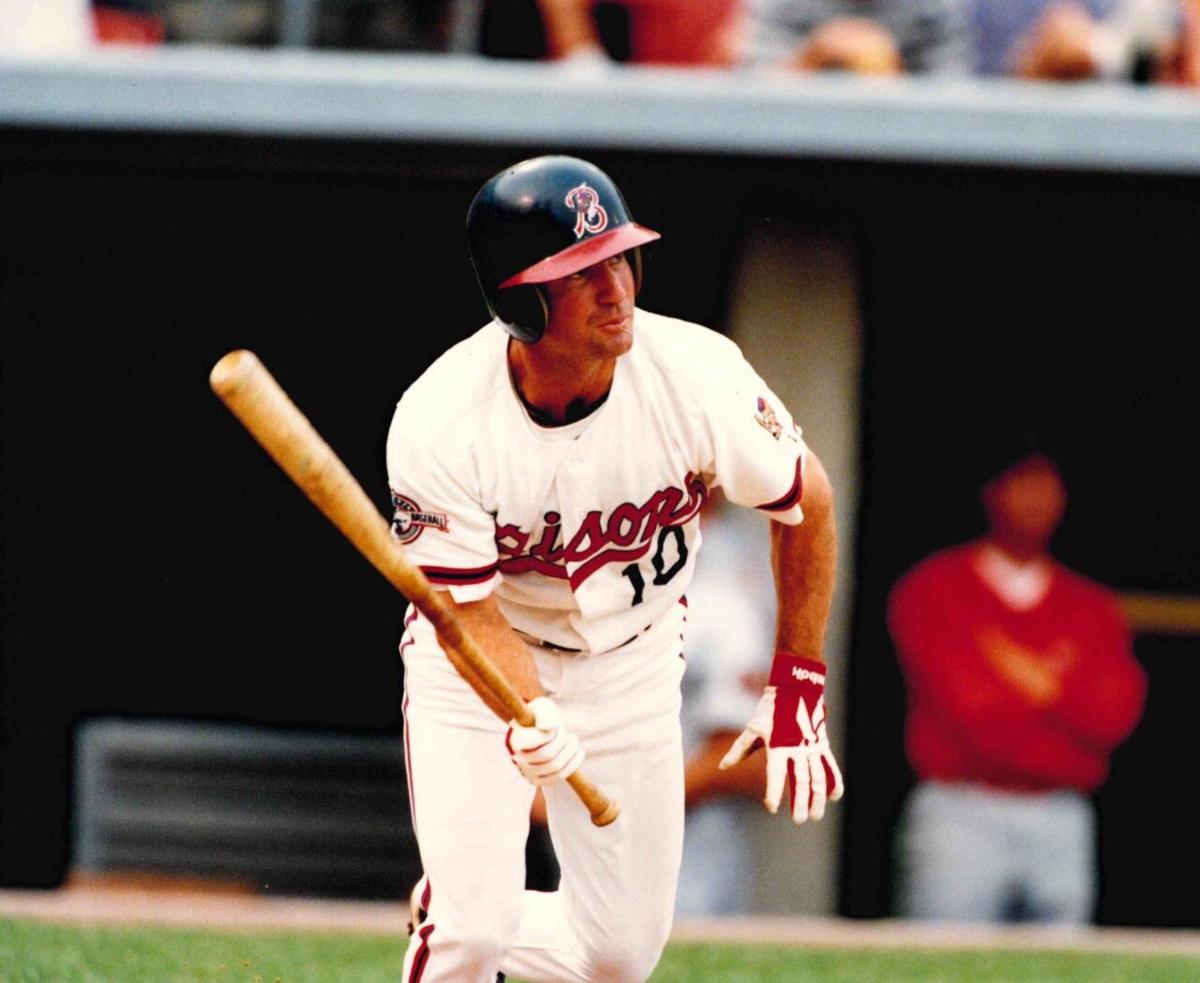 There's one guarantee about Casey Candaele everyone around the Buffalo Bisons knows from his playing days: The Herd's new manager will keep things loose.
Nearly a quarter-century later, Candaele will be back at the head of the Herd as the club's new manager. Memo to his players: You never know what he might say or do.
"I want to coach third in the Buster Bison outfit, or maybe as the Celery guy," Candaele cracked with a mischievous smile Thursday during his introductory video call with Buffalo media from the Blue Jays' camp in Dunedin, Fla.
Candaele played 270 games for the Herd in its first three years as a Cleveland affiliate, all of which ended in American Association playoff berths. 
He was an Association all-star in 1996 after batting .311 and was voted by his teammates as the Bisons' Most Inspirational Player in 1997, the season that was capped by the Herd's first playoff championship in 36 years.
"Had a great time in Buffalo, loved it there, was treated tremendously and got a place in my heart for Buffalo," Candaele said. "I haven't been back in a while. I want to get back."
Construction is already under way in Sahlen Field for what seems like a return of the Blue Jays sometime in June, but for how long? And what will happen to the Bisons in the interim?
When Candaele and his players will actually make it to Buffalo, of course, remains the largest question looming over the season. The Bisons' season opens with a home game May 4 against the Worcester Red Sox but it's not expected to be played in Sahlen Field, due to infrastructure work underway on the ballpark's service level to accommodate a second straight season of Toronto games here. 
The Bisons might spend the first couple months of their season elsewhere if the Jays come to town after they spend April and perhaps much of May at their spring home in Dunedin.
"You just try to battle through that and hopefully we can get up to Buffalo and have a season but you know those things are decisions that will be made when the time comes," Candaele said. "Right now we just need to get this team ready to perform and be ready to play."
Candaele, 60, is the 22nd manager in the Bisons' modern era and the fourth ex-Buffalo player to manage the club, joining Buffalo Baseball Hall of Famer and current Arizona manager Torey Lovullo, Joel Skinner and Bobby Meacham.
Last year, Candaele was in charge of keeping abreast of all the Jays' minor leaguers that were not being worked out at the club's alternate training site in Rochester. This is his third year as a manager for the Jays after stints at Class A Dunedin in 2018 and Vancouver in 2019. He's also served as the club's field coordinator and as an infield and baserunning instructor.
How did the switch to the managerial path come about?
"Gil asked me if I was interested and I said, 'Yeah, I'll do anything,' " Candaele said, referring to Toronto player development director Gil Kim. "I've been treated tremendously and given an opportunity to do some different things. And I just love the game, love being around players in any aspect.
"This was a new challenge. The Triple-A level is unique. It's a rare place where you have guys that have been in the big leagues and guys are trying to get to the big leagues. So it takes a certain personality to be able to mesh those guys into a unit that wants to go out and compete and win baseball games. I wanted to take the challenge."
The Bisons were big winners when Candaele was a player here but not so in recent years. They haven't made the playoffs since 2005, a drought that was the longest in the International League over its final 14 seasons. Because of the pandemic, there is not expected to be any postseason this year but that doesn't mean the Blue Jays aren't interested in seeing better results.
"It's important to change that mindset. It is about developing players and and getting them to the big leagues but we believe in that aspect, too," Candaele said. "You can totally stress winning, going out and playing the game and competing and trying to have a successful ballclub."
That's how things worked when Candaele played here and became a personal favorite of Bisons owner Bob Rich Jr., whom Candaele playfully dubbed "Dad."
As I told you, Casey Candaele will keep things light for the #Bisons. He was always a favorite of my notebook & tape recorder in the late 90s. He'll talk to anybody and everybody, as this 2016 clip of him as Seattle's 1B coach will attest. #Bluejays https://t.co/mgQG1JTawm

— Mike Harrington (@ByMHarrington) March 25, 2021
In 1997, the Bisons finally overcame a decade of heartache to win the first league championship of their modern era under the ownership of Bob and Mindy Rich in the final season of the American Association.
Candaele blew out his knee during the 1997 Association semifinals against Indianapolis but Bob and Mindy Rich made sure to take him to Des Moines, Iowa, for the franchise's memorable Game 3 win of the Association finals that wrapped up their first title.
"That was really cool, a great highlight there, the first championship," Candaele said. "And I really enjoyed hanging around with Buster Bison a lot. He is one of my favorites. So looking forward to being able to get up there and do that again.
"But just the fan base and the people that were there, and everybody that was backing the Bisons all the time, it was a great place to play. And in such a friendly atmosphere with the people and they cared a lot. I just loved it there."