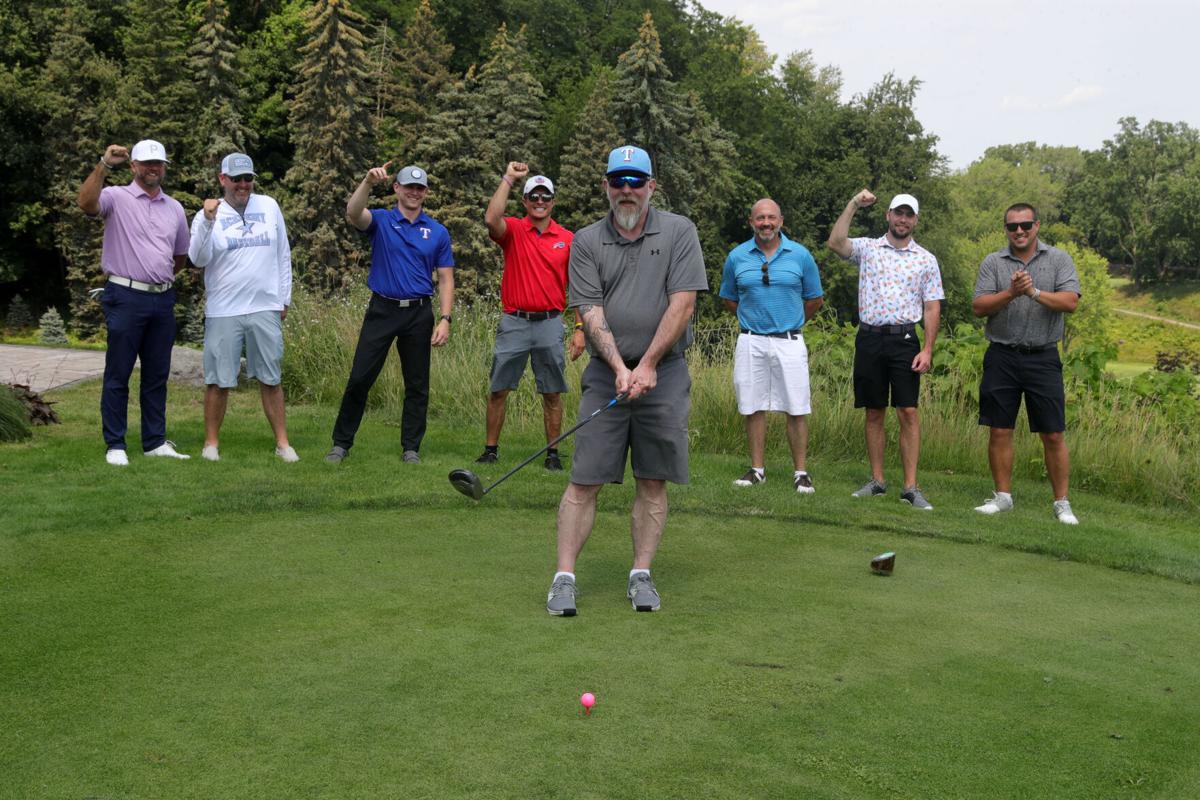 Texas Rangers catcher and Amherst native Jonah Heim was doing a video call with the media Thursday when a Dallas reporter asked him who was going to be in the stands to watch him this weekend in Sahlen Field against the Toronto Blue Jays.
"I think the better question who isn't going to be there?" Heim joked. "I've gotten so many texts and so many DMs on Instagram even asking me when I'm playing. The support from out here is awesome. I can't wait to get out there Friday and take in the atmosphere."
After seven years in the minors, it seems like it's no longer a question of whether the former Amherst High star makes the major leagues. It's simply a question of when.
Heim's father, Jamie, said the roll call figures to be at least 35 friends and family members. And they're all mostly awed by the once-in-a-lifetime opportunity for Jonah Heim to get the chance to play a Major League game in Buffalo.
"It's just unbelievable. That could never happen ever again," Amherst High baseball coach Brian Davis said Thursday during a golf outing with Heim's father and other supporters at Lockport Town and Country Club. "I think it's awesome. I think it just fits into his dream of being in the big leagues someday. And now being able to come home and play in front of his home crowd is awesome. How many Buffalo boys can ever say that?"
Jamie Heim said he never followed the intricacies of the MLB schedule closely, especially since his son has been on a minor-league journey since 2013. He didn't even realize teams would play in every city every year and Jonah, remember, only played West Division teams last year when he was in Oakland for the shortened season because of the pandemic.
"So when I did find out they were coming to Toronto, we were like, 'We're definitely doing the Toronto thing,' " Jamie Heim said. "And then it hit you. Wow. Pandemic. The border's closed. I bet you the Jays will probably play in Buffalo again, because I knew they were going to start in Dunedin and I knew they weren't going to stay there. I figured they played here once, I bet you they'll be here again.
"This is going to be crazy, like, storybook stuff. To be honest with you, it's like a movie in my head, from that channel that plays all the sappy movies with all the great endings."
The story of Jonah Heim – who has never played in Sahlen Field – has been well-documented, but the perseverance bears repeating.
A former Western New York Player of the Year, he was a fourth-round pick of the Baltimore Orioles in 2013 and spent five years in Class A ball. He was traded twice, first to Tampa Bay and then to Oakland, and finally broke through in the Athletics' chain with Double-A Midland and Triple-A Las Vegas – managed by former Canisius High star Fran Riordan – in 2019. Heim made his major-league debut for the A's during the pandemic season of 2020, batting .211 in 13 games. 
Traded to Texas in the offseason, he's batting .229 with four homers and 15 RBIs for the Rangers in 45 games. But after a 3-for-30 April, he's batting .267 since the calendar hit May and recently even had some chances at the No. 5 slot in the batting order.
"He always knew he was going to be a big leaguer. It was just going through the process and now this is once in a lifetime," said best friend and former Amherst teammate Matt Connolly. "When I was in the room in his house the night he got drafted. He looked at me and said 'Hey, I'm going to make it,' and I'll never forget that."
The home run was part of the first three-hit game of Heim's MLB career.
"Hardest working kid I ever met," added James Roehl, another friend. "Never let anything get him down. When he did get sent down, he found a way to bring himself back up. When he was in Vegas, I was living in Des Moines and saw him play Iowa. He got the game-winning punchout at second base (throwing out a runner trying to steal). That was so awesome."
Jonah Heim naturally went to plenty of Bisons games as a kid. He attended some youth baseball camps where one of the coaches was former Bisons legend Jeff Manto, the only modern-era player to have his number retired. As it turned out, Manto was one of Heim's minor-league hitting instructors when he first started in the Baltimore chain in 2014.
"I'd be watching the guys warm up in the bullpen and think that it was going really way too fast for me," Jonah Heim recalled of one night downtown when he was 8 or 9. "And now not to think back and realize that's like what I do for a living. Pretty crazy."
Jamie Heim, of course, couldn't go see any games last year due to the pandemic. When he finally got to see Jonah this season, the first game he saw in Texas' new Globe Life Field in May was against San Diego – the night Padres pitcher Joe Musgrove pitched the first no-hitter in the club's 52-year history. Jonah was not playing that night.
"I was quietly rooting for the no hitter because I had never seen one live," Jamie Heim said sheepishly. "I told him after the fact, but it was obviously easier without him in the lineup. It made it kind of easier to appreciate the moment."
Jamie Heim is a power tweeter about his son and the Rangers. Jonah's grandmother, Nancy, also dips her toes into social media. 
The Texas Rangers catcher drove a pitch 392 feet to left field.
Jonah Heim has spent the week quietly at home with family in Amherst as well as his wife, Kenzie, and their infant son, Nash, who was born in January. They went to Darien Lake on Wednesday and Jonah gave the Dallas media the mutuels on his Buffalo hot spots. He quickly rattled off a chicken finger sub at Jim's Steakout, wings at Duffs, breakfast at the Original Pancake House in Williamsville and said he's looking forward to a steak dinner at Giancarlo's this weekend.
Heim may have offended some Buffalo traditionalists who like blue cheese when a Dallas reporter asked, "what's in that beast?" about the chicken finger sub. Heim said he goes with mild fingers, lettuce, tomato and mayonnaise.
"We can't even find them anywhere else other than Buffalo," he said. "So that's why they're so good."
Jamie Heim turns 49 on Wednesday and is hoping to be at his son's game in Detroit that night. But that's the Rangers' next series. This one will be the one that resonates with his family forever. Jonah Heim was born at the old Children's Hospital on Bryant Street. He even has a tattoo of the Buffalo skyline on his arm. 
"He's going to be playing with that on his arm as his backdrop on Friday, Saturday and Sunday," Jamie Heim said. "It's just amazing to me. Just how cool is this?"
"It's crazy. I never thought that would happen in the big leagues," Jonah Heim said. "I always though maybe there's a chance to come here and play Triple-A and that would be cool. But for it to be in the leagues, it's going to be a pretty amazing experience and to have my whole family there too.
"I wouldn't be here without my family, and my wife and their support. And just in my journey, it's been unbelievable. Spending seven years in minors isn't easy. And you can't get through that without family support. So just them being behind me and supporting me has been amazing."