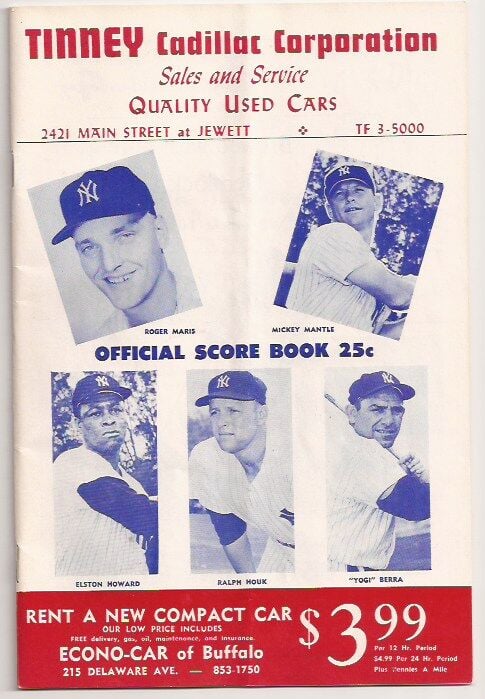 When the Toronto Blue Jays play the Miami Marlins in Buffalo on Tuesday, Tom Reigstad will be in Section 111, Row H, Seat 4. This will put him smack-dab on the site of a long-gone boardinghouse where Mark Twain once lived.
The boardinghouse where Samuel Clemens lived briefly was at the ballpark's Swan Street entrance and extended to the prime seats along the third-base line.
That's as it should be: Twain and Tom go together like Huck and, well, that other Tom.
Reigstad is a professor emeritus of English at Buffalo State College and the author of "Scribblin' for a Livin': Mark Twain's Pivotal Period in Buffalo," the definitive work on Twain's time here. So he is well known as our foremost local scholar of our foremost former citizen.
Less well known is this: Reigstad is a long-time Buffalo baseball fan. And he has the receipts to prove it – in the form of ticket stubs and game programs and newspaper clippings all lovingly saved in manila folders in a fireproof box kept in the attic of his Kenmore home.
Tuesday, for the first time, Reigstad will see two major league teams play one another in Buffalo. It will come 60 years after he saw a major league team in person for the first time. That's when the Cleveland Indians played the International League All-Stars in an exhibition at War Memorial Stadium on June 25, 1961. (The Buffalo Bisons were in their first season there.) The All-Stars beat the Indians 2-0 in front of 21,885, including Reigstad and his pal Pat Meginley. They were 13.
Babe Ruth was the most famous sportsman in America when he arrived at Buffalo's Exchange Street train station 100 years ago today.
"The crowd is the largest to ever see a baseball game in Buffalo," wrote Joe Alli in the Courier-Express, "surpassing the previous record of 20,619 set here on opening day of this year."
Reigstad sent me an email with copies of his ticket stubs and other memorabilia.
"Enclosing files I kept as a nerdy kid," he wrote, "and have preserved as a nerdy 73-year-old."
He saw major league teams play exhibitions locally four times during the 1960s. Two came in 1963, when the New York Mets and New York Yankees came calling. The expansion Mets, in their second season, beat the Bisons, their top farm team, 4-3 in front of 15,179 at War Memorial. Mets manager Casey Stengel had fun chatting up the fans and teasing the umpires.
That was in June. Then, in August, the IL All-Stars beat the Yanks 5-0 in front of another record Rockpile crowd – 28,524 this time – and Alli wrote that "the perennial American League kingpins are human after all." Mickey Mantle and Roger Maris sat out with injuries, but the rest of the starting Bronx Bombers were held to two hits by four IL pitchers.
Buffalo Bisons legend Jeff Manto is to be introduced Monday as manager of the Trenton Thunder, but now the Thunder will have to find somewhere else to call home.
Then, in 1968, Reigstad and his father and brother saw the Bisons play their parent club, the Washington Senators, at Hyde Park Stadium in Niagara Falls. (It has since been renamed for Niagara Falls native Sal Maglie.) Bisons outfielder Brant Alyea bested Senators slugger Frank Howard in a pregame home-run contest. Then the Senators scored four runs in the ninth inning to overtake the Bisons 8-6.
"I remember Frank Howard looked like Paul Bunyan in that bandbox of a ballpark," Reigstad says. "He ripped a line-drive double to right that almost tore through the fence on the fly."
Reigstad's old ticket stubs have inked-in notations with score, attendance, and the winning and losing pitchers. He won't be able to do that with Tuesday's game. Tickets in our modern age are bar codes from the MLB app.
"That takes some of the tradition out of it," he says.
Maybe he'll print out the barcode and write the results on that, but it isn't really the same. Here's what is: Reigstad's love of the game – from childhood to septuagenarian.
"My love of baseball is just as strong and fresh as it ever was," he says. "And there is nothing like seeing it in person."
Especially with the ghost of Mark Twain as his seatmate.