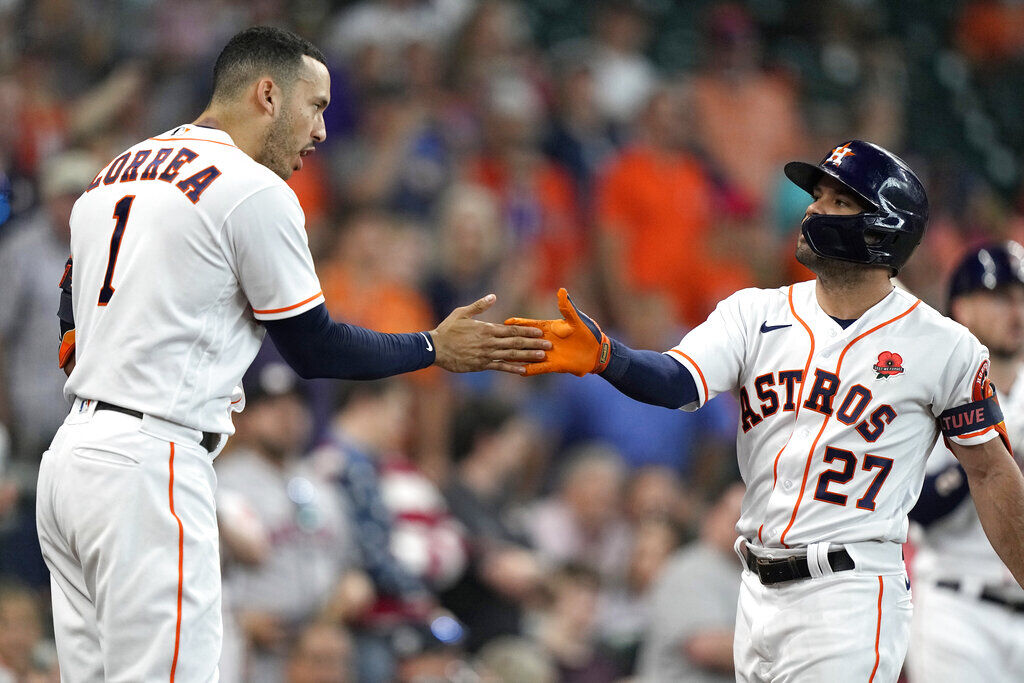 We know there's plenty of Yankees fans in Buffalo and there's a good chance you'll hear a lot from them this weekend in Sahlen Field.
No, the Bronx Bombers aren't here yet. They're not coming until June 15. But the Toronto Blue Jays' opponent for the weekend is the Houston Astros. And to Yankees fans, of course, the Astros are considered trash.
The hope is that folks here are a tad more genteel than those in the Bronx who serenaded Houston star Jose Altuve with profane chants for three days last month – until Altuve silenced them with a game-winning home run on his birthday.
Doesn't matter if they strike out 15 times, deal with cascading rain for three innings or endure the first rough outing of Alek Manoah's season.
With fans back in the stands around baseball after a silent 2020, the Astros have been getting their comeuppance this season for their metal can-banging misdeeds that tainted their 2017 World Series run, which included their ALCS victory over the Yankees. And Altuve will forever be a villain in the Bronx for his walkoff home run that won the 2019 ALCS over New York as well.
The Astros got quite the treatment in New York and things were really out of hand in April in Anaheim, where Angels fans combined with Dodgers fans, the vanquished in the '17 World Series, to speak their peace about that year as well.
Astros manager Dusty Baker, who replaced scandal-fired skipper A.J. Hinch last season, had a few things to say after that series, when fans threw an inflatable trash can onto the warning track as Altuve was batting and then followed up with a real trash can on to the field.
"You can tell the amount of hostility and the amount of hatred in the stands," Baker said. "How many in the stands have never done anything wrong in their life? We paid the price for it. How many people have not cheated on a test or whatever at some point in time? It's easy if you live in glass houses, but I don't think anybody lives in glass houses.
"To have fans pulling for us for the first time in two years at the ballpark was great," said manager Charlie Montoyo. 
"I think that sometimes we need to look at ourselves before you spew hate on somebody else. It's a sad situation for America, to me, when you hear things. I mean, what are the kids supposed to think in the stands? And some of them are kids that are following their parents. It's sad to me. People make mistakes. We paid for ours, and I wish they'd leave it alone."
On the field, the Astros have ignored the haters and forged on. They hit Buffalo in a battle with Oakland for first place in the American League West, sitting at 31-25 and trailing by one game after Thursday's 5-1 loss to the Boston Red Sox.
Altuve is batting .296 after a .219 disaster in last year's shortened season. Reigning AL Rookie of the Year Yordan Alvarez and infielder Yuli Gurriel, brother of Blue Jays outfielder Lourdes Gurriel, are at .304 and .310, respectively. Third baseman Alex Bregman has been flirting with .300 as well and is currently at .289.  Shortstop Carlos Correa, Altuve and Gurriel each have eight home runs, three shy of team leader Kyle Tucker.
The Astros went 15-12 in May after going 14-12 in April and they're playing without ace Justin Verlander (Tommy John surgery) and 2017 World Series MVP George Springer, still on the Blue Jays' disabled list with seasonlong quad issues.
The Blue Jays (29-25) were off Thursday after sweeping their two-game series against Miami to start their second consecutive Buffalo summer. 
Friday night's pitching matchup is a headline battle of 5-2 veterans in Toronto's Hyun Jin Ryu and Houston's Zack Greinke. Saturday afternoon's starters are Ross Stripling (1-3) and Jose Urquidy (4-2) while Toronto's Steven Matz (6-2) makes his Sahlen debut Sunday against Houston's Luis Garcia (4-3), who is 4-0, 1.57 over his last four starts.
The three-run rally in the ninth that gave the Blue Jays a dramatic 6-5 win Wednesday night against Miami pushed Toronto's interleague record to 11-2, by far the most wins in baseball. No other team has more than eight against the other league.
Miami is the only National League team coming to Buffalo this year. The Blue Jays already played Washington, Atlanta and Philadelphia in Dunedin, Fla., and do not host the New York Mets this season.
A reminder on tickets: A limited number of seats reserved for Major League Baseball often get released, sometimes even within three hours of the game, and the Blue Jays make them available for last-minute purchases at bluejays.com/tickets. 
Presale for the next block of games in Sahlen Field starts Tuesday morning and sale to the general public sales begins June 10. The seats will be for the four-game series June 24-27 against Baltimore and the three-gamers against against Seattle (June 29-30, July 1) and defending AL champion Tampa Bay (July 2-4).