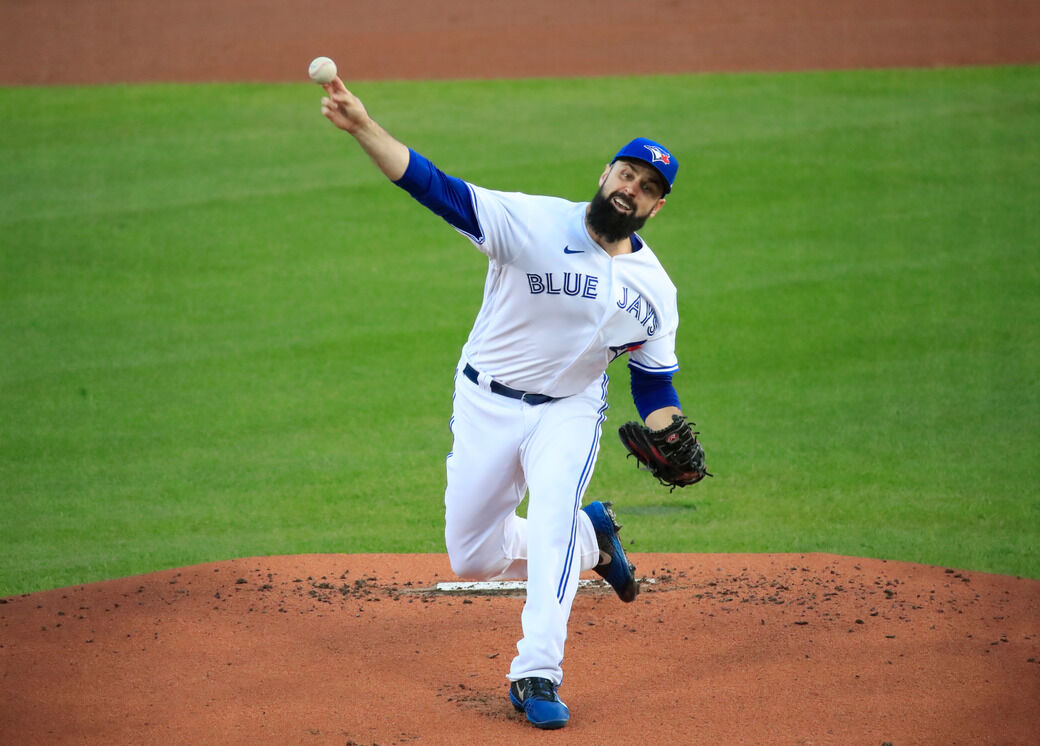 Let's take it right from the top here: The Toronto Blue Jays didn't do nearly enough at the plate to have a chance in their first postseason game since 2016. So all the discussion that will deservedly center on the team's goofy pitching decisions in Tuesday's 3-1 loss to the Tampa Bay Rays has to come with that caveat.
Rays lefty Blake Snell carried a no-hitter into the sixth inning at Tropicana Field and the Jays struck out 12 times in the game, uncharacteristically chasing too many pitches. 
Whether it was Snell's filthy stuff or first-time postseason jitters, the Jays have to get better fast. Game 2 in the best-of-3 series is Wednesday and it's a win-or-go-home affair in the wild-card round.
The Jays will have ace Hyun Jin Ryu on the mound against Tampa Bay's Tyler Glasnow and that has to be a good feeling. Of course, it still begs the question of why Ryu – the team's best starter and their $80 million free agent signee last winter – didn't get the ball in Game 1 of the series.
The Jays had plenty of time to set things up. Ryu last pitched Thursday in Sahlen Field, going seven innings and 100 pitches against the New York Yankees in the game that sewed up Toronto's berth. But Ryu reportedly came up a little sore after that game and, admittedly, has slightly better numbers on an extra day's rest. 
"In this case, it's a unique circumstance," General Manager Ross Atkins said in massaging the issue on a pregame video call. "This has never happened in baseball, a three-game series where we're the visiting team for all three. We're not going back home potentially for one of them.
"As we thought through Game 1 vs. Game 2, is there a slight advantage to winning Game 1 because you can strategize potentially different for 2 and 3? We viewed the advantage of being able to put our most consistent piece in the middle of those 27-plus innings."
Atkins went on to say the Jays viewed Game 1 as "less significant" than in a traditional scenario. This seemed like overthinking it. Badly. The Jays were 9-3 when Ryu started this year.
Still, it looked like they had a point when veteran Matt Shoemaker started and spun three shutout innings in only 35 pitches. And then they took him out. Amazing.
Robbie Ray pitched very well in innings 5-6 but gave up a run as Randy Arozarena led off the fourth with a triple and scored on a wild pitch.
Blue Jays manager Charlie Montoyo used one of his pet phrases to describe the setup, saying the game went exactly how the club had it "mapped out." In other words, the way its analytics team had ordered the manager to play it. 
It's embarrassing to do that in the opening game of the playoffs. Watch the game, not the spreadsheets.
Montoyo then dropped a bigger bombshell: Shoemaker might have actually come out after two innings and only one time through the lineup, but they opted to let him go. Still, it was no big deal because he knew the plan.
Hmm. Shoemaker whistled a different tune on his postgame video call.
"To be completely honest, I didn't think it was going to be after the third," Shoemaker said. "The good thing is before the start, going into it, we talk about the potential game plans. I understood what was going on. Maybe I'll go 4-5 and we'll see. At first I was a little maybe surprised coming out in the third."
On video prior to the game, Ryu was diplomatic even though he revealed he "didn't have much input" into the decision.
"But I did trust my pitching coach, manager and front office for coming up with this strategy, especially in a short series," Ryu said through an interpreter. "Although every game does matter, I think Game 2 can arguably be more important in some way. It can potentially be an elimination game or a game to clinch us to the next round."
Game 1 got away from the Jays when A.J. Cole gave up a two-run homer in the seventh to Manuel Margot. Ryu faces an elimination scenario now and No. 2 starter Taijuan Walker won't pitch in the series at all if the Jays don't win Wednesday.
Looks to me like the Jays tried to be the smartest guys in the room for Game 1. They failed.
Be the first to know
Get local news delivered to your inbox!