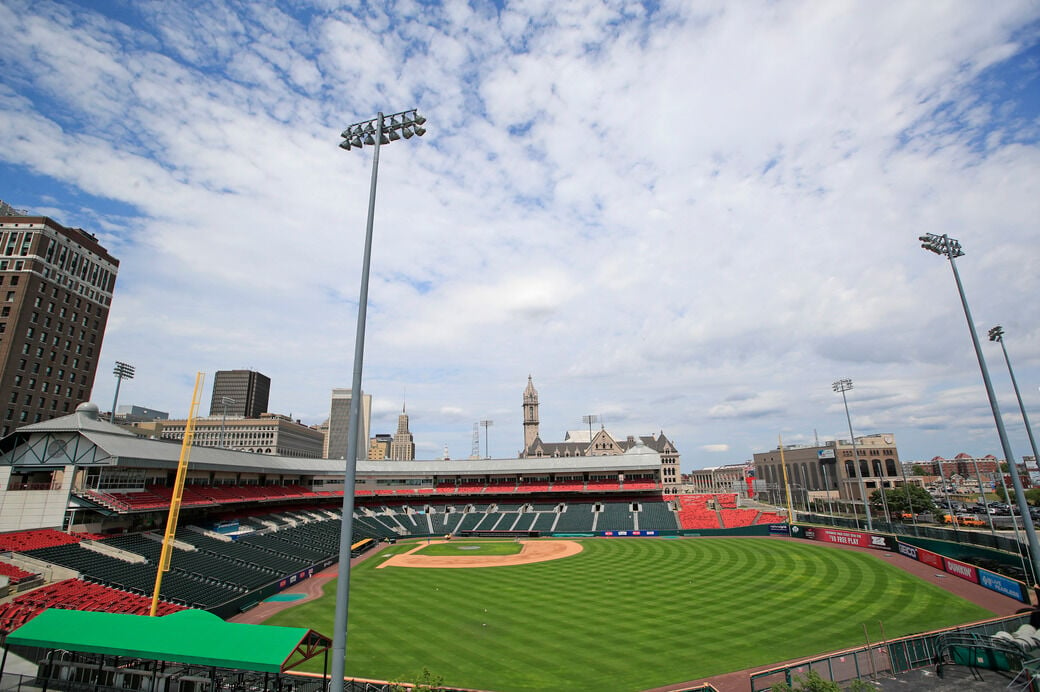 Less than a month ago, Mike Buczkowski stood on the right field warning track of Sahlen Field talking about one of the darkest days in the Buffalo Bisons' history. The minor-league baseball season had been canceled and the president of Rich Baseball Operations had no team for the first time since the downtown ballpark opened in 1988.
He experienced the complete opposite emotion Friday. For a few weeks this summer and into fall, Buffalo is going to the major leagues for the first time in more than 100 years.
The Toronto Blue Jays, the Bisons' parent club since 2013, announced they will be playing the majority of their home games in Buffalo. After failing to get approval from the Canadian government to play at home in Rogers Centre and at major-league parks in Pittsburgh and Baltimore because of coronavirus concerns, the Jays pivoted back to Buffalo.
"We're on the field announcing the cancellation of the season and you think that that is the lowest of the low points," Buczkowski said as he met the media just behind the right-field fence. "To today, to be able to deliver this news and partner with the Blue Jays to make this one of the most exciting days ever for Buffalo sports."
The Jays could be playing here as soon as next Friday night against the Philadelphia Phillies, although a more likely scenario is a Buffalo home opener Aug. 11 against Miami. A final decision on the first game will come in the next couple of days.
The Blue Jays could be playing as many as 28 of their 30 games in Buffalo – but, remember, no fans are allowed into the ballpark because of the pandemic.
The Jays' first home games were scheduled for Wednesday and Thursday against the defending World Series champion Washington Nationals, but the team said those will stay at Nationals Park, where Toronto is playing road games Monday and Tuesday.
The highlight of the schedule in Buffalo will be seven games against the New York Yankees, all in September. There will be a three-game series from Sept. 7-9 and a four-gamer Sept. 21-24. The New York Mets will be here Sept. 11-13, and the Boston Red Sox will visit Aug. 25-27.
Other games will be against Miami (Aug. 11-12), Tampa Bay (Aug. 14-16), Baltimore (Aug. 28-31 and Sept. 25-27). Philadelphia would be here Sept. 18-20 if the games next weekend are not played in Buffalo.
"Today is just about joy, being able to supply these guys with a place to play in these troubled times and what's going on with baseball and its future," Bisons owner Bob Rich Jr. told The News by phone Friday night from his West Virginia summer home.
"One thing that we'll demonstrate to the players, visiting teams, to Major League Baseball and the sports world in general is that Buffalo is the option that will appreciate this the most. This is my hometown still and Buffalo appreciates the depth of this story. These players are going to receive the welcome of their lives. I just know they are. We've been doing this. I've got 37 years into this team so this is a great thing for Buffalo."
Eighteen former Bisons were on the Blue Jays' Opening Day roster and 15 of them played here for the Herd last season. That list includes star infielders Vladimir Guerrero Jr., Bo Bichette and Cavan Biggio. 
Veteran outfielder Randal Grichuk called Buffalo a "last resort" last weekend, but Blue Jays' players insist they're fine with this decision now.
Even though Buffalo was their last choice, Sahlen Field at least provides the Jays with some semblance of a homefield advantage.
"I'm good. I feel good about it," Guerrero said before Friday's season opener against the Tampa Bay Rays in St. Petersburg, Fla. "I've seen everyone normal. I haven't heard anything negative so I guess everyone is good with it."
"The mentality is that they're going to walk in Buffalo and the day they walk in there, that will become a competitive advantage for us," said Blue Jays president/CEO Mark Shapiro. "We are excited to be there. We are resilient, we are strong. We know we've been through a lot, but we're embracing where we are, embracing the journey ahead. That will be in Buffalo. We'll be excited to hoist a championship trophy wherever it is. Buffalo is a great place to do it and it's going to be part of our story."
Sahlen Field, opened in 1988, will need upgrades in several areas such as stadium lighting and clubhouses to meet Major League Baseball standards. Light fixtures have been at the ballpark for about a week awaiting the go-ahead to be installed to bring the park to MLB code in that area.
Shapiro said the Blue Jays met with officials from the Buffalo Sabres and LECOM Harborcenter about using some of their training facilities and the decision to use them has yet to be made because they might not be compliant with current MLB health codes.
"We're trying to take a very good minor-league facility and bring it up as close as possible to a major-league facility as we possibly can within the confines of the physical infrastructure," Shapiro said.
Buczkowski became emotional when talking about Rich and his wife, Mindy, who spent eight years trying to bring a National League expansion franchise to Buffalo before they were denied in 1991 when the NL chose Denver and Miami.
"We have been watching from a distance and 'Booch' has been there," Rich said. "He's been measured, he hasn't panicked. He's just wanted this but hasn't said to people how much it means to him. We're just thrilled when we think of the people in our organization and everywhere who have been working on this to make it happen."
The Bisons got unanimous support from all levels of government, including Sen. Charles E. Shumer, Gov. Andrew M. Cuomo, Erie County Executive Mark Poloncarz and Mayor Byron Brown.
"It was important to say to the Toronto Blue Jays that we wanted them here in Buffalo, that there's a lot of love for the Toronto Blue Jays organization in Buffalo," Brown said. "This is a great day for Buffalo. This will attract national and international attention to the city of Buffalo."
Schumer, said he was thrilled the Blue Jays had finally settled in Buffalo. He had called and written to MLB Commissioner Rob Manfred earlier this week to lobby for the move, saying Buffalo could safely host the team for the summer at a high-quality stadium close to Toronto.
"As I've said all along, Buffalo is a home run for the Blue Jays 2020 MLB season," Schumer said. "I have every confidence Major League Baseball can return to Western New York for the first time since the 19th century."
The last time major league baseball was played in Buffalo was in 1915 in the Federalist League. The Bisons were in the National League from 1879 to 1885. 
Blue Jays officials have been on site for about a week and Buczkowski is aware there's plenty of work ahead.
"What we're going to be doing is figure out how we can creatively use this space to turn it into a place that meets the standards the Blue Jays need," he said. "We have to take a look at everything that you take for granted at a baseball game and figure out how do we now use this footprint to creatively create a safe place."
Shapiro has known the Bisons' ownership and front office since 1995, when he was a 29-year-old minor league director with the Cleveland Indians. Toronto GM Ross Atkins was a Cleveland farm director from 2006-2008, the Bisons' last three years with the Indians. The relationship, he said, was a major factor in the final decision.
"There's an efficiency, an ease, a comfort from Bob and Mindy Rich and 'Booch' with everyone else for both Ross and I and everyone with the Blue Jays," Shapiro said. "We have an understanding and a connection. It certainly is helpful and creates a comfort level for us and the players who have come through there and played there. We know where we're going. They know how to navigate the ballpark and the city. It's both a positive and a source of comfort for us."
News Staff Report Jerry Zremski contributed to this report.