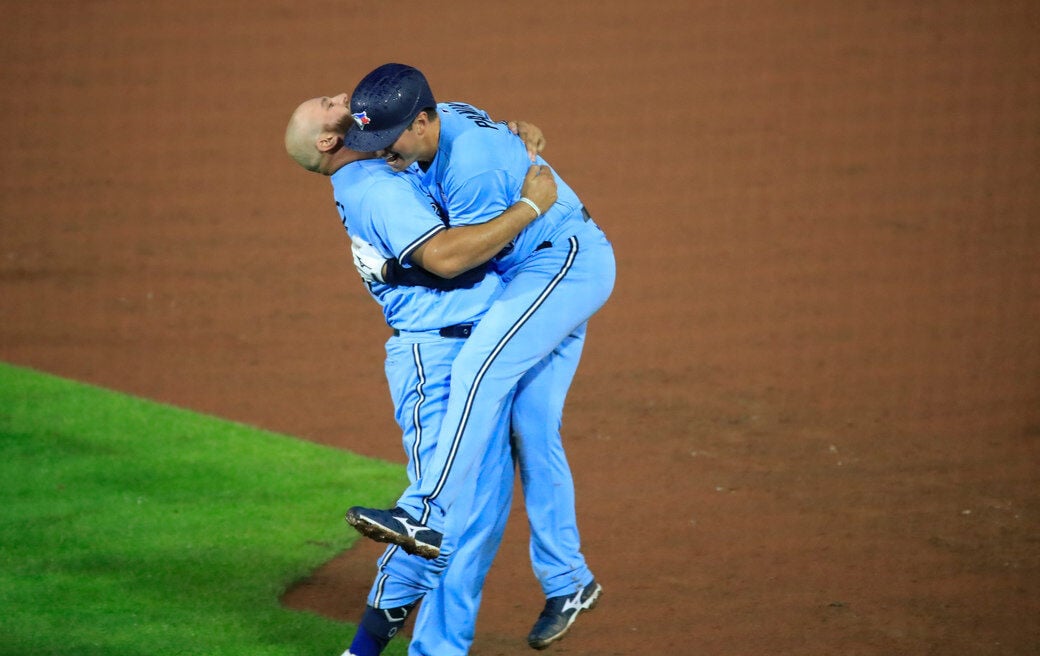 Doesn't matter if they strike out 15 times, deal with cascading rain for three innings or endure the first rough outing of Alek Manoah's season.
The Toronto Blue Jays sure enjoy life in Sahlen Field, and their late-inning magic has returned with them at the start of their 2021 run.
The Jays pulled out dramatic win after dramatic win here last summer and posted their first Buffalo special this season late Wednesday night, scoring three runs in the bottom of the ninth to stun the Miami Marlins, 6-5, before a roaring crowd of 5,385.
Bo Bichette's two-run triple to the right-field corner dramatically tied the game and Joe Panik won it with a sacrifice fly to center. It might have been deep enough to score the winning run anyway but was dropped by Starling Marte for an error to allow Vladimir Guerrero Jr. to score the winning run.
"Playing in Dunedin kind of was a little draining at times," Bichette said of the Jays' spring training home in Florida, where they went 10-11. "... "When you're at home you can normally feed off the crowd and get that home field advantage. We didn't have that there. Tonight it was awesome. We had people cheering for us in the ninth inning and they played a huge part in this getting it done."
Manoah gave up four runs -- including three home runs -- in 3 1/3 innings but stuck around in the dugout the rest of the night and had a front-row seat for the dramatic finish. He said he was wildly impressed by the crowd in Sahlen Field, where he would have been playing in Triple-A this year had times been normal.
"It's amazing, man," Manoah said. "I don't know what it's like to play in the Rogers Centre but it's pretty electric (in Buffalo)."
Manoah didn't have nearly the same stuff he had is shutting out the Yankees over six innings in his debut on Thursday.  Marlins left fielder Corey Dickerson crushed an 80-mph slider over the 404-foot marker in dead center field with one out in the second to open the scoring and Manoah gave up a two-run homer in the third to Jazz Chisholm and a solo shot to Jesus Aguilar two batters later.
Manoah got out of that inning but couldn't survive the fourth as he sandwiched two walks around a hit batsman and left with the bases loaded.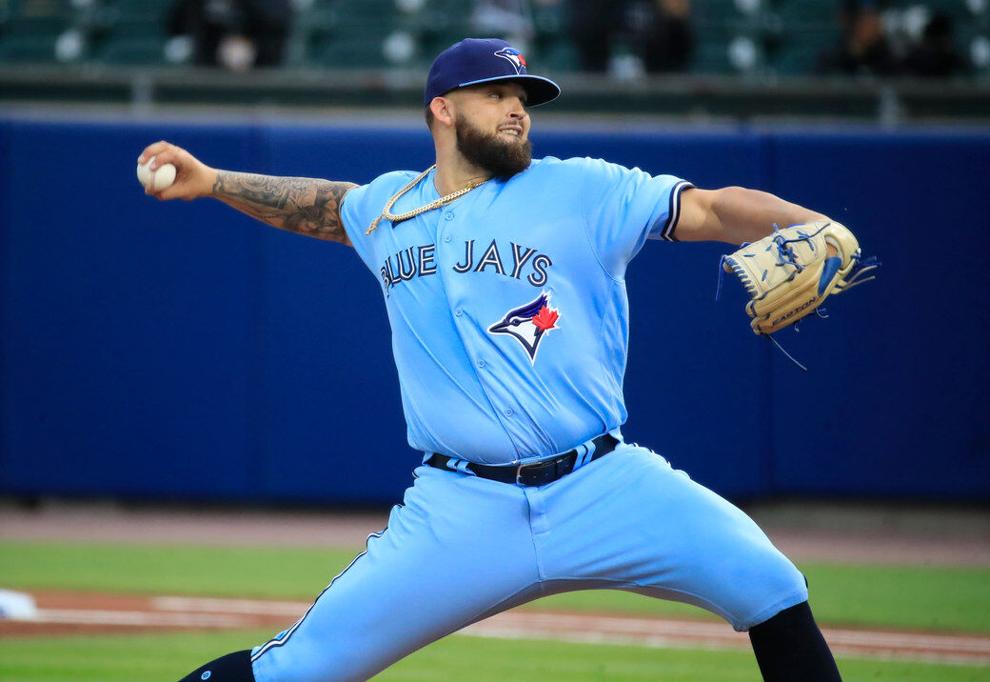 "I wasn't executing the offspeed pitches the way I needed to execute them," Manoah said. "When you don't make pitches, they're going to make you pay for them. I left offspeed over the plate today and they definitely made me pay."
The Blue Jays (29-25) got stellar work from five relievers, who combined to yield just one run the rest of the way. Joel Payamps got the final two outs in the fourth against the top of the Miami order to leave the bases loaded and keep Toronto in range at 4-1.
"To have fans pulling for us for the first time in two years at the ballpark was great," said manager Charlie Montoyo. 
The teams combined to use six pitchers apiece in the 3-hour, 41-minute game and there were 25 strikeouts and six home runs. Miami crushed four for the first time this season. Randal Grichuk led the Toronto offense with a pair of solo home runs. Guerrero, who was 4 for 4 in Tuesday's opener here, lined a triple to right in his first at-bat before being retired in his next three. He was walked intentionally in the ninth after Bichette's triple.
Donnie Baseball on Sahlen ... 
Marlins manager and former Yankees star Don Mattingly said everything seemed to be in order for his team's trip here. The Marlins were the Jays' first opponent in Buffalo last year as well.
"It was good. I didn't hear anybody complaining about the field," Mattingly said prior to the game. "They put new bullpens in which was nice to get those off the field. The setup here in the back is good (referring to the visitors clubhouse compound in right field). It's nice here."
... and on Lou Gehrig Day
The teams wore uniform patches in honor of MLB's first "Lou Gehrig Day" to promote awareness for ALS research. A video about Gehrig's famous 1939 speech at Yankee Stadium was shown in the middle of the fourth inning and featured former New Orleans Saints defensive back Steve Gleason.
"Playing in New York, I got to have a pretty good understanding of Mr. Gehrig's importance in the game and all the things he accomplished," Mattingly said. "The famous speech and all those things. When you play in New York, you feel like you know those guys even though you've never met them and they're way before you. You get a sense that you know them and that's kind of a cool thing having played the same position.
"At the end of the day, what I have learned is he's probably proud that we're still bringing awareness to the disease and trying to fight it."
The Blue Jays are off Thursday and open a three-game series with the Houston Astros here Thursday night at 7:07. The teams meet Saturday at 3:07 and Sunday at 1:07.
Hyun Jin Ryu, Ross Stripling and Steven Matz will be the Blue Jays ' starters. The Astros are likely to start Zack Greinke against Ryu in Friday night's game.