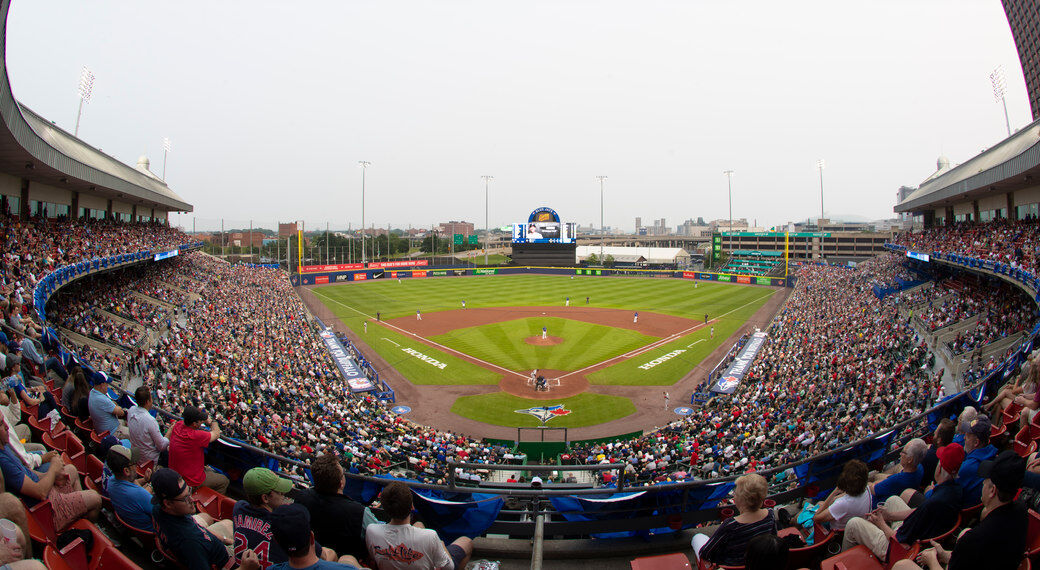 So with the Toronto Blue Jays headed out of town, what's on deck for Sahlen Field? There won't be any baseball games for the next three weeks, but the downtown ballpark is going to be a beehive of activity starting Thursday.
The Toronto Blue Jays will be moving out and construction crews will get to work retrofitting the park for the Buffalo Bisons' home opener Aug. 10 against Rochester, with much of the focus on converting the Blue Jays' coaches offices into the Triple-A visiting clubhouse.
The immediate jobs will be to fill moving vans for Toronto with all of the Jays' baseball and office equipment and to take down the visiting clubhouse/umpires complex in the Exchange Street parking lot.
"The first few days we're just going to get out of the way and help the Jays out any way we can with their rollout," Bisons General Manager Anthony Sprague said before Wednesday's Jays finale against the Boston Red Sox. "I think by Sunday they'll be pretty well done with that and on their way."
Sprague will then lead a crew to Trenton to help the Bisons start the process of returning to Buffalo after Sunday's game against Syracuse. The Herd will leave on a road trip, but will have to break down its possessions in New Jersey, with longtime clubhouse manager Scott Lesher finally able to come home for good next week after getting to Trenton in late April.
"I think Tuesday is when all hands will be on deck here, we start to unload and start setting up downstairs in the midst of all the wild construction," Sprague said. "So we have to try and stay out of their way and they have to stay out of our way to get things set up. It will be pretty crazy."
As for Sahlen Field, Sprague said he expects the team will keep some of the Blue Jays' branding for the rest of this season and some on a permanent basis. The outfield wall, for instance, will remain blue because it is all newly padded. It had been green since the ballpark opened in 1988.
"You'll see 'Home of the Bisons' come back," Sprague said, referring to the logo that sits atop the scoreboard. "Sahlen will get its signage back on top of the dugouts, but some of the Blue Jays things like the signs that say 'Section 112/114' we'd like to keep.
"There will be Blue Jays things in the clubhouse we'll keep and some we'll change over to Bisons."
The Bisons are planning to announce their ticket options and more ballpark news in the coming days. They would like to replicate a normal experience as much as possible, but staffing for a shortened 23-game schedule continues to be an issue and, for instance, they may not have some of the specialty concession stands they've had in the past until next season.
In part because of MLB Covid-19 protocols, the Blue Jays pared down the concession offerings for their games here.
"We're going to try and do as much as we can to bring back a lot of what people know," Sprague said. "But certain things may not be there for only 23 games. We're just looking forward to welcoming people back."
Here are the Blue Jays roster moves the last two days:
• Called up reliever Patrick Murphy and optioned reliever Anthony Kay to the Bisons
• Reinstated catcher Alejandro Kirk from the 60-day IL (hip flexor and optioned him to Buffalo. Kirk is batting .326 in 13 games for the Bisons and had a 4-for-5 night with five RBIs in Tuesday's 14-1 win over Syracuse in Trenton.
• Designated right-hander T.J. Zeuch for assignment. He's 2-3, 4.03 in 12 games for the Herd. Zeuch threw a no-hitter for Buffalo in 2019 at Rochester.