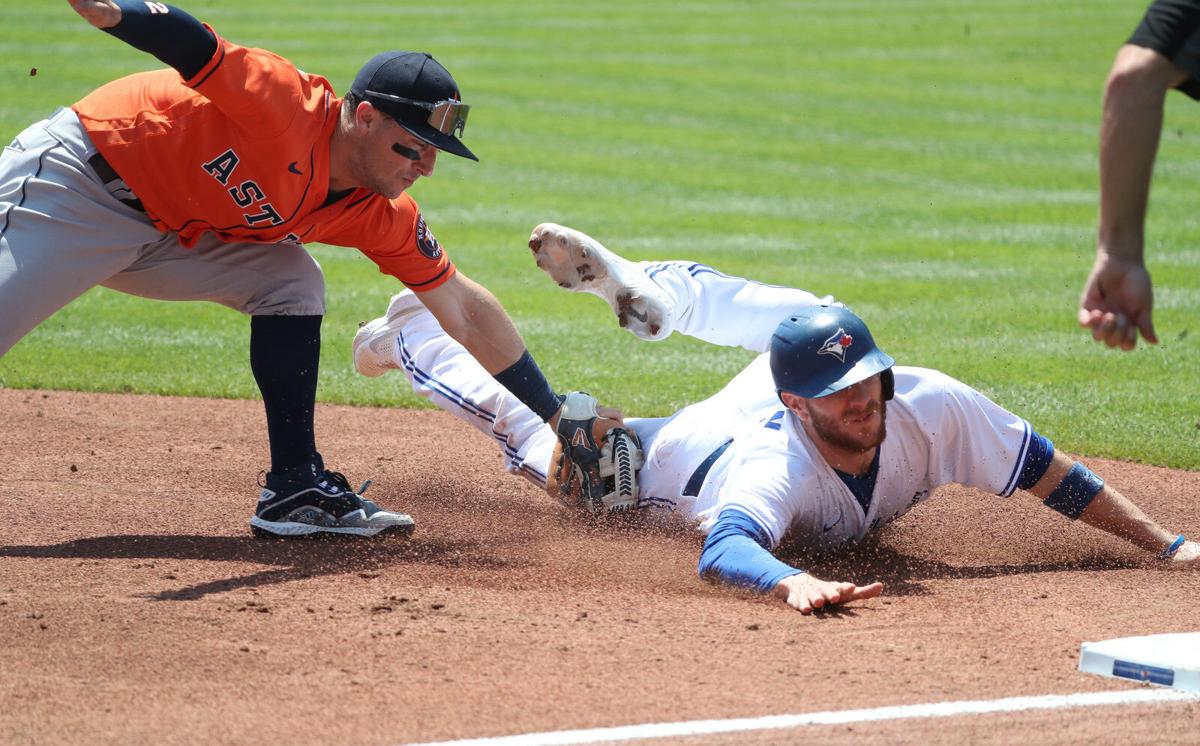 The Toronto Blue Jays are committed to play at Sahlen Field through July 4 and a decision appears imminent about whether the club will extend its stay.
The Toronto Blue Jays went 3-2 on their first homestand of the season at Sahlen Field, a modest success on the field but a smash hit off of it.
Three sources told The Buffalo News on Sunday that the Jays are likely to play their six-game homestand from July 16-21 against Texas and Boston in Buffalo and are studying a 10-game stand against Kansas City, Cleveland and Boston that runs from July 30-Aug. 8.
"We're prepared for the potential of that," General Manager Ross Atkins said when asked by The News on a video call Sunday. "We need to also focus on doing everything we can to be prepared for being back to Toronto as soon as possible. So, I feel like we're in a good position in having a good alternative here in Buffalo. I'm very excited about it."
The Jays have said they need about four weeks lead time for any decision, either to extend their stay in Buffalo or move back to the Rogers Centre.
Asked if a call on future homestands is coming this week, Atkins said: "That's not my ultimate decision but that seems to make some sense that we would be making that determination soon."
The Blue Jays have sold Sahlen Field to 45% of capacity for the series against the New York Yankees that opens June 15. The club has not yet announced the figure for the following homestand, although an announcement is likely to come Monday because tickets go on sale to Bisons season ticket holders at 10 a.m. Tuesday and the general public at the same time Thursday morning.
Games going on sale this week are against Baltimore (June 24-27), Seattle (June 29-30, July 1) and Tampa Bay (July 2-4).
Toronto catcher Danny Jansen left Sunday's game against Houston after the third inning due to a strained right hamstring while running the bases. Manager Charlie Montoyo said Jansen will undergo tests Sunday night and again Monday to determine the severity of the injury.
If Jansen has to go on the injured list, Riley Adams has been red-hot with the Bisons. Toronto's third-round pick in 2017, Adams started the season 2 for 26 with the Herd but has batted .382 with six home runs since. He homered three times over the weekend, including two Friday night against Syracuse in Trenton.
Biggio goes boom with Bisons
Toronto infielder Cavan Biggio, who hasn't played since May 21 due to a cervical spine ligament sprain, started a rehab assignment with the Bisons on Sunday in Trenton and kicked it off in a big way with a long home run to dead center field in his first at-bat.
Biggio went 1 for 4 as the Bisons beat Syracuse, 5-2, to split a six-game series and improve to 15-13.
"The biggest thing was getting on the field in general, seeing live pitching," Biggio told New Jersey reporters. "Accomplished what I was looking to do, put a couple good swings on the ball and felt good. Today was definitely a step in the right direction."
"Really excited that he's pain free, and we'll get some game reps with the Trenton/Buffalo team," Atkins said. 
The Bisons are off Monday and open another series in Trenton on Tuesday night against Scranton/Wilkes-Barre. Biggio said he expects to be with the club another day or two.
Photos: Toronto Blue Jays face Houston Astros in Game 3 of three-game homestand
The Toronto Blue Jays take on the Houston Astros in Game 3 of a three-game homestand on Sunday, June 6, 2021, at Sahlen Field.