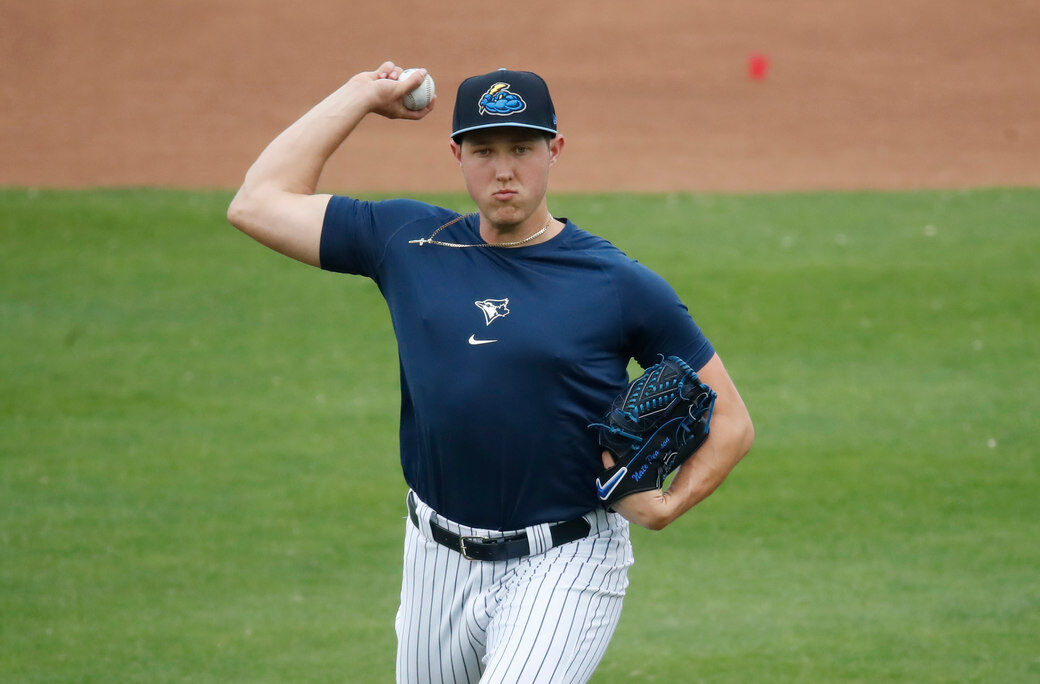 TRENTON, N.J. – A stacked pitching rotation led by Opening Night starter Nate Pearson and the return of Triple-A veteran Rowdy Tellez are among the highlights of the Buffalo Bisons' 2021 roster, announced by the team and parent Toronto Blue Jays on Monday.
The Bisons open their season here Tuesday at 7 p.m. against the Worcester Red Sox, and the 6-foot-6 Pearson will take the mound hoping to show he's healthy so he can be back in the big leagues in short order. He has been battling a strained groin muscle through spring training and could not break camp with the big club.
Everyone agrees this is one strange situation. But they also agree that the best part is they'll be playing baseball again Tuesday night.
"Yeah, it stinks right now, but it's all about the big picture but I'm not just now starting my career out," said Pearson, 24. "You look back on it in 10 years and I'll be thankful for all I went through. Being in Triple-A is not where I want to be, but I want to focus on where I'm at right now and pitching here and enjoying it with my teammates."
Pearson went 1-0, 3.00 in three starts for the Bisons in 2019 and 1-0, 6.00 in five appearances for the Blue Jays last season while battling through elbow tightness. He also pitched two scoreless innings of relief in Game 2 of Toronto's wild-card playoff series at Tampa Bay.
The order of the rest of the Buffalo rotation will be Nick Allgeyer, a 10-game winner in 2019 at Class A Dunedin; mega-prospect Alek Manoah, a 6-6 right-hander from West Virginia University who was Toronto's No. 1 pick and the 11th overall choice in 2019; right-hander T.J. Zeuch, who tossed a no-hitter for the Bisons in 2019 at Rochester; and right-hander Jacob Waguespack, who was Buffalo's Opening Day starter in 2019.
The Bisons open their "home" season in Trenton, N.J. on Tuesday night vs. the Worcester Red Sox. 
Tellez was sent back to Triple-A after batting just .183 with one homer and three RBIs in 60 at-bats for the Blue Jays in 18 April games. He hit 21 homers for the Jays in 2019 and batted .283 for them last year with eight homers and 23 RBIs. He played 260 games for the Bisons from 2017-2019 with 26 homers and 127 RBIs.
The Bisons have already had some subtractions. Presumed starting catcher Riley Adams was called up to Toronto on Sunday after Alejandro Kirk went down with a hip problem and outfielder Jonathan Davis, a defensive stalwart in Buffalo in 2018-19 and in Toronto last year, rejoined the Blue Jays' taxi squad for their trip to Oakland.
The most interesting veteran signee is infielder Christian Colon, who got the game-winning hit in Kansas City's World Series-clinching game in 2015. It came in the 12th inning of Game 5 against the New York Mets in Citi Field.
The decisions come in the wake of an allegation of sexual misconduct against the Hall of Famer.
There will be no over-the-air radio broadcasts for the Bisons' games for now. All game broadcasts will be handled by the home team, as minor league clubs are not allowed to have traveling radio play-by-play men this season due to the pandemic.
The broadcasts in Trenton will be done by Thunder announcer Gregg Caserta, with color analysis by longtime Jersey resident Dave Schofield, a Canisius College graduate who spent many years doing Griffs basketball radio broadcasts and who is a longtime minor league baseball photographer.
Pearson's opponent for Worcester will be Tanner Houck, a 6-5 right-hander who was Boston's No. 1 draft pick in 2017. The Red Sox's No. 6 prospect from MLB.com went 3-0, 0.53 in three September starts last year in Boston, but is 0-2, 4.53 in three games this year.