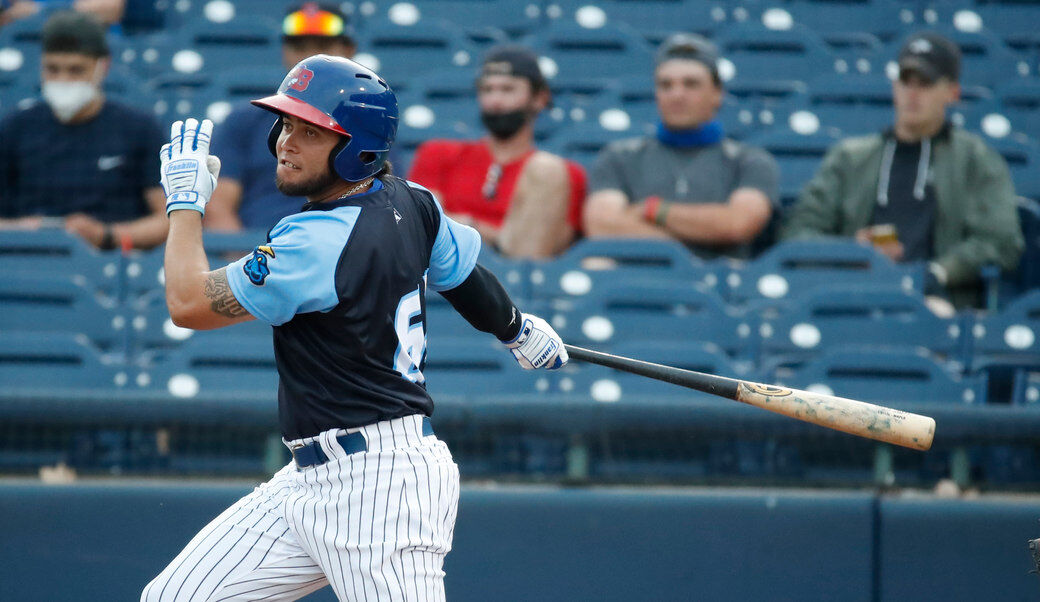 The Buffalo Bisons got plenty of electric pitching during a successful season-opening series in Trenton, N.J.
The millions of dollars the Blue Jays are spending on the park, albeit not on fan amenities, will ensure the club remains here, Mike Harrington says. 
Five Buffalo hurlers combined on a four-hitter with 11 strikeouts Sunday in the Herd's 4-1 win over the Worcester Red Sox at Trenton Thunder Ballpark. The Bisons finished their first six-game series in Triple-A East with a 4-2 record.
Reliever Connor Overton allowed one hit over four shutout innings with six strikeouts in a spot start as the Herd continued to mow down Worcester hitters. Buffalo fanned a remarkable 79 batters in the series – averaging 13.2 per game – and twice tied the modern-era franchise mark of 18 strikeouts in a game.
"It's been awesome. A lot of guys coming out doing good things attacking the zone, going after hitters and using stuff to put them away," manager Casey Candaele said. "They're using multiple pitchers and our catchers have done a good job calling games and using pitchers' stuff to the best of their abilities."
The pitching display was highlighted by the 12-strikeout mastery of Alek Manoah on Thursday, as the parent Toronto Blue Jays' No. 1 draft pick in 2019 exploded on the scene in his Triple-A debut by throwing two-hit, shutout ball over six innings. Overton was needed because scheduled starter Nate Pearson was called up to Toronto to start the Blue Jays' game in Houston.
Things are going well in every facet of the game for the Buffalo Bisons in Trenton, N.J., bu…
"He had started before (in the independent Atlantic League in 2019), so it seemed like the best choice," Candaele said of Overton, a 27-year-old right-hander. "We were a little thin and we needed somebody to step up and he stepped up huge for us."
"If you can get out there and work quick and strike people out, get your hitters back in there, that's how you can keep the momentum going," Overton said. "I was just doing my thing, locating the fastball, playing the changeup off it and pitching to my strength rather than hitters' weaknesses.
"Normally when I come out of the pen, it's like a max effort, everything I've got on every pitch. Today, I was kind of pacing myself."
Left fielder Breyvic Valera drove in three runs to lead the offense, one on a groundout in the first and other two on a single to center that capped a three-run fourth. The Bisons batted .312 and scored 33 runs in the six games. They had 31 extra-base hits, including 20 doubles and eight runs.
"Couple times with guys hitting doubles, you move a guy over and then a groundball scores him and that's kind of some old-time baseball," Candaele said. "Sometimes that's what's needed to scratch a run across and we've been doing a good job of that."
All six games were played in front of socially-distanced sellouts of 1,526 in the 6,100-seat ballpark in the New Jersey capital. It is the Bisons' temporary home while Sahlen Field is being renovated to host the home schedule of the Blue Jays, which opens June 1 against Miami.