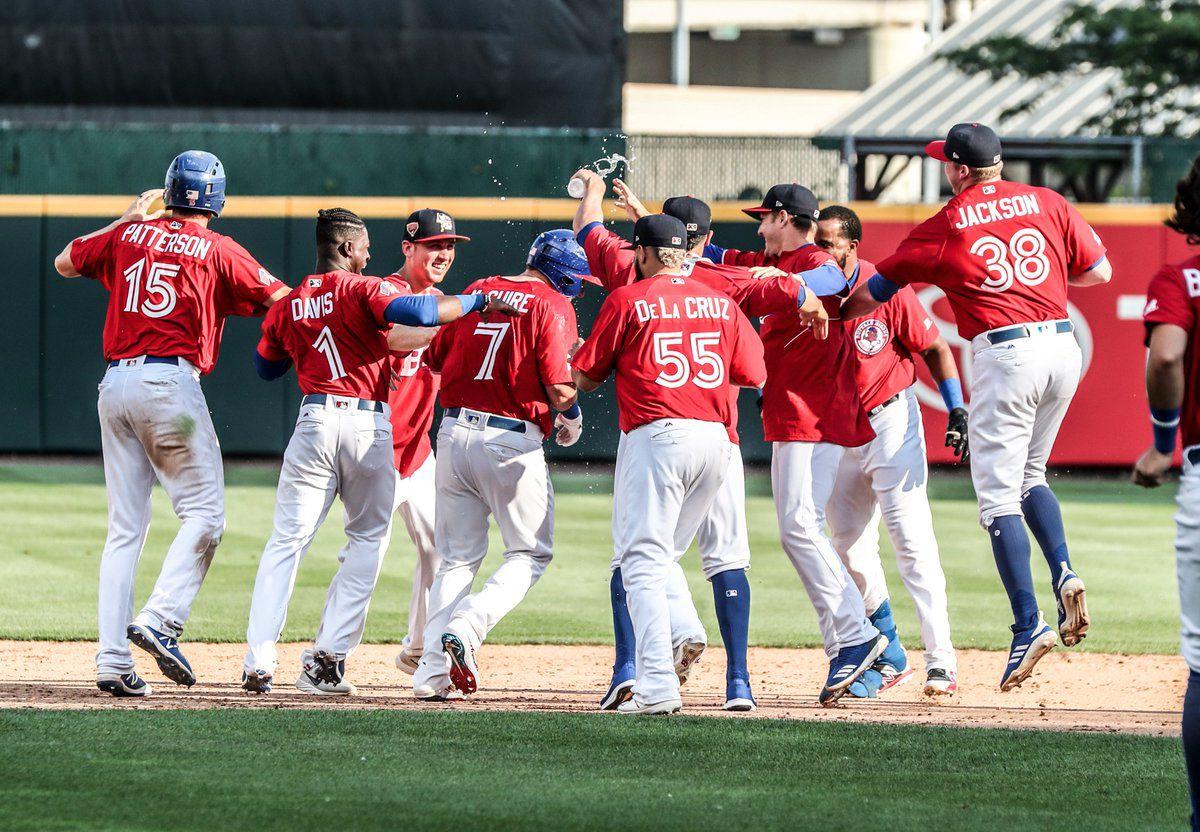 After more than 19 months off, the Buffalo Bisons are finally scheduled to get back on the field April 6 when they host the Rochester Red Wings.
The site of that game – and every other home game on the Herd's 2021 schedule announced Thursday – remains up in the air based on the potential of the parent Toronto Blue Jays using Sahlen Field for their home games as soon as mid-May.
The Blue Jays played their final 26 home games in Sahlen Field last season.
The Blue Jays said Thursday that they are opening the season at their spring training home in Dunedin, Fla., for their first two homestands, but could transition to play in Buffalo as early as May 14 if the Canadian government continues to not allow teams to travel across the border. If the Blue Jays opt to play in Buffalo, the Blue Jays plan to move their Triple-A team to an undetermined location for as long as the parent club is at Sahlen Field.
Major League Baseball, which has taken over operations of the minors, announced that every minor-league club's schedule and travel has been dramatically reduced in deference to the pandemic. The Bisons will play only five of the other 19 teams in the new Triple-A East league, with the entire 142-game schedule composed of opponents from the Northeast Division.
Buffalo will have 36 games apiece against Rochester and the Syracuse Mets, 24 apiece against the Scranton/Wilkes-Barre RailRiders and the new Worcester Red Sox, and 22 games against the Lehigh Valley Iron Pigs. Also to cut down on travel, the Bisons will play 23 six-game series this season (and one four-gamer against Lehigh Valley heading out of the All-Star break).
The Bisons had no information for fans on ticketing Thursday. The team said that currently there are no season or individual tickets for sale and no group hospitality areas available for purchase. The team is presently limited to 10% capacity at Sahlen Field (roughly 1,700 fans) and is pondering its options. Fans with ticket credits from the canceled 2020 season are encouraged to visit Bisons.com for more information on options for applying that credit when tickets do become available. The ticket office and the ballpark remain closed.
"Being able to circle 'Opening Day' at Sahlen Field on April 6 definitely feels great, but we're ultimately looking forward to the day when we can also tell our amazing fans that we can once again gather together at the ballpark to enjoy Bisons baseball," said Bisons general manager Anthony Sprague. "The health and safety of our fans is and will always be our top priority as we continue to evaluate all options for hosting fans at the ballpark in 2021."   
Every Monday will be a day off on the 2021 schedule. With the number of days off dramatically increased, the schedule will run through the season finale Sept. 19 at Rochester, nearly three weeks longer than normal. Again, to cut down on potential long-haul travel, there will be no minor-league playoffs in 2021.
The Bisons will play their first game at Polar Park in Worcester on May 18. It will be their first game in Massachusetts since defeating the Pawtucket Red Sox 2-0, at "The Futures of Fenway" game on August 18, 2012, in Fenway Park. Worcester takes over from Pawtucket as Boston's Triple-A affiliate after the Red Sox had been in the Rhode Island city since 1973.
Buffalo will not play 14 opponents from Triple-A East this year, and the 2021 season will mark the first time since they returned to Triple-A in 1985 that the Bisons will not play Indianapolis or Louisville. Those two teams were with the Herd in the American Association from 1985-97 and joined them in the 1998 move to the International League.
The Bisons also will not play Columbus, Toledo, Charlotte, Durham and Norfolk for the first time since the '98 return to the IL.
The Bisons will have 33 weekend dates, accounting for 47% of their 70-game home schedule. There are 24 weekend dates from June-September. The 2021 schedule is subject to change and Baseball America reported Thursday that MLB Commissioner Rob Manfred reserves the right until March 15 to delay the start of the season due to the Covid-19 pandemic.
The Bisons have not played at home since a 7-6 loss to Rochester on Aug. 29, 2019. Their last game was a 5-3 win at Scranton/Wilkes-Barre on Sept. 2, 2019, to complete a 71-69 season.
Game times and promotions will be announced at a later date. The full schedule:
April – 6-11, Rochester; 13-18, at Syracuse; 20-25, Scranton/WB, 27-30, at Lehigh Valley.
May – 1-2, at Lehigh Valley; 4-9, Worcester; 11-16, Rochester; 18-23, at Worcester; 25-30, at Scranton/WB.
June – 1-6, Syracuse; 8-13, Scranton/WB; 15-20, at Rochester; 22-27, at Syracuse; 29-30, Lehigh Valley.
July – 1-4, Lehigh Valley; 6-11, at Rochester; 15-18, Lehigh Valley; 20-25, Syracuse; 27-31, at Worcester.
August – 1, at Worcester; 3-8, at Lehigh Valley; 10-15, Rochester; 17-22, at Syracuse; 24-29, Worcester; 31, Scranton/WB.
September – 1-5, at Scranton/WB; 7-12, Syracuse; 14-19, at Rochester.