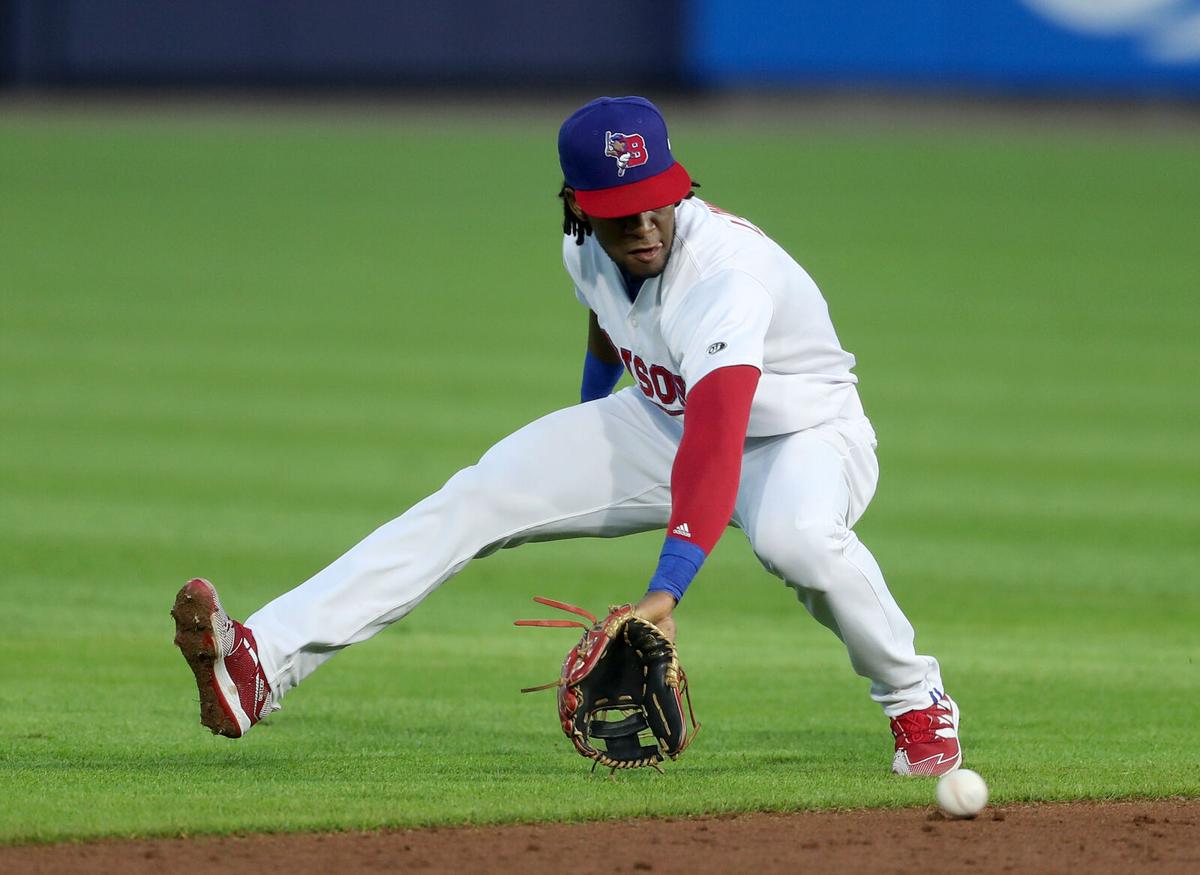 Buffalo's winning streak seemed ready to end on Sunday at PNC Field in Moosic, Pa. Not so fast, though.
The Bisons scored three times in the top of the 11th inning with the help of some daring baserunning and defeated Scranton/Wilkes-Barre 9-6 for a seven-game sweep of the first-place series with the RailRiders and a five-game lead in the Northeast Division of Triple-A East.
Key to the winning rally was the steal of third base by catcher Kellin Deglan, who was placed at second base to start the inning. After a walk to Logan Warmoth, Forrest Wall singled to score Deglan and send Warmoth to third. Otto Lopez singled to drive home Warmoth, and Wall came in on Richard Urena's sacrifice fly. It was a close tag play at home plate and RailRiders manager Doug Davis was ejected for his protest to plate umpire Chris Marco.
The Herd had taken the lead in the 10th with the help of a heads-up play by Urena, but the RailRiders tied it with a ground-rule double by Jonathan Davis. Urena, who was placed at second base to start the inning, tagged up and advanced to third on a fly ball and was in position to score easily when Cullen Large lined a single off the right foot of Scranton pitcher Adam Warren.
New Bison strikes: Former Pittsburgh Pirate Gregory Polanco hit his first home run since joining the Herd on Thursday to tie the game 5-5 in the eighth inning. Toronto signed the 29-year-old left-handed hitter to a minor league deal last week. It was the only homer of the game.
The Bisons now have an eight-game winning streak, matching their longest of the season, from July 18-28 over Lehigh Valley (1), Syracuse (6) and Worcester (1). This streak is one win over Worcester and all seven against the RailRiders in the longest series in the modern history of the ballclub.
Wrecking crew: The Bisons had 13 hits on the day, with Lopez (four), Urena (three) and Large (three) accounting for 10 of them. They also scored four of Buffalo's runs and had five of its seven RBIs.
By committee: Lefty Nick Allgeyer started for the Bisons and struck out six over five innings. Buffalo used seven pitchers altogether, with Trent Thornton, who pitched the 10th, picking up the win. Hobie Harris pitched the 11th for his eighth save for the Herd.
The Bisons will be off on Labor Day, then return to Sahlen Field on Tuesday to open a six-game series against the Syracuse Mets with a 6:05 p.m. start. It will be "Festival Week" at the downtown ballpark with Polish Night on Tuesday, Italian Night on Wednesday and Irish Night on Thursday. Probable starting pitchers have not been announced yet by the Bisons and Mets.