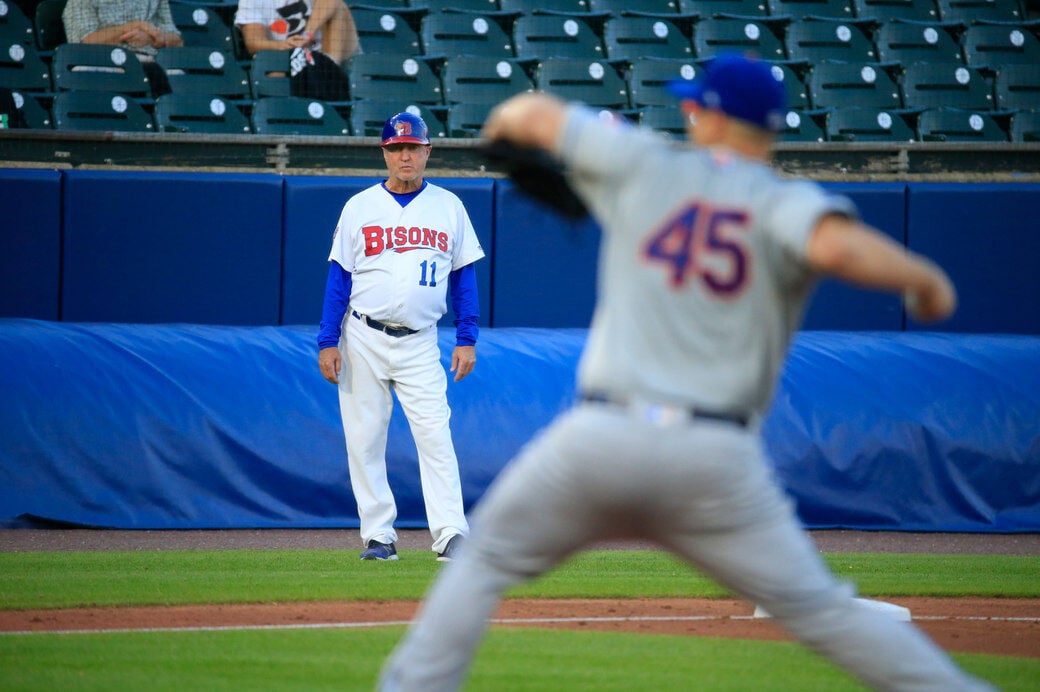 Buffalo Bisons manager Casey Candaele has been named Triple-A East co-Manager of the Year and shortstop Kevin Smith was named to the East All-Star team, it was announced Tuesday by Minor League Baseball.
 "Knowing that you win 91 games and you didn't make the playoffs really hurts me, hurts all my teammates," Guerrero said.
Candaele, who led Buffalo to its first division title since 2005 and a second-place finish in the Triple-A Final Stretch tournament, is the fifth Bisons manager in the modern era to earn a league's Manager of the Year honors. He joins Marc Bombard (1992), Joel Skinner (2000), Eric Wedge (2001) and Marty Brown (2004).
Candaele, who played on three straight Buffalo postseason clubs from 1995-97, shared the award with Durham's Brady Williams. Candaele led the Herd to a 71-46 record in the regular season and an 8-1 mark in the Final Stretch as Buffalo posted its highest winning percentage since 2001 and its second-best since 1927. The Bisons won 43 home games this season, tied for the third-most in the minors, and went 29-13 while starting the season in Trenton, N.J., before moving to Buffalo.
The Bisons posted a franchise-record, 12-game winning streak late in the season and essentially wrapped up the Northeast Division by sweeping a seven-game showdown series at Scranton/Wilkes-Barre as part of the streak. The Bisons finished the year with the best team batting average in Triple-A East (.262) and the second-best ERA in all of Triple-A (3.46).
Two years of craziness in Sahlen Field finally ends Sunday.
Smith played in 94 games for the Bisons as a Triple-A rookie and was named the club's most valuable player after batting .285 with team-highs in home runs (21) and RBIs (69). He finished seventh and fifth, respectively, in the league in the latter two categories. He had a .968 fielding percentage in 66 games at shortstop and a .979 in 17 games at third base.
Smith batted .418 during a 17-game hitting streak in July and batted .314 during a 21-game on-base streak from May 12-June 8. He made his major league debut for the Toronto Blue Jays on Aug. 18 against Washington and earned his first hit Aug. 20 against Detroit. He hit his first MLB home run against the Tigers on Aug. 29 in Comerica Park.
Smith becomes the first Bisons player to receive a postseason All-Star award since catcher Danny Jansen in 2018. He's the sixth modern era Buffalo shortstop chosen, joining Felix Fermin (1988), Carlos Garcia (1992), Damian Jackson (1996), Jolbert Cabrera (1998) and Jhonny Peralta (2004).