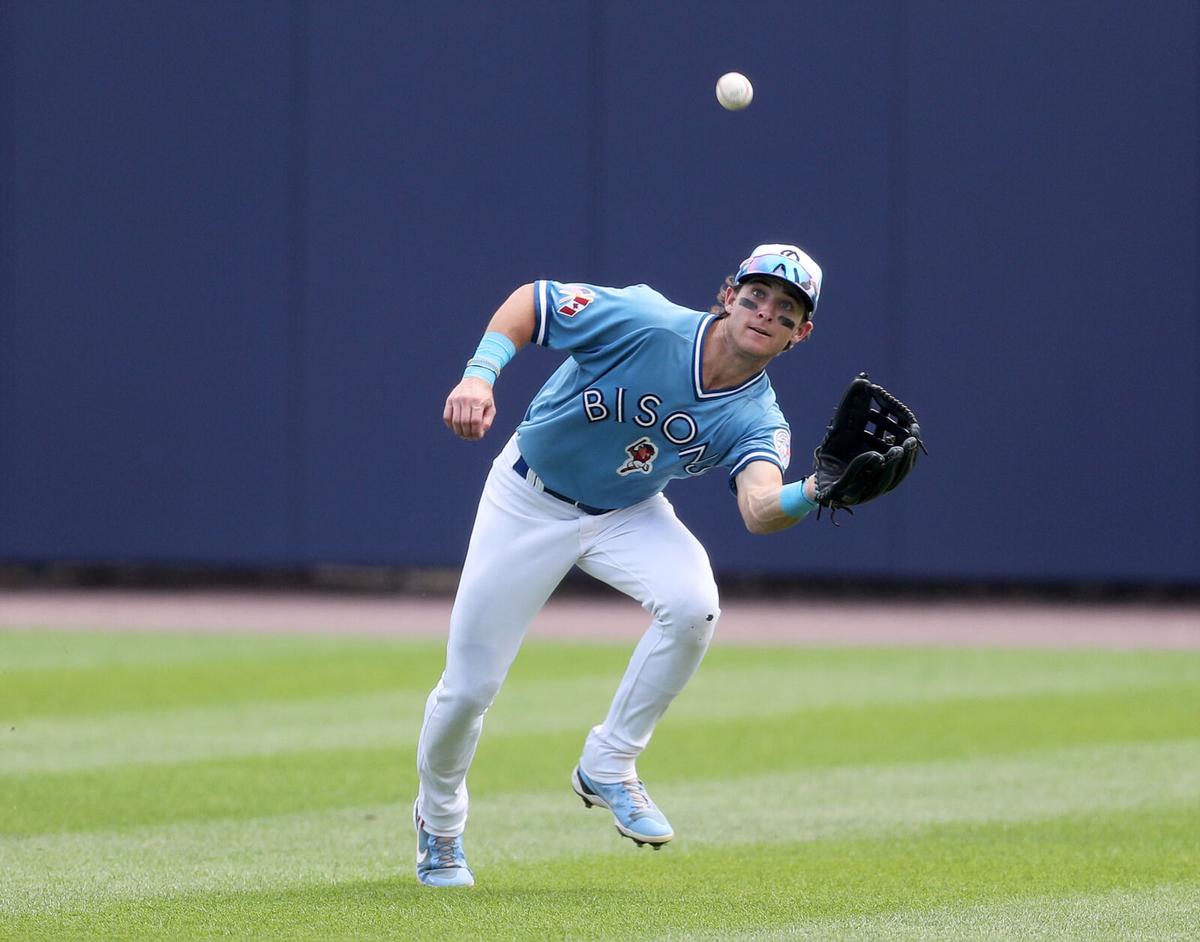 The grind the Buffalo Bisons and Scranton/Wilkes-Barre RailRiders are about to go through this week is like something you might have seen in baseball 100 years ago.
"It's kind of cool. You think back to when they used to have nine-game series in the playoffs," Herd manager Casey Candaele said. "You'd watch 'Eight Men Out' (the 1980s movie on the 1919 "Black Sox" World Series scandal) and they had to win five out of nine. So you look at it and basically, that's where we are.
"We're gonna go head-to-head with the team in front. It's kind of going to be like the playoffs. So it's actually really cool."
"If you're gonna go 1-5, the best game to win is the last one of the series. That was a big, big win," Buffalo Bisons manager Casey Candaele said.
The Bisons (57-41) trail Scranton by two games in the division with 21 games remaining. Both teams will play a 119-game schedule, as each has a canceled game that will not be made up.
The series with the Yankees affiliate at PNC Field in Moosic, Pa., opens with a makeup doubleheader Tuesday night at 5:05. The teams play single games Wednesday, Thursday and Friday at 7:05, stage another makeup twinbill Saturday at 5:05 and close the series Sunday at 1:05. All games are on Radio 1520 AM and available via subscription at MILB.TV.
The long series was necessitated by Buffalo's rain-marred trip to Moosic in late May, when two games were postponed and a third was suspended and completed the next night. It is the longest series in the Bisons' modern era, surpassing a seven-gamer against Louisville that also featured two doubleheaders in War Memorial Stadium in 1986.
All Buffalo Bisons games at Sahlen Field this season are general admission for $10 a ticket.…
The Bisons are just 3-7 against Scranton/Wilkes-Barre this year, going 1-3 in their previous road series and 2-4 in the lone home set June 8-13 in Trenton, N.J. The teams do not meet this year in Sahlen Field.
"It's going to be interesting because I have a lot of friends over in their clubhouse," said Buffalo catcher Kellin Deglan, who started the year in Scranton and belted a three-run homer in Sunday's 9-5 win over Worcester. "I had five good years with the Yankees organization. Now I'm on a new team, another great group of guys.
"And with the standings, these games are huge. So we want to go in there, win a series and we want to make up some ground because those guys have been playing well all year."
Scranton is led in batting by outfielder Greg Allen at .323. Fellow outfielder Socrates Brito, the Bisons' 2019 MVP, is batting .263 with eight homers and 48 RBIs.
The road has been a grind for the Herd, as Buffalo has gone just 22-22. The Bisons are also just 6-6 in Sahlen Field, and their record is solely built on the glossy 29-13 mark they put up while hosting games in Trenton over the first three months of the season.
The Bisons continue to lead Triple-A East in team ERA at 3.51, but have to shore up their starting pitching, which had an 8.87 ERA while dropping five of six against Worcester here last week. While matchups remain uncertain, Bowden Francis, who is 3-2 in eight starts for the Herd since being acquired from Milwaukee for Rowdy Tellez, is slated to start one game Tuesday.
"It almost seems like they're all in a little bit of a funk right now, but sometimes that happens where it's just one start and everybody has it at the same time," Candaele said. "You just kind of try and overcome it and head to Scranton. ... I think they'll do a great job, I have total confidence in them. They've gone through tough times so I think they'll be ready to go."