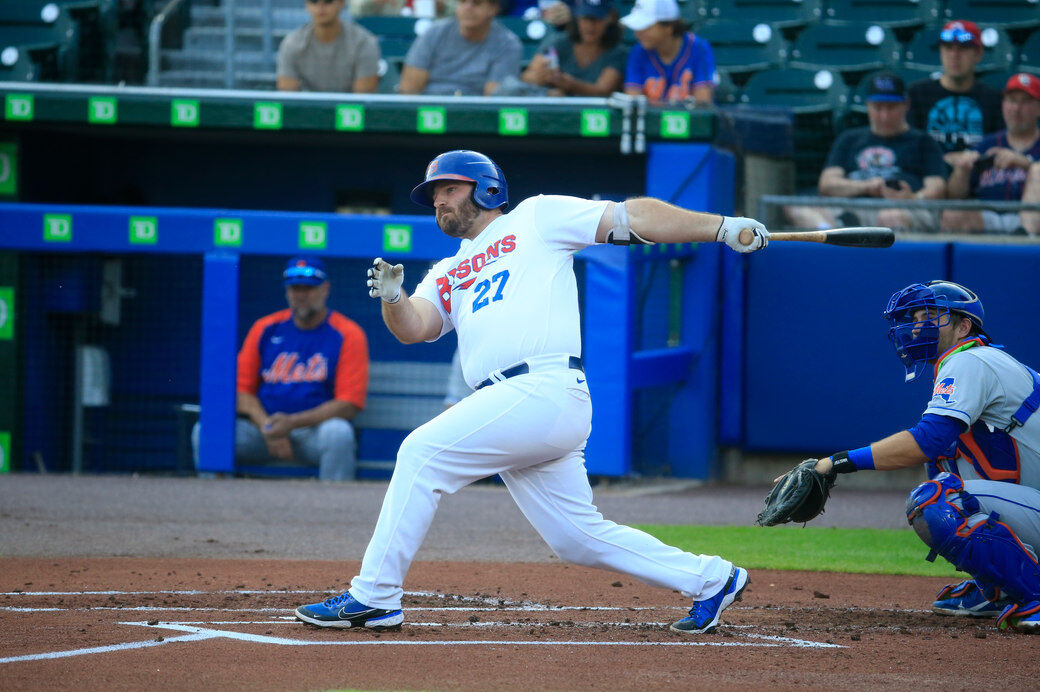 A six-run inning followed by a well-timed downpour were just what the Buffalo Bisons needed Thursday night to make history in Sahlen Field.
The Bisons have won a franchise-record 11 games in a row after a rain-shortened 6-4 win over the Syracuse Mets, their third straight in this series.
They got all their runs in the bottom of the fifth, keyed by a two-run homer by Logan Warmoth and a three-run shot from Tyler White, and then watched Mother Nature conspire to short-circuit a Syracuse rally in the top of the sixth.
The Mets pulled within two runs on Travis Blankenhorn's three-run homer off Curtis Taylor but the skies opened and umpires waited too long to call for the tarp as the infield got drenched. After a 62-minute wait, the men in blue ruled the conditions too poor to continue and the Syracuse at-bat was initially wiped out. Nearly 90 minutes later, Major League Baseball officials allowed the inning to stand but that doesn't change the outcome.
The Bisons won 10 in a row in 2002 and again in 2004. Both of those teams won division titles and the '04 club won the franchise's most recent league title. But neither of them ever won 11 straight.
"These guys are excited," said manager Casey Candaele. "Whatever is out there to accomplish, they are getting fired up to accomplish it. They're looking for the next goal that they can achieve in a season where it's kind of hard to find goals because of no playoffs and things like that."
The Bisons (67-41) pulled within one game of Durham (69-41) in the race for the best record in Triple-A East. They are five games ahead of Scranton/Wilkes-Barre in the Northeast Division and their magic number to clinch is down to five.
"I've been on some really good baseball teams and that's what we have here," said White, who has played for both the Houston Astros and Los Angeles Dodgers. "We have a lot of guys that can step up in big moments from the top of the lineup to the bottom of the lineup to the guys on the bench. We just have a lot of depth and a lot of really good players."
Syracuse took a 1-0 lead in the second on a solo home run by third baseman Cheslor Cuthbert but Buffalo starter Casey Lawrence, who escaped a bases-loaded jam in the first with two strikeouts, gave up nothing else.
Syracuse starter Josh Walker pitched hitless ball over the first four innings but couldn't get through the fifth.
With one out, Christian Colon singled to left for the Bisons' first hit and Warmoth followed with a two-run homer to deep right-center to give the Herd a 2-1 lead. Otto Lopez's two-out RBI single made it 3-1 and White added the coup de grace with his monster shot to left.
"We just had to grind it out and we continued to put up good at-bats," White said. "It was tough early. ... With this team, once one guy gets us going, it's hard to stop us. Hitting is contagious and we all started swinging the bat well there."
The series continues Friday night at 6 (Radio 1520 AM) with Thomas Hatch (2-5) pitching for the Herd against Syracuse right-hander Adam Oller, who is 3-0, 0.39 with 27 strikeouts in 23 innings since being promoted from Double-A Binghamton.