TRENTON, N.J. – Everyone agrees this is one strange situation. But they also agree that the best part is they'll be playing baseball again here Tuesday night.
The Trenton Thunder were a longtime Double-A affiliate of the New York Yankees, but the Bombers pulled out of the New Jersey capital in the fall and Trenton seemed as though it was out of affiliated baseball. A lot of Toronto Blue Jays prospects didn't play in 2020 because the minor-league season was canceled. To start 2021, the Buffalo Bisons needed at least a temporary home – and maybe one for the entire summer – with Sahlen Field undergoing renovation in advance of the return of the Blue Jays.
The 6-foot-6 Pearson is hoping to show he's healthy so he can be back in the big leagues in short order
The confluence of all those roads lead to Tuesday night's season opener as the Bisons – or is it the Thunder? – return to the field for the first time in 20 months against the Worcester Red Sox. Their home for now is a comfy 6,100-seat facility that's long been known as Arm & Hammer Ballpark, but is nameless and now just Trenton Thunder Ballpark. It's 392 miles southeast from the corner of Washington and Swan.
The skinny from the baseball side is this: With the 2020 season canceled, Tuesday's opener will be the Herd's first game since a 5-3 win at Scranton/Wilkes-Barre on Sept. 2, 2019. Buffalo's last home game was a 7-6 loss to Rochester on Aug. 29, 2019. When the Bisons return to Buffalo is anyone's guess, and it's all dependent upon the reopening of the Canadian border.
If the border reopens and the Blue Jays get the go-ahead from Ontario health officials to return home, the Bisons would look to return from New Jersey in a few days. If that OK never comes, the Blue Jays could stay in Buffalo all summer and the Bisons would set up shop in New Jersey for the duration and thus not return to Buffalo until April of 2022.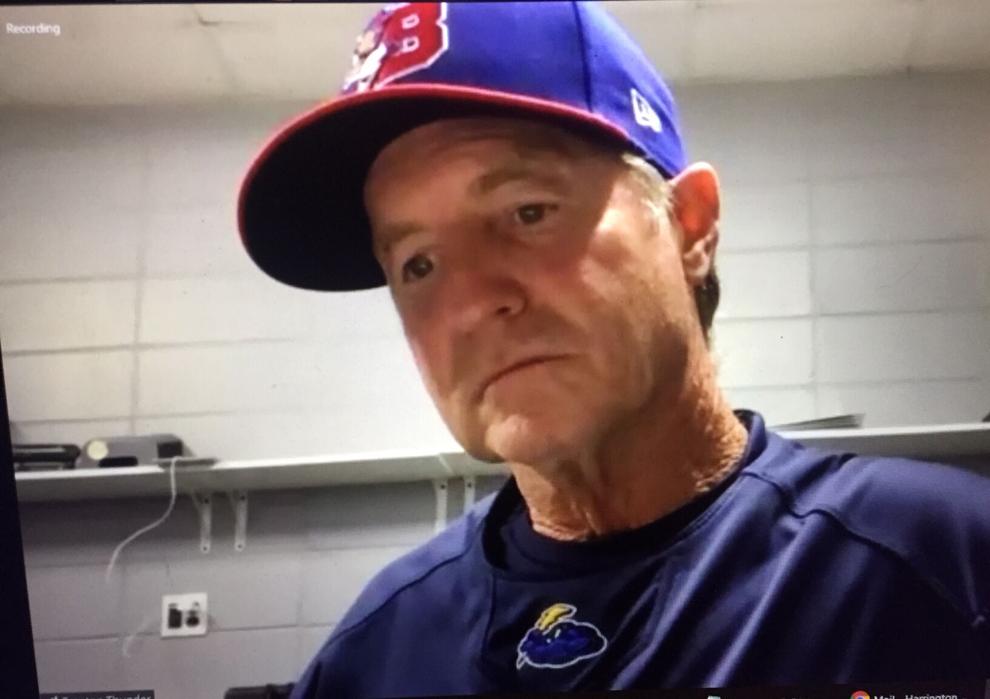 The Blue Jays have not officially announced they're coming to Buffalo and there have thus been no tickets put on sale for any games. 
However long they're in Jersey, it will be a land of confusion. As part of the agreement, the players and coaches will wear Trenton Thunder gear at home and Bisons gear on the road. New Herd manager Casey Candaele, a classic clubhouse cut-up during his days with the Herd from 1995-97, did his video call with reporters Monday in a Bisons cap and Thunder sweatshirt.
"I've already named the team. Two names, the 'Buffaton Bisder' and the 'Trenfalo Thunsons.' It's a mixture of both teams," Candaele said with his trademark mischievous grin. "So I don't know if this has ever happened before, a team played a season and they wore different uniforms in two different cities. So I think we're making history.
"It's kind of interesting, but it's just what we have to do right now. And it's part of everything that's going on. ... At least we're going to be playing baseball, which has been a while. So the players I know are excited."
The uniform situation was the talk of the clubhouse Monday. Nate Pearson, Toronto's No. 1 prospect and Tuesday's scheduled starter, recoiled in horror at wearing the Thunder's Yankees-style pants.
"I can't tell you how weird it is that I'm wearing pinstripe pants right now," Pearson said. "We're at home in Trenton. We have to be the Trenton Thunder at home, but we go on the road and all of a sudden we switch to the Buffalo Bisons. That's a little bit weird. I never thought I'd be in pinstripes. If you'd ask me last year, there was no way. None of the affiliates of the Blue Jays wear that. It's a little weird, but this is a game of adjustment. And obviously with Covid, it's still crazy. We've just got to make the adjustment."
Triple-A rookie Alek Manoah, a 6-foot-6 starter who was Toronto's No. 1 pick in 2019, said he was equally baffled prior to his media call.
"That was one of the things I told Casey before coming in here. I'm like, 'Am I wearing a Bisons hat? I don't think I have a Bisons hat,' " a laughing Manoah said. "So definitely something we're gonna have to figure out and I'm sure it'll be a little bit of a mess, but we've got a pretty good clubhouse, a pretty loose clubhouse. So we are just gonna make a joke of it and keep going and get our work in. We'll figure it out."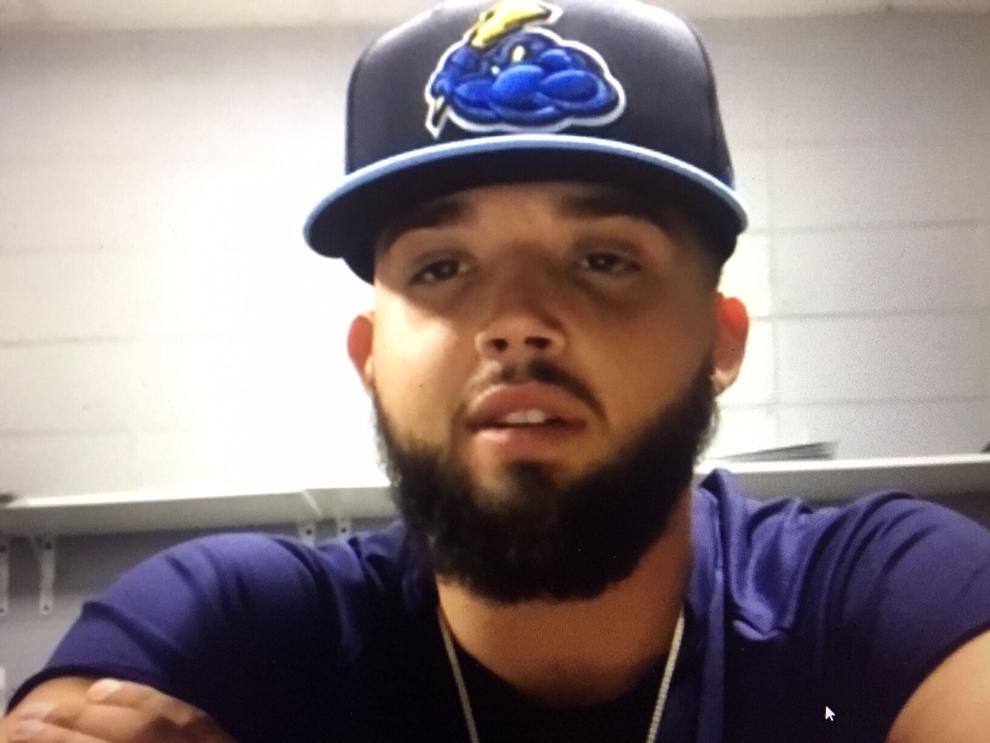 Sahlen Field renovations are being paid for by the Blue Jays and Bisons, without use of public funds.
Laughs aside, the branding was important to the Trenton front office. They're expected to sell all 1,500 socially-distanced seats to Tuesday's opener and many other home games this month. It's notable, however, that official records for Triple-A baseball will show "Buffalo Bisons" in the standings, box scores and statistics.
"It was important for us to keep our brand, keep our logo, keep the Trenton Thunder name familiar to our fans," Trenton General Manager Jeff Hurley said. "We wanted our fans to come to the ballpark saying they were going to come see a Trenton Thunder game. Thanks to (Bisons GM and Rich Baseball president) Anthony Sprague and Mike Buczkowski up in Buffalo, they were good with it. They understood and we appreciate them working with us to make that happen. Buffalo has been great to work with through this entire process from top to bottom. It's been such a easy transition on our end knowing that that they have our backs, and they're helping us along the way."
After a one-month delay in the start of the season to tighten Covid-19 protocols and ramp up vaccinations, the Bisons will be opening a 120-game schedule in their first game with the minors under the auspices of Major League Baseball after MLB took control during the offseason. There is no longer an "International League," as the Herd will be playing in a 20-team grouping called "Triple-A East."
But to limit travel during the pandemic, Buffalo will have just five opponents this season: Rochester, Syracuse, Lehigh Valley, Scranton/Wilkes-Barre and Worcester, which is in its first season after Boston moved from its longtime Triple-A home in Pawtucket, R.I. Every series will be six games and most homestands/road trips will be 12 games. Every Monday during the season will be an off day and the season will stretch about two weeks later than normal, to Sept. 19. There will be no playoffs in 2021.
Members of the Bisons' front office have stayed in Buffalo to make continued preparation for the Blue Jays' stay, as well as help the West Virginia Black Bears, also owned by Rich Baseball, prepare for their first season in the MLB Draft League for college players. Trenton was scheduled to play in that league as well, but its club – which will be managed by Bisons legend Jeff Manto – has been temporarily displaced to nearby Rider University while the Bisons are in town.
The Bisons worked out here briefly Sunday and took the field Monday night under the lights. Hurley welcomed them and even introduced them to Rookie, the Thunder's official batdog. The tradition of batdogs is huge here – they actually retrieve bats and bring them to the dugout – and the dogs have their own web page. Covid-19 protocols, however, will prevent that for now.
"It's been such a long period of time since since some of these guys have been in a competition where it meant something against another team," Candaele said. "So I could sense the anticipation, and they're there wanting to get it started."
"You missed a piece of what you've been a part of and what you've been doing for so long," Hurley recalled of the lost 2020 season. "You were thinking, 'What I wouldn't give to pull a tarp right now' and stuff like that. So it was certainly tough not to have baseball in Trenton. But here we are now ready to go and excited for 2021."