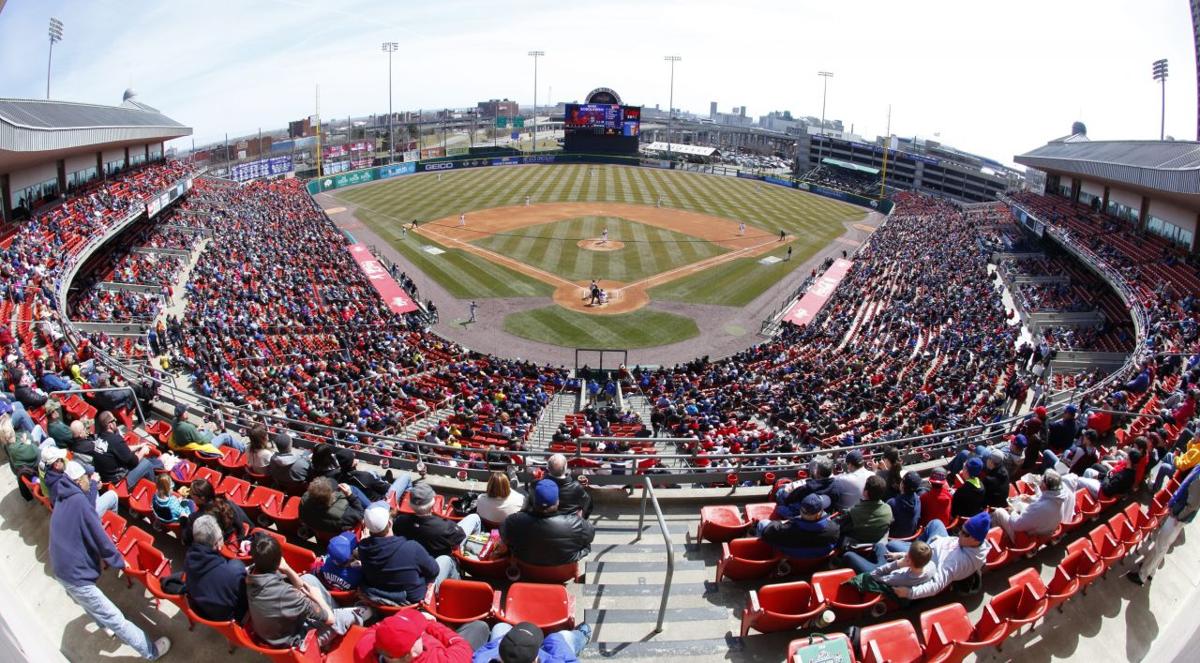 Uncertainty prevails in the minor leagues as negotiations continue on a new Professional Baseball Agreement with Major League Baseball.
Seismic shifts are expected in the structure of the minors for 2021 and beyond, with as many as 42 teams contracted and most MLB clubs dropping to four affiliates. The Bisons are expected to remain unaffected and continue in the International League as a Toronto affiliate, but several New York State teams have already seen changes announced.
Dire straits.
Two words that describe the situation for Minor League Baseball. The Bisons and roughly 160 other teams are on pause until April 2021. We have no idea what things will look like when they come back. And for many teams, if they come back.
A big move came late Tuesday night when the Minnesota Twins announced they are dropping the Rochester Red Wings as their Triple-A affiliate after putting their prospects in Frontier Field since 2003. With MLB putting a renewed emphasis on geography, the Twins are expected to align with the St. Paul Saints as that franchise is rumored to be moving to affiliated baseball after playing in the independent American Association.
"Our relationship with the Twins has been a good one. (Twins President/CEO) Dave St. Peter, in his call to inform me, stressed the deep appreciation the Twins have had for our relationship, and gratitude for our partnership," said Red Wings President/CEO Naomi Silver. "We will always have fond memories of our time spent as a Twins affiliate, but it's exciting to contemplate the future in this new era of Red Wings Baseball." 
There are not many options for the Red Wings other than the Washington Nationals, who are currently in Fresno. That franchise is slated to be dropped out of Triple-A and the Nats could be moved to Rochester. The rest of the current IL North clubs are expected to stay the same, as the Bisons will be with Toronto, the Yankees will be in Scranton/Wilkes-Barre, the Mets in Syracuse, the Phillies in Lehigh Valley and the Red Sox at their new Triple-A stadium in Worcester, Mass., after spending the last 47 years in Pawtucket, R.I.
MLB announced a similar plan last month for the Appalachian League.
The Rochester move is just one of a bevy of changes slated for teams in New York State. Although nothing is official, the entire New York-Penn League is expected to be revised with many teams dropping out of affiliated ball and moving to a college wood-bat circuit. Teams on that list would include the Batavia Muckdogs.
The Mets surprised observers Tuesday by announcing they would be retaining Double-A Binghamton as an affiliate after it was presumed that city was on the contraction list. The Mets also announced they would be keeping Brooklyn from the NY-P. Binghamton could stay in the Eastern League or could be flipped to a new Class A league, with Brooklyn moving up to Double-A.
The Yankees, meanwhile, caused plenty of consternation with their announcement that they were dropping Double-A Trenton and Class A Staten Island and replacing them with Somerset, N.J., from the independent Atlantic League and Hudson Valley from the NY-P League.
Both Trenton and Staten Island claimed they learned of the decisions via the Yankees' social media accounts.
"While this community built the Yankees organization up and set minor league baseball attendance records, it seems the Yankees were only focused on trying to cut culturally diverse Trenton down in favor of a wealthy, higher socioeconomic area in Somerset," Trenton owner Joseph Plumeri said in a statement.
Staten Island tweeted a statement from team president Will Smith that had a similar tone.
"After careful consideration of locations in New York City, our ballpark was approved by the New York Yankees and built in St. George, Staten Island by the City of New York. It was planned and agreed-to in 1999 for the express purpose of hosting New York Yankees professional Minor League Baseball. We are shocked at the developments from this past weekend, and we believe what has happened to our organization is unacceptable. The Staten Island Yankees will evaluate all of its (sic) alternatives and make choices based on what is best for the community."
Be the first to know
Get local news delivered to your inbox!