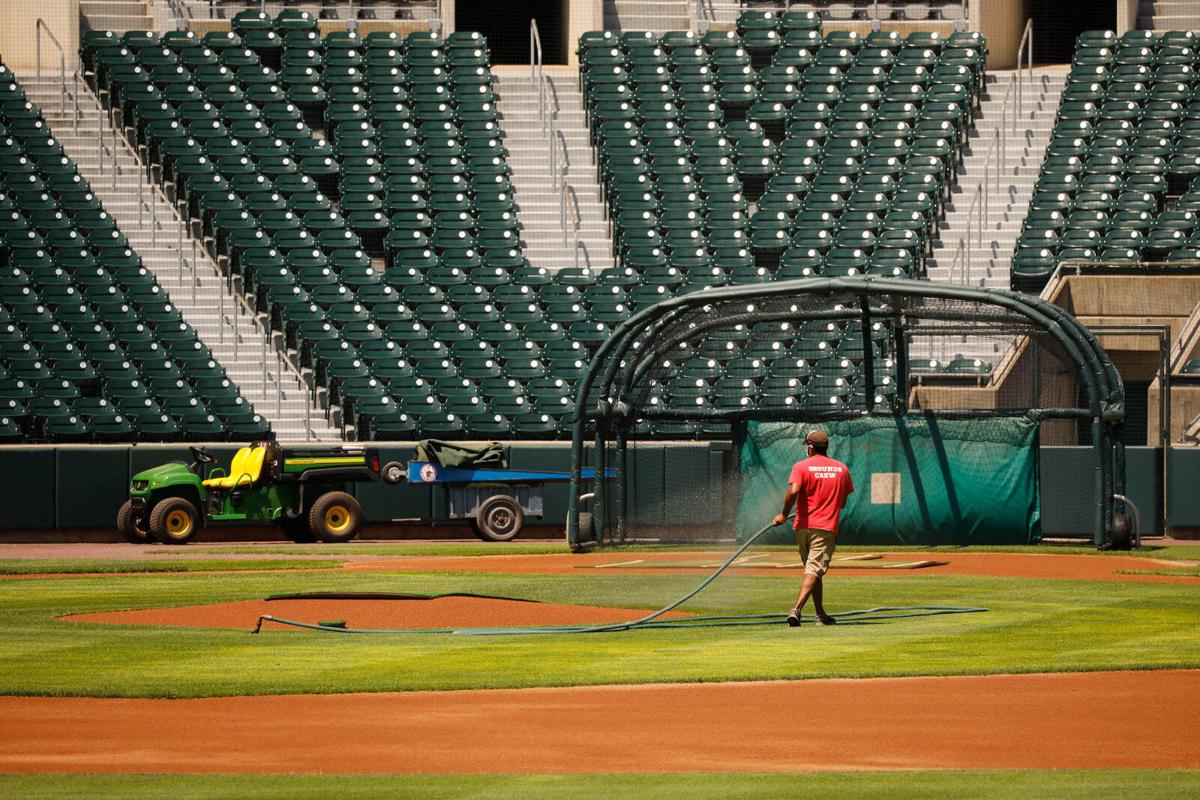 Things are full-speed ahead to upgrade Sahlen Field, but the work is going on amid the sobering backdrop of the coronavirus pandemic.
The project being directed by Major League Baseball on behalf of the Toronto Blue Jays pressed on Monday after two MLB games were postponed when news broke the Miami Marlins reported 13 positive cases among players and staff.
The Marlins – the first team scheduled to meet the Jays in Buffalo on Aug. 11-12 – had four positive cases going into Sunday's 11-6 win in Philadelphia but opted to play. Nine more cases were revealed Monday, and Miami's home opener against Baltimore was postponed. So was Philadelphia's game against the New York Yankees as the Phillies awaited test results to determine their level of exposure.
As MLB owners held a scheduled conference call Monday and opted to move ahead with the season, the news of the Marlins' positive tests grabbed the attention of officials locally and around baseball.
Tweeted Erie County Executive Mark Poloncarz: "I have already contacted NYS and the Buffalo Bisons' leadership regarding the Marlins Covid-19 outbreak. While I support the Blue Jays playing in Buffalo, it must be done safely and cannot put our community at risk. No community should be put at risk just for sports."
Said Rich Baseball Operations president Mike Buczkowski: "We've had ongoing dialogue with the county executive and the Mayor and we will continue to have that." The Bisons referred further inquiries about the Marlins' situation to the Blue Jays and MLB.
Speaking on his regular pregame Zoom call from Washington Monday afternoon, Blue Jays manager Charlie Montoyo said his coaches have spread the word among his team to be vigilant.
"My heart goes out to that team and anybody who was infected," Montoyo said. "Of course, there's concern. The moment we left Canada, there was concern. We've got to follow the guidelines. It's not going to be easy. We were going to Florida (to open the season at Tampa Bay). That's a hot spot. We talk about it all the time. We meet with the coaches every day and just communicate to the guys to be careful and follow the guidelines."
Nationals manager Dave Martinez, who had a cardiac procedure a month before his team won the World Series, said on his pregame Zoom that the news about the Marlins' situation was concerning because of his risk factors.
"I'll be honest with you, I'm scared," Martinez said. "I really am."
The Nationals are scheduled to play the Marlins in Miami this weekend. Asked if he has any doubts about his team making the trip, Martinez said of MLB: "Hopefully they make the right decision. That's all I'm going to say."
Assuming the schedule proceeds and the Marlins come here to play on Aug. 11 – and no one can assume anything, given the pandemic – the Blue Jays' temporary home will look quite different than it has for the last 30 years.
"It's an enormous task. Not just specific to Buffalo but minor-league ballparks in general," Blue Jays president/CEO Mark Shapiro said of remaking Sahlen Field in an interview Monday on Sportsnet 590 The Fan in Toronto. "To take a minor-league stadium and to say we want it to be big-league standards for ourselves and the major-league teams coming in, that is a task in itself.
"Layer on top of that, protocol that specifically deal with the virus and create the need for additional space to create social distancing, intake rooms and testing capabilities, and all of a sudden, we're faced with making a big task a monumental task."
On hand joining the Blue Jays' operation staff in directing the work are members of MLB's event staff, which produces special games like the Little League Classic in Williamsport, Pa.; and the Aug. 13 Field of Dreams Game in Dyersville, Iowa.
The service level of the park will be entirely used by the Blue Jays, utilizing both the Bisons' and visiting clubhouses and batting cages to promote social distancing. New temporary clubhouses and cages are being built for the visitors. Shapiro said they're going on the stadium concourse.
"I've seen plans they've used in other places, and it looks spectacular," Buczkowski said. "I'm really looking forward to see how they're going to reimagine the space. Probably the only thing (Shapiro) can get from his players are the dugouts – and even those will be different – and the actual field, how the place plays from a player perspective."
Shapiro estimated 95% of the work will be temporary because much of it is taking place where fans normally would be. No fans will be allowed to attend the Blue Jays' 25 home games in Buffalo. The costs will be borne by the Jays and MLB, and not by the Bisons or local governmental entities.
"It will be significant, millions of dollars," Shapiro said.
Also on Zoom Monday from Nationals Park, Blue Jays pitcher Tanner Roark – who makes his Toronto debut Tuesday against his old team – said he's relishing the change of pace that playing in a spiffed-up minor-league park will bring.
"I love it actually. Some guys don't but the way I was brought up, I didn't have the greatest facilities, greatest fields to play on," said Roark, a 16-game winner for the Nationals in 2016. "I've gotten to play in big-league ballparks for seven years. why not take a step back in time and go play at a minor-league stadium? I hear the grass and everything the field work is 'big league-esque' We're trying to get everything in there to make it a big-league field. I'm all for it. I'm welcoming it big time."
Buczkowski was heartened when those comments were relayed.
"Perfect. Well-said. It's refreshing to hear that from a guy who has played at the highest level for a while," Buczkowski said. "That he's not going to use it an excuse and he's looking forward to it. We've talked about how we have a chance to create a home-field advantage for the Blue Jays here. The quicker they adapt and get used to it, it will help them. These visiting teams that come in will have to adapt."
Be the first to know
Get local news delivered to your inbox!