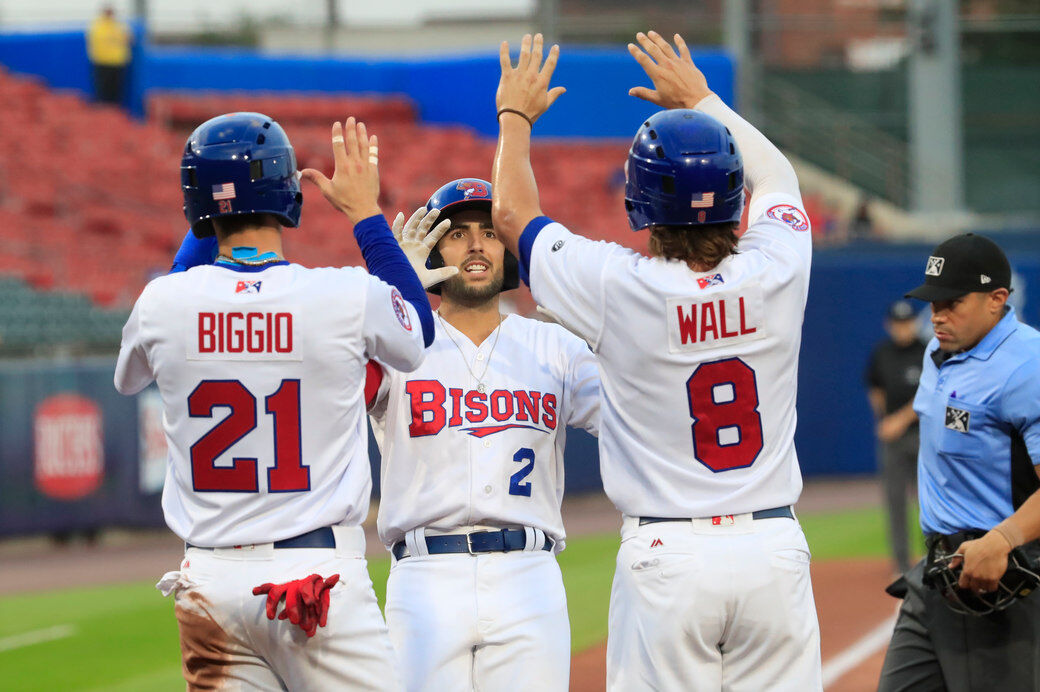 The Buffalo Bisons' season is already a rousing success on the field, with the team overcoming the distraction of its August move from Trenton, N.J., to win its first division title as a Toronto affiliate and first overall since 2005.
There are no playoffs in 2021, but there's still another goal to shoot for in the "Triple-A Final Stretch" tournament that begins Wednesday night at Sahlen Field.
The Bisons earned the Northeast Division crown thanks to Scranton/Wilkes-Barre's loss at Lehigh Valley.
In predetermined matchups, the Bisons will play Lehigh Valley in their final five home games of the season Wednesday, Thursday, Friday and Sunday nights at 6:05, and Saturday afternoon at 1:05. The team will close the season with a five-game series at Syracuse from Sept. 29-Oct. 3.
"You feel that they deserve a chance to play for a real championship against the other teams that win," manager Casey Candaele said on a video call Tuesday. "It's kind of bittersweet. But we did what we needed to do and what we set out to do, and that was win our division. We accomplished that and we were pretty confident that we could have had success if there was a playoff. It'll be interesting to see how they respond and the excitement of coming back in with the 10 extra games."
The Bisons will be joined for the tournament by catcher Gabriel Moreno, a 21-year-old who is listed as Toronto's top prospect and the No. 2 catching prospect in the minor leagues by Baseball America.
Colon, 32, has had a solid year for the Herd, entering the weekend at .266-15-50.
Moreno batted .373 with eight homers and 45 RBIs in just 32 games at Double-A New Hampshire before a fractured thumb on June 25 cut off his season. 
"I've watched him come through the system," Candaele said. "Young player who's really progressed really well, can hit the ball really well, handles catching duties really well. ... It's exciting to get a player of his magnitude to come in. I know he'll be excited. He brings a lot of energy."
Here's a refresher on the tournament format, which was announced by MLB in July:
• All 30 Triple-A teams are in one group, so the Bisons will compete against the other 19 teams in Triple-A East, as well as the 10 clubs in Triple-A West. All teams' records revert to 0-0. During the regular season, Durham (Tampa Bay) had the best overall record at 77-43 followed by Tacoma (Seattle) at 73-46 and Buffalo (71-46).
• All teams will play 10 games, a pair of five-game series, and the club with the best record will be honored as the Final Stretch winner by Major League Baseball. In the event of a tie for a title, regular-season record will determine the champion. Other tiebreakers are available if needed.
The Bisons won all seven of their games last week in their showdown series at Scranton/Wilkes-Barre and kept their momentum going Tuesday at Sahlen Field with a 3-0 win over Syracuse.
These games are being played because club farm directors agreed they wanted Triple-A players to get in as many games as possible and be available for use in the big leagues. They also didn't want to cut off the season for 22 of the 30 teams when September weather was still good, especially since the season didn't start this year until May 4.
The 120-game regular-season schedule was about 20 games below normal. And the Bisons only played 117 games – their lowest total in a full season since 1901. The Final Stretch provides 10 more games of development and allows eliminated teams to start fresh and have a new challenge.
"It's all perspective. We had a lot of guys that didn't even know if they're gonna play baseball this year," said Bisons shortstop Kevin Smith, who belted a team-high 19 home runs. "I think everyone just wanted to get out there and play. Everyone at the outset was just thankful that we were there. We were playing baseball again, competing again. 
"I think we had one of the best teams in the minor leagues this year. We made it this far. We've been winning all year. And I think we want to go out and finish 10-0. Guys have been talking about doing that. It would be kind of cool to go out and just run the table. It's been a long year. It's been a crazy year. But to go out on top of this would be something special." 
As during the regular season, all tickets for the Bisons' home games will be $10 and seating will be general admission. The Bisons will run multiple promotions, starting with Dog Night on Wednesday, with dogs admitted into the right field seats and special appearances from "Rookie," the official bat dog of the Trenton Thunder whom Bisons players got to know during their time in New Jersey. Friday is Fan Appreciation Night with postgame fireworks, and "Tyler's Amazing Balancing Act" will be at the park on Saturday, featuring acrobatics seen across college basketball and minor-league baseball venues as well as on "America's Got Talent". 
In addition, all 30 teams are partnered with a local charity in a "Homers that Help" program. For each home run the Bisons hit during the 10 games, Minor League Baseball will donate $50 to WNY Heroes, Inc., which provides essential services, financial assistance and resources to veterans and their families.