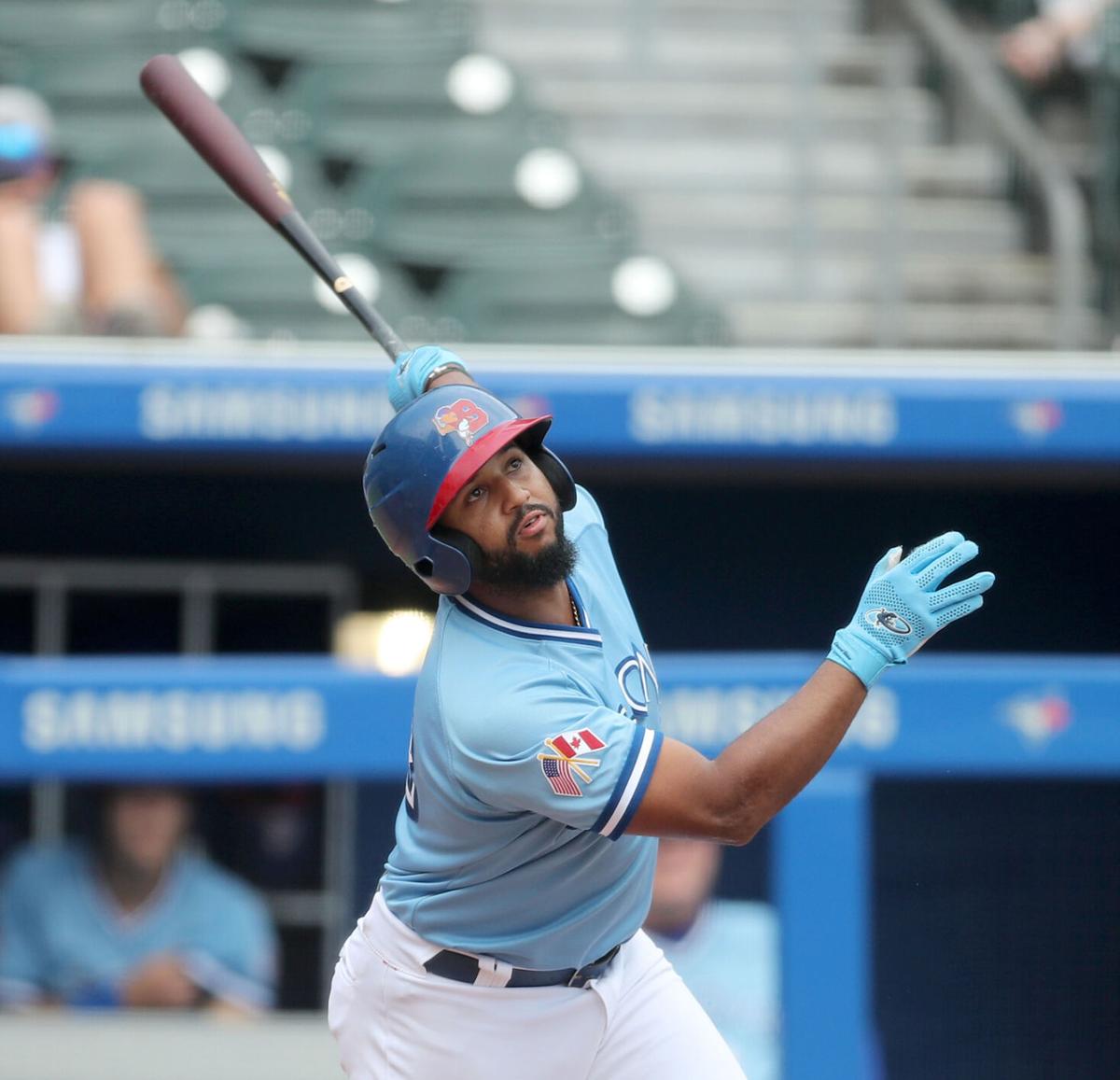 Buffalo Bisons manager Casey Candaele entered his postgame video call late Sunday afternoon and got congratulations from assistant general manager Brad Bisbing on the Herd's 9-5 victory over Worcester at Sahlen Field.
"Thanks. It's been like a month," Candaele cracked.
Sure must have felt that way. The Bisons had been 0-5 in the series against the Red Sox and, combined with last Monday's off day, had not won in a full week, since their Aug. 22 victory at Syracuse. This series with Worcester was particularly arduous and frustrating, so this victory felt bigger than just Game 98 of the season. 
The five-game skid was the longest of the season for the Bisons (57-41), and the win prevented them from enduring the first sweep in the six-game series format of Triple-A East that began this year. They also pulled within two games of Scranton/Wilkes-Barre (59-39) for the lead in the Northeast Division – and the teams open an eight-game series in Moosic, Pa., with a doubleheader on Tuesday night.
"If you're gonna go 1-5, the best game to win is the last one of the series. That was a big, big win," Candaele said. "We were in a bad, tough place scoring runs and then we'd give them up. And then if we weren't giving up runs, we weren't scoring them."
Here's a look at Sunday's finale and the tough series as a whole:
All Buffalo Bisons games at Sahlen Field this season are general admission for $10 a ticket.…
By the numbers: Worcester outscored the Bisons 37-27 in the six games and Buffalo never led in any of the first five, despite getting 71 strikeouts from its pitching staff in the series. The Red Sox had one inning of at least three runs in each of the final five games, with a five-run second on Sunday pushing them into a 5-1 lead.
Starting pitching was a huge difference, as Worcester's starters compiled a 3.81 earned-run average in the six games – while Buffalo's group was at 8.87 after Nick Allgeyer lasted just two innings Sunday. Worcester's Kutter Crawford took a perfect game into the sixth inning here Friday before a season-high crowd of 7,233 and got the win in a combined two-hitter.
Four of the games went longer than 3 hours, 20 minutes. It took 3:43 to complete Sunday's action and 3:57 for Saturday's 7-6 Worcester win – the longest nine-inning affair in the Bisons' modern era.
"It's been a grind all week. I think every team has times like this," said Herd first baseman Tyler White, whose two-out, two-run homer in the sixth gave the Herd the lead for keeps at 6-5. "We've got a good squad and we got guys that never quit. And I think this is a big victory."
There's nobody who might best symbolize the bizarro 2021 world of the Toronto Blue Jays than the rehabbing catcher.
Clutch hits: After going just 9 for 40 with runners in scoring position the first five games, Buffalo went 6 for 11 in those spots Sunday. The biggest hits were Richard Urena's two-run double in the third, White's bolt into the left-field screen in the sixth and catcher Kellin Deglan's three-run shot to right in the seventh off hard-throwing Jose Adames.
"I told myself to get started (with his swing) a little earlier," Deglan said of missing a fastball. "And he threw the same pitch 2-1 and I got a hold of it." 
Bullpen: While folks in Toronto have been paying close attention to the outings of Nate Pearson, Julian Merryweather and Ryan Borucki (who threw a scoreless inning Sunday in his first outing after getting optioned), the Buffalo relievers have been outstanding as a whole. Six of them combined to throw seven shutout innings Sunday, allowing just two hits while striking out 10.
Coming in with his club in the four-run hole, Dany Jimenez threw his 11th straight scoreless outing covering 12 2/3 innings. He struck out five over the third and fourth innings and didn't allow a hit. 
"Dany came in and shut it down and gave us an opportunity to stay in the game and fight back," Candaele said. "We couldn't have done it without what he did."
"That was big, all those guys being ready down there, because usually the starter goes five," Deglan said. "They all came in and attacked the zone. They were getting swing and miss. And they calmed down their offense, and their offense was hot all series."
What's changed?: The Bisons were 54-33, their highest point since 2005, when shortstop Kevin Smith got called up to Toronto on Aug. 18. Without Smith, who belted his first MLB home run Sunday in Detroit, the Herd has gone 3-8 since.