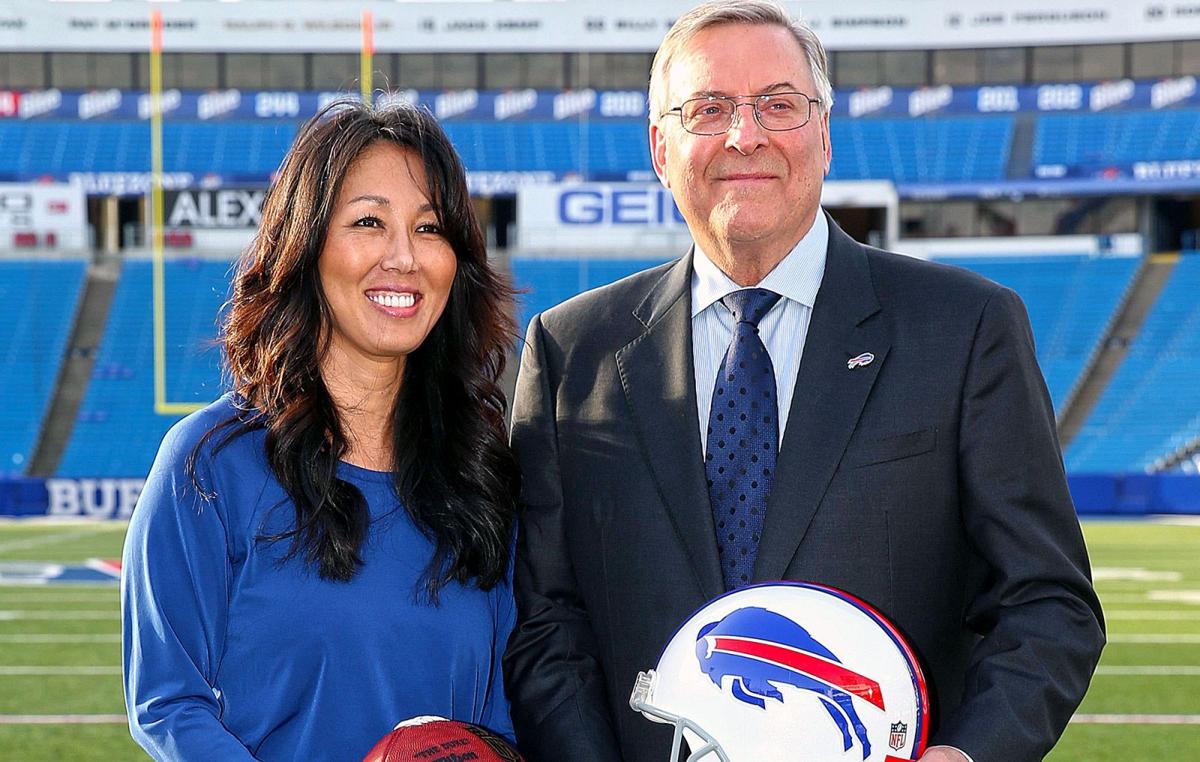 The Buffalo Bandits and Rochester Knighthawks made a notable trade Thursday involving four players and three draft picks.
But perhaps what made it more notable is that it is the first trade between the two National Lacrosse League franchises owned by Pegula Sports & Entertainment since Kim and Terry Pegula were granted an expansion franchise in Rochester.
PSE announced the franchise in September 2018 to replace the existing Knighthawks, who were moved to Halifax by owner Curt Styres after the 2018-19 season.
At the time of the transaction, PSE officials said there would be a "wall" between the operations of the two franchises. All transactions are reviewed by the NLL before they are completed.
In the deal, the Bandits acquired forward Dan Lintner, defenseman Frank Brown and a 2020 fourth round draft pick in exchange for forwards Dallas Bridle and Thomas Hoggarth and second- and third-round picks in the 2020 draft.
Lintner, a fifth-year pro, has played all nine games this season for Rochester and has five goals and 12 assists.
Brown is a Salamanca native who has one goal in three games this season. He spent last season with the Philadelphia Wings.
Hoggarth is on the physically unable to perform list and is expected to sit out the season. He was third on the Bandits in goals (29) and fourth in points (61) last season for Buffalo. Bridle, a third-round pick by the Bandits in 2017, has a goal and nine assists in eight games this season.
The Bandits play Halifax on Saturday at KeyBank Center in the seventh annual Tucker Out Lymphoma Night, in memory of Tucker Williams. Tucker, the son of former Bandits player Shawn Williams, died in 2014. Williams was a six-time NLL All-Star and played with the Bandits in 2000 and '01 and again in 2013 and '14
Both teams will wear special "Braver Than Brave" jerseys designed by Tucker's brother, Dyson. Jerseys and other items are available for bid at bandits.com/auction. The game ball with the Tucker Out Lymphoma logo will be used throughout the game.
The Bandits will host a Bald for Bucks event prior to the game at 4:30 p.m. Bandits players will shave fans' heads and participants will get two tickets to the game. Proceeds will benefit Roswell Park Comprehensive Cancer Center's pediatric unit in the name of Tucker and the Williams' family. Fans can donate or register by visiting Baldforbucks.org or their Facebook at Facebook.com/BaldForBucks
Tavares to be honored
Bandits great John Tavares will be roasted by the National Lacrosse League Alumni Association on Friday at 500 Pearl, part of the Aloft hotel downtown. This is the NLL alumni group's first event.
A reception is scheduled from 7 to 9 p.m. with the roast to follow after Bandits practice. Guests expected include Pat McCready, Mike Accursi, Mike Thompson,
Billy Dee Smith and Neil Doddridge.
Tickets are $20 for non-members of the association. Visit nllalumni.com for more information.
Tavares, currently the Bandits coach, played 22 seasons for the Bandits and is the highest-scoring player in NLL history. He was inducted into the league's Hall of Fame in 2016.
Be the first to know
Get local news delivered to your inbox!