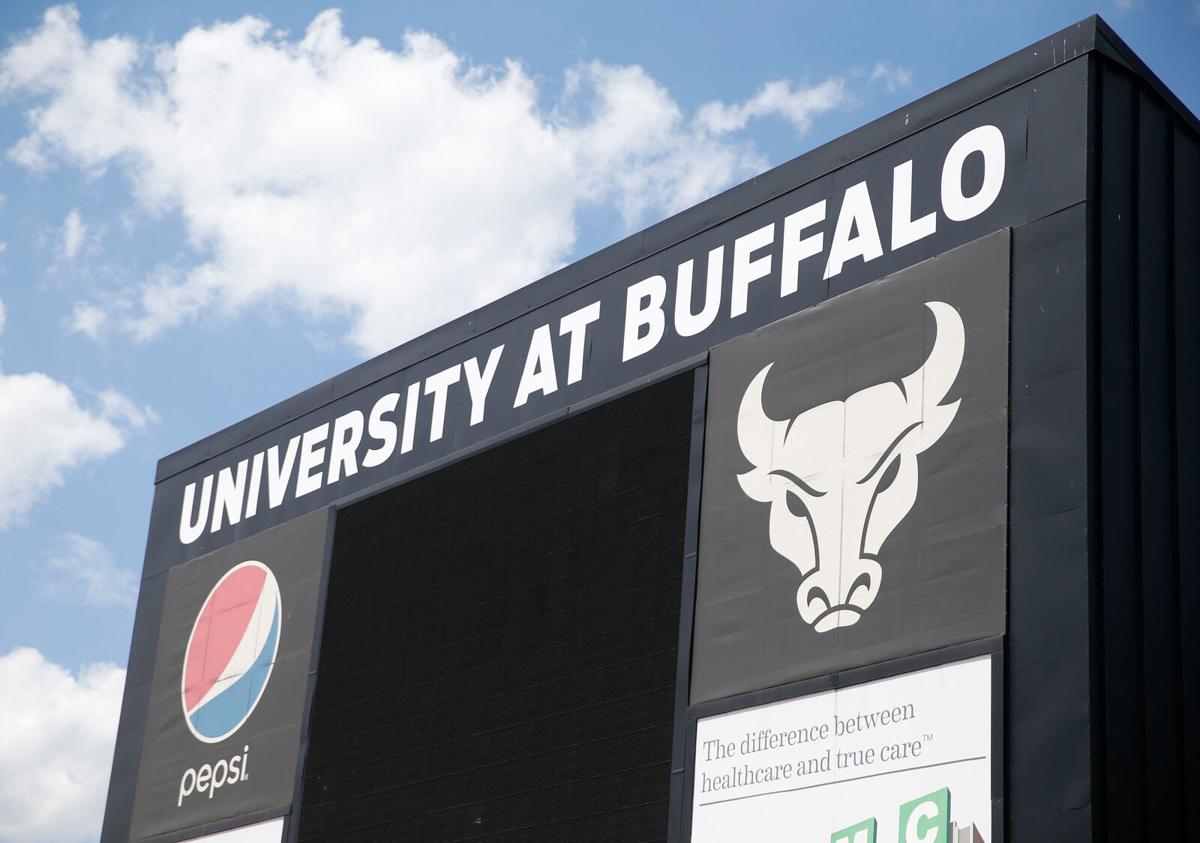 The Mid-American Conference will not go the route of the Big Ten.
The MAC announced Wednesday that it will continue with its plan of playing football in the spring, rather than planning to start its season later this fall. The MAC's edict came after the Big Ten Conference announced that it will resume its college football season, with games scheduled to begin the weekend of Oct. 24.
"Currently there are no plans to play a fall season in any sport," MAC commissioner Jon Steinbrecher said in a statement. "We are focused on providing our fall student-athletes meaningful competitive experiences in the spring."
The University at Buffalo is a member of the MAC, which announced Aug. 8 that it had postponed its fall sports to the spring because of the Covid-19 pandemic. Steinbrecher said in August that the decision to postpone fall sports was unanimous among the university presidents in the league.
UB athletic director Mark Alnutt told The Buffalo News that the MAC has worked for the past month to put together spring plans for its fall sports.
"There's a lot of work in moving forward with that," Alnutt said.
A second component -- the medical aspect -- also factors into the MAC's decision to continue planning for fall sports in the spring.
"The second piece of that is getting more of an understanding from our medical folks, what does it look like now as to when we made the decision in early August?" Alnutt said. "Where are we from a threshold of testing? What needs to be utilized? What guidelines have the Big Ten and others put in place, whether it's Covid testing, revealing other medical issues that are associated with Covid, whether it's heart, respiratory, or neuro-health situations? For us, we need to lean on medical folks."
However, several of UB's football players took to social media Wednesday to voice dissension with the MAC's plans for a spring football season. Jaret Patterson, a running back, retweeted the MAC's statement Wednesday morning and wrote, "WE WANT TO PLAY!!! SO PLEASE LET US PLAY!!!"
Patterson posted a subsequent tweet in the afternoon, in which he tagged the MAC and New York Gov. Andrew Cuomo, and noted at the end of the message that it was signed on behalf of the UB football team.
"I'm happy for my brothers in the Big 10 who'll get to play this season," Patterson wrote. "But it's been over a month since we cancelled our football season. The reason most of us have worked so hard in our lives, gone. The reason a lot of us were even able to go to college, gone. And now 70% of college football is playing. I know we don't have 100 million dollar budgets in the MAC and we're not going to win a Nat'l Championship but if it's not about the money, why can't we play? The guys that ARE playing don't work harder than us. They don't care more than us. Why can't WE play? Respectfully, we deserve to have answers why can't we do it safely when all these other places can? – Buffalo Bulls football team."
The MAC, the Pac-12 and the Mountain West will not field football seasons or fall sports, and four additional universities (Old Dominion, Connecticut, Massachusetts and New Mexico State) announced they would forgo the 2020 football season because of the Covid-19 pandemic.
There also is not a consistent return-to-play protocol among the 10 FBS conferences or on a national level.
"I don't fault people for having an impatience when you see other conferences and universities going through this, with health and safety protocols," Alnutt said. "It's early on right now. We've seen some disruptions from some institutions but what needs to happen next is more transparency, in regards to, this is what we're focused on and what might give our conference pause, as it relates to the fall."
The Big Ten originally postponed fall sports to the spring, but said in a statement that each of its 14 teams will play a nine-game conference schedule. The Big Ten will require daily antigen testing for its football athletes, coaches and staff beginning Sept. 30, and test results must be completed before each practice or game.
Team test positivity rate and population positivity rate thresholds will be used to determine recommendations for staging practices and games.
The resumption of Big Ten football also does not mean that UB will receive any form of payout from a game originally scheduled against Ohio State. The Bulls were scheduled to play Ohio State on Saturday in Columbus, but the original postponement of football season by the MAC and the original Big Ten schedule being modified to include only conference games wiped out the game. The contract between the two teams said UB would earn a $1.8 million payout from Ohio State.
Alnutt said Ohio State is working to reschedule the game.
"There was never an intention of getting a payout," Alnutt said. "Even with Ohio State having a delayed conference season, and we've postponed our season. The mitigating factor is being in position to reschedule that game, and re-examine the contract terms."
Be the first to know
Get local news delivered to your inbox!