The hustle and bustle of grassroots basketball is dribbling along during the coronavirus pandemic. For college prospects and the coaches trying to project their futures, it is an unfamiliar recruiting trail to navigate.
"This is the first year in 32 years that I'm not out there in July," University at Buffalo women's basketball coach Felisha Legette-Jack said. "So it's a very strange time for me."
NCAA Division I and II coaches are prohibited from live scouting and making in-person contact with high school athletes until the end of August, continuing a quiet period that began at the onset of the pandemic and could continue into the fall.
The premier AAU circuits were shut down for the summer by their sneaker company sponsors. The NCAA canceled its College Basketball Academy events that were scheduled to start Monday at four regional sites.
Since basketball activity is not yet permitted by the state's reopening plan, most of the established AAU programs in Western New York have suspended operations for the season.
Despite rising Covid-19 case counts across the country, some local players have found their way to AAU tournaments and showcases held out of state this month.
Assessing the risk of exposure to the coronavirus against the reward of recruiting exposure, the trips bore fruit for a few prospects. College coaches called to show interest and extend scholarship offers after watching live streams and highlight videos online.
Williamsville South sophomore Gretchen Dolan said she received her first offer from West Virginia, and spoke with coaches from Florida and Seton Hall after traveling to recent events in Indiana, New Jersey and Pennsylvania with the Philadelphia Belles club.
"I'm super grateful for the offer and to be back playing," said Dolan, a 5-foot-10-inch guard who helped South win a sectional championship and was a third-team All-WNY selection as a freshman. "It felt good to finally be back in the swing of things, but obviously it was a little nerve-wracking with Covid and everything."
Dolan has traveled to events with her high school teammate, Amari DeBerry, the reigning Sister Maria Pares Buffalo News Player of the Year who has committed to UConn and plays for the Belles' 17-under team. Dolan runs with the 15-under squad.
"It's been a lot of fun so far, being able to see my teammates again," Dolan said. "We're all just hopeful we can keep playing while taking the right precautions to keep everyone safe."
Precautions have included staggered tip-offs to limit the number of teams in the gym at one time, temperature screenings, face covering requirements for spectators, frequent hand washing, equipment sanitization and efforts to physically distance as much as possible.
"They've been very strict about following the rules at these tournaments," said Kristen Dolan, the Williamsville South girls basketball coach and Gretchen's mother. "We're doing everything we can to be safe. But you still wonder if we're doing enough."
'It's a little bit scary'
Even with those safety measures, participating in five-on-five basketball games could increase the risk of coronavirus exposure because players are in close contact to each other on the floor and breathing heavily while not wearing masks.
"It's a little bit scary," said City Honors senior Kyra Wood, who traveled with the Albany-based City Rocks to the NYG Hoops Friday Night Lights showcase at the Greater Philadelphia Expo Center earlier this month. 
"To go out there with people from different states and not know if they have been quarantining, or if they live in a hot spot where Covid is increasing, it's an unsure environment," Wood said. "I just pray that they all are being safe and don't have the virus."
Wood received a recruiting stock surge and emotional lift from attending the event. UB and St. Bonaventure both offered scholarships last week to the 6-2 forward who was selected to the All-WNY second team last season, adding to a list that already included Iona, LaSalle and Siena. 
"These two offers brought my energy and enthusiasm back up," Wood said. "I had felt kind of unmotivated and down about the AAU season being canceled and not getting the exposure in my last year of AAU. It was a little overwhelming for me to figure out how to get more options for schools when we couldn't play."
While college coaches are able to watch live streams of some events, players often need to record and distribute their own highlight clips to maximize recruiting exposure.
"You really have to be creative and go the extra mile to reach out to schools on social media and get video to as many coaches as possible," said Kyra's father, Hollice. "Covid has really changed the game on everything that we knew to be normal."
"You want to attain this exposure," Hollice Wood said. "But at what cost? Earlier in this process, we were very concerned about whether we should travel and carefully reading about all the precautions.
"After attending these events and seeing everyone, for the most part, wearing their mask, trying to social distance themselves, everybody understands the necessity to do that. Some girls even try to wear their masks throughout the games. So it's not as much of a concern. It doesn't boggle your mind anymore. But it is still in the back of your head."
Sacred Heart junior Morgan Giancaterino, Depew sophomore Kaylee Krysztof and Nichols sophomore Quinn Benchley joined Wood and Dolan at the Philadelphia showcase attended by about 150 players across four sessions.
Some AAU outfits have been able to stay on the recruiting radar without traveling out of state. The Syracuse-based I-90 Elite girls held their first practice Saturday and are tentatively planning to enter a few tournaments in August, according to program director Randy Wright.
"We have been steadfast in the process of putting safety first," said Wright, who also coaches girls basketball at Legette-Jack's alma mater, Nottingham in Syracuse. "We saw other programs go play in different areas, but I don't think the time is right for us. We are going to wait until we feel more comfortable."
Still, two I-90 Elite players in the class of 2021 committed to Niagara in the past week, Arayana Young from Dansville and Lexie Roe from Fayetteville-Manilus. Cardinal O'Hara junior Jade Rutledge disclosed a scholarship offer from the Purple Eagles, as well.
"Communication with coaches is key," Wright said. "Everybody is relying on trusting coaches who they know. Recruiting has always been about relationships, but it's even more so now. Some coaches are trying to stick to their guns about not offering a kid until they see her play in person. But that has to go by the wayside now. Because of this pandemic, you might not see her play until January."
Pros and cons of livestreams
In order to discover new recruiting targets and evaluate their abilities, coaches have become reliant on livestreams, somewhat reluctantly due to viewing fees and inconsistent quality.
"The problems are typical of what we are all going through these days," Daemen women's basketball coach Jenepher Banker said. "Sometimes the livestream freezes and you can't see it, or the camera angle is not good. You can't always find the player you're looking for.
"Other times, it's really good. You can go back and replay the games. If you have four recruits playing at the same time, instead of trying to figure out how to go back and forth between four courts, you can watch the replays. So that's advantageous. I watched a lot of games last weekend."
The women's basketball coaching staff at Army West Point announced last month that they will not watch livestreams from tournaments or workouts this summer, "in an effort to promote the health and well-being of prospective student-athletes.
"We realize summer recruiting places immense pressure on recruits to perform, despite the risk to the health and safety of themselves and their families," read the statement pinned atop the program's Twitter page. "Participation in these summer events will not impact our evaluation and recruiting process. Our staff will continue to evaluate high school film, and communicate with coaches, players and their families."
Army coach Dave Magarity is a former assistant commissioner and director of men's basketball operations for the Mid-American Conference (2005) and the Metro Atlantic Athletic Conference (2004-05). Prior to that, he coached men's basketball for 23 seasons at Marist and St. Francis (Pa.) and was an Iona assistant. Liz Flooks, a former All-MAAC player for Niagara, is an Army assistant.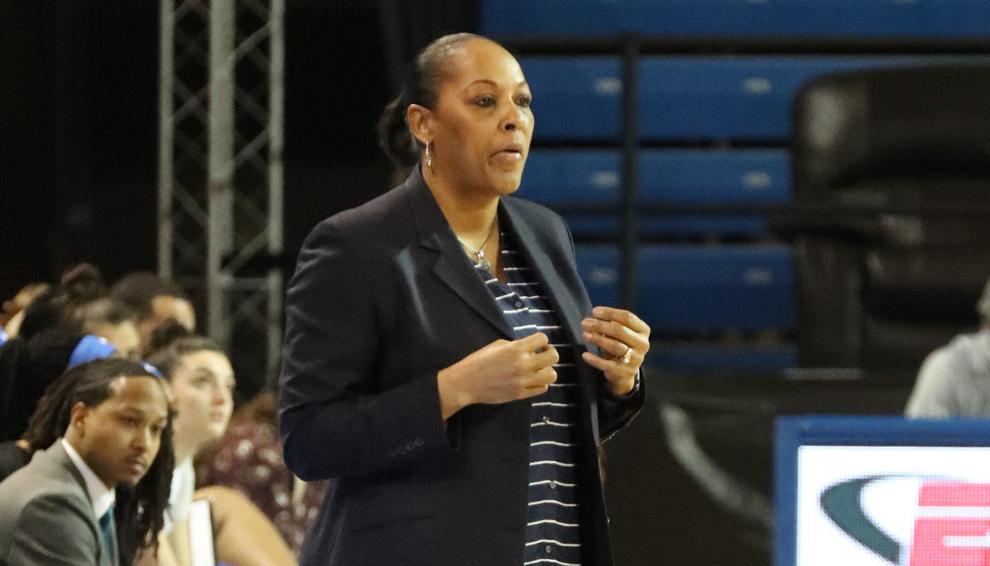 "We are going to watch," Legette-Jack said. "If there are people going out there playing, our coaches and I are doing what we need to do. We have to watch. We want to see. There is no chance that Buffalo is not going to be in the middle of the work and seeing how we can grow this institution athletically."
Players should not feel pressure to participate in recruiting events, Legette-Jack said, if they are uncomfortable with the potential health risks.
"Just like I tell our players, you have to come to terms with what is comfortable for you," Legette-Jack said. "There is nothing normal about what we are going through."
Legette-Jack noted that her son Maceo, a senior at George Washington, has not joined in pickup games going on near their home in Amherst.
"But it's a tough situation that some parents have to face and I'm not going to put my thought process out there to jar somebody from making that decision," she said. "Every parent that is going out there with these high school kids and knowing that there is a chance of a scholarship to attain, you've got to make the safe decision based on what your faith is, what your family standards are, and what you trust is best for your child. And I trust the intellect of our parents. I applaud them. I pray for them."
"You can only hope," Kristen Dolan said, "that you are making the right decision. I was super concerned at first. Then you wonder if you're being too fearful. Should we give this a try and just do the very best that we can to be safe and keep everyone around us safe? It's a tough decision. Nobody has ever been through this before."
Smaller events
On the boys recruiting trail, some local players have traveled to small events in states neighboring New York, while others have ventured further to showcases in the Midwest and South.
The Corey Graham Elite AAU program opted out of summer play following the cancellation of the Under Armour Rise Circuit. CGE was not able to hold tryouts at Villa Maria College in March due to the pandemic and would not be able to practice there until August, said coach Desmond Randall, the Villa men's basketball coach.
"It didn't really make sense for us to throw a team together to just do tournaments, especially if coaches aren't going to be there," said Randall, who runs CGE with Health Sciences coach Ty Parker. "Even with the livestreams, you never really know if the coaches are watching, or if they are watching your game. And from a health standpoint, we didn't want to endanger anybody just to try and play some games."
Tapestry Charter junior and NEBC Buffalo club member Massai Graham performed well at recent events in Myrtle Beach, S.C., and Indianapolis.
The Rochester Area Players STARS won the AAU 20U World Championships held last week in Orlando. The team's leading scorer in the final game, 2021 prospect Kidtrell Blocker, has reported scholarship offers from St. Bonaventure, UB and Canisius.
Niagara Falls native Willie Lightfoot, a top 100 prospect in the class of 2022, returned to Kansas last week to participate in a training camp with MOKAN Elite, a Nike EYBL circuit member that has resumed travel play. Lightfoot plans to spend another year at Sunrise Christian Academy in Wichita, Kan.
All-WNY players Jalen Bradberry (Park), Dwayne Voss (Canisius) and Lightfoot were among a group of players that traveled to a tournament in Pittsburgh in late June. Another trip to Cleveland last weekend, organized by Carlos Bradberry, included Lew-Port sophomore Jalen Duff and Canisius junior Max Dowling, among others. Health Sciences senior Javaughn Jones, the reigning Allen Wilson Buffalo News Player of the Year, played in Cleveland on a team that also included Jaden Slaughter (St. Joe's), Jordan Glover (St. Joe's) and Jaymier Patton (Timon-St. Jude). That team was organized by Timon assistant and PROCESS Basketball trainer Jeremy Rowe.
"We've just tried to find some of the closer events in states that are open," Carlos Bradberry said. "It's a whole different world than July used to be. The gyms are empty. There's hardly any fans, but anybody who is there has to wear a mask. You have to go out a different door than you came in. It's a lot of things in place to be as safe as we can be."
Obtaining fresh video clips of game action to send to coaches has been the primary goal in traveling to these events, Carlos Bradberry said.
"That's big right now," he said. "We send them to Jalen's AAU coach and he sends them out to all the schools that are recruiting and talking to him. And I'm trying to put together videos for the other guys, too."
Jalen Bradberry planned to play for New York City-based New Heights this summer on the Under Armour Association circuit. The disrupted AAU season factored into Bradberry's decision to reclassify into the class of 2022, his father said.
"Jalen is going to stay at Park this year," Carlos Bradberry said. "I think it's important for him to be at the same school for two years in a row and graduate locally. But we want to have a prep school picked out for next year pretty soon. We're handling it through Jay's AAU team, trying to find the right fit.
"We were looking to do a post-grad year anyway. Physically, we wanted to get him another year of maturity to put on some extra weight and get stronger. But the pandemic has definitely contributed to that. A lot of coaches wanted to come out and see him play in June and July. Now that's not happening. I think you are going to see a lot of '21 guys taking that prep year now."
Bradberry is uncertain when the next travel basketball opportunity will arise. "The places that were open are starting to close down," he said.
Some tournaments in Pennsylvania were canceled after Gov. Tom Wolf's order last week to restrict indoor gatherings to no more than 25 people because of rising Covid-19 case counts. Soon after local squads returned from Cleveland, Ohio was added to the list of 22 states from which travelers are mandated to quarantine for 14 days upon returning to New York.