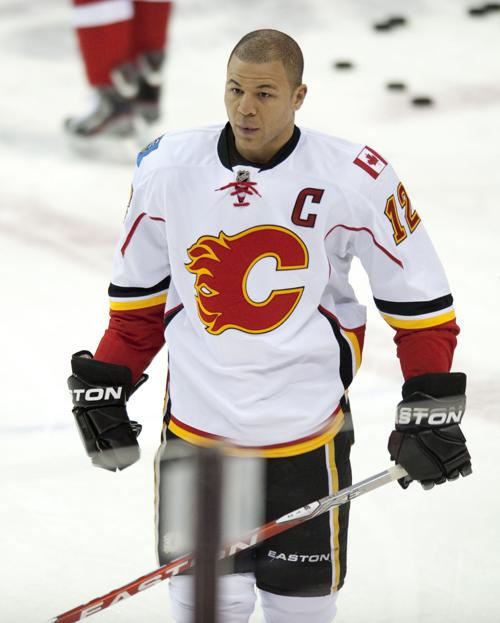 When Sabres captain Jack Eichel said he was "fed up" with losing last month, it made waves throughout the hockey world. Longtime NHL veteran Jarome Iginla understood how Eichel felt.
Iginla made his NHL debut for the Calgary Flames during the 1996 playoffs, appearing in two games against Chicago. He then played his first seven NHL seasons without getting back to the postseason, so he can relate to Eichel's five-season drought since joining the Sabres in 2015.
"It's frustrating. You want to compete, you want to win. You want to get into the playoffs. It's the most exciting time to play," Iginla said last week when asked by The News about Eichel after the Hockey Hall of Fame announced Iginla was a part of its Class of 2020. "When I first got to the NHL, it was just about trying to get in the NHL and get a regular spot. I came up on a younger team, very similar to Eichel, where you knew you were going to go through some rebuilding.
"But at a certain point, yeah, there is that pressure to take that next step as a team and you want it as a player. So I can see that frustration. I've read the articles (about Eichel) and that's only natural and part of what we are as hockey players. We're in a team sport, we want to be playing and winning and it's our job to try to win."
Iginla, 42, scored 625 goals in a career that stretched until 2017. He played with Calgary until 2013, and then appeared with Boston, Pittsburgh, Colorado and Los Angeles. But he never played in another Cup final, coming closest with the Penguins in 2013 as they lost to Boston in the East final.
Iginla said his first couple seasons in Calgary were a whirlwind, learning to play top goaltenders and traveling to the league's different cities while getting chances to play in all of its arenas. He finally got back to the playoffs in 2004, helping the Flames get all the way to the Stanley Cup final before a Game 7 loss at Tampa Bay.
"It does turn a corner where all of sudden, there's that responsibility but also expectations and true desire where you want to be part of the playoffs," he said. "I wish I was part of more playoffs but the ones I was a part of, it was by far the most fun hockey and one of the best experiences you have is to eliminate another team."
Iginla said he's been impressed with the growth of Eichel's career and how he's became the unquestioned leading man in Buffalo.
"I can see it. Hopefully they turn it around," Iginla said. "He's a great young hockey player. That passion and that drive is something his teammates will feed off. They'll all be pushing a little bit more. That's part of the leadership Eichel brings. That hunger and that little bit of anger you can see. It can be really good for them. I can see where it comes from and I know most hockey players can relate and understand it."
Be the first to know
Get local news delivered to your inbox!