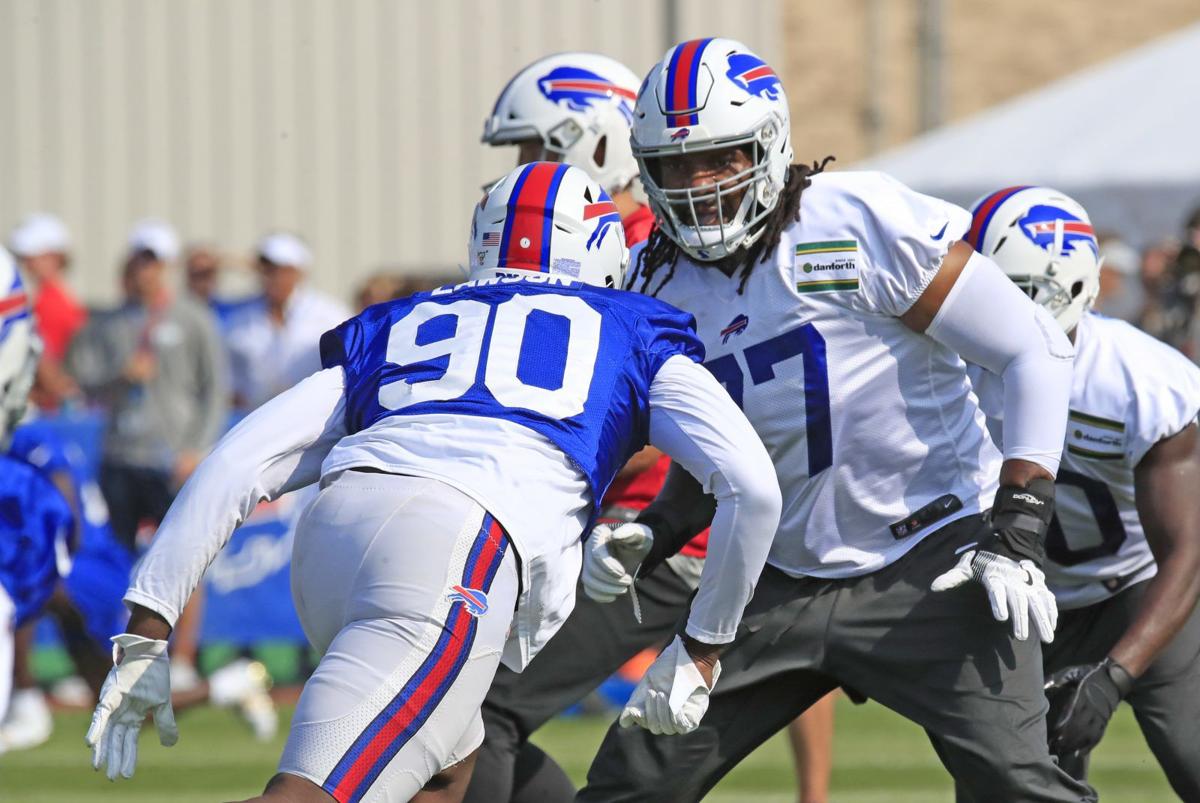 The NFL told teams last week that the July 28 opening of training camps remains as scheduled, at least for now.
The league and players union are still talking about the possibility of shortening the preseason from four games to two, likely eliminating the first and last games. That would give players extra time to ramp up after not having organized team activities this spring and also could help as players presumably test positive for the coronavirus and need to quarantine.
The ramp-up period also would give team and league medical experts time to evaluate how the safety protocols are operating. It's one thing to put policies on paper; it's another to navigate them in real time.
"Whatever the league decides, what we'll roll with," Bills coach Sean McDermott said recently of a potentially shortened preseason. "Just been in this league long enough to know that you got to be adaptable, and adaptive teams and individuals win, and so we'll be adaptive to whatever they roll out.
"... We'll be ready to go with whatever they feel is the right plan, obviously. In this case, the reasoning for it would be to keep everyone safe and healthy as possible, so whatever they decide, we'll support, and we'll be ready to go."
Obviously, playing games exposes players to the virus, just as practice does, though in games opponents would be coming from outside the state or region and from potential hot spots.
Would coaches play their starters in the preseason at all? How would less exposure to game experience affect roster decisions?
Here are a few ways the shortened preseason could affect the Bills:
Experience factor. Much has been made of the Bills' "continuity" from last season to this season, with ESPN noting that the Bills have 10 starters returning on offense, 10 on defense and three specialists. The Bills lead the league with 95.4% of offensive snaps returning and are seventh with 80.4% of defensive snaps, ESPN said. As one might expect, McDermott was having none of the notion that that provides much of an advantage, calling it a "good start."
"Games aren't going to be won just because of continuity," he said.
Nonetheless, fewer live snaps figures to affect the Bills less than it would a team with less "continuity." Even at a position that relies on synchronicity like the offensive line, the Bills are bringing back all their starters and primary backups. A year ago, the rebuilt line didn't play together until the season opener with Mitch Morse sidelined with a concussion.
Roster depth. There are not many roster spots to be won on this team. Beyond their returning starters, the Bills have added nine notable veterans with playing experience. If we say the roster is 55 players during the week, with the new rule that allows two practice squad players to be elevated, there is not a lot of wiggle room. Add in the seven draft picks, and it's likely some won't make the team. The goal is to get the best 55 on the roster, and the Bills coaches would never turn down more evaluation time, but teams with more holes to fill would benefit from more time.
Quarterback situation. Teams with quarterback competitions need the preseason games more than teams that don't. The Bills are set with Josh Allen and Matt Barkley. It's unclear how many QBs the Bills will keep, but if they think Jake Fromm can grow into a viable option, they might be inclined not to push him through waivers to join the practice squad. Davis Webb was a key component in the workouts held by the offensive players in Florida and is popular among his teammates, but could be the odd man out. Ultimately, that decision will be determined more by what coaches see in practice, which expect to have a different look.
Undrafted free agents. The Bills have some intriguing undrafted free agents, and the lack of preseason games might make it harder for one or more of them to make the roster. They were facing long odds anyway, given the roster depth (see above). Washington left tackle Trey Adams seems to have the best chance of the group. He plays a premier position, and if the Bills' training staff can get the best out of him physically, it's possible Adams could sneak onto the back end of the roster based on potential alone.