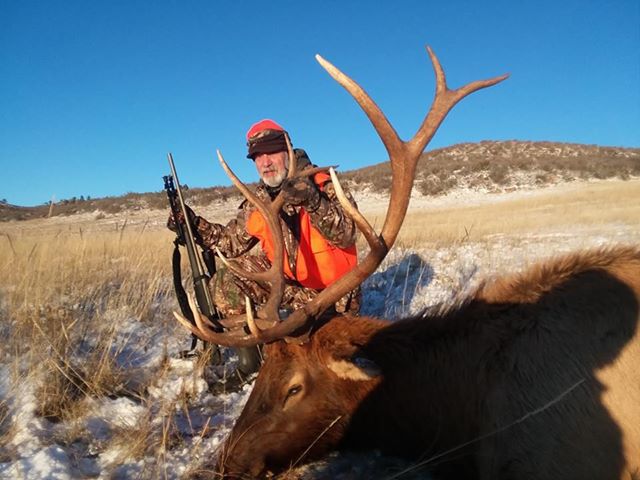 By James Monteleone, of Williamsville
My experiences with elk have all been with archery, but my first rifle hunt offered both good hunting and great memories.
I recently hunted elk in Northwest Colorado, pursuing the herds migrating down from the upper elevations of the Rocky Mountains. I was hunting with my cousin, Mike Ayup of Tucson, Ariz., and my brother Monty Monteleone from St. Louis. We were hunting at a 7,000-foot elevation and the weather was from 10 to 39 degrees.
My rifle is zeroed at 200 yards with a 6-inch drop at 300 yards.
One bit of advice: I can't emphasize enough the need to practice at different ranges and knowing your setup, rifle and scope.
The rut is late and bulls are bulging hard in the first rifle season. We had a herd bull bedded at 300 yards and we used a combination of cow calls and an occasional bugle to lure the cows in, and the big bull wasn't going to give up his harem. He closed to within 200 yards and kept coming before he stopped somewhere near 150 yards.
I put the scope halfway up and directly behind the front leg. I slowly squeezed the trigger and the 190 grain .300 Win Mag staggered him. and a shoulder shot anchored him for good. He was judged to be 9 or 10 years old and somewhere near 750 pounds.
A short time later, as I was sitting watching 150 head of elk, my cousin was poised on a big herd. I watched him drop a big bull at 75 yards. It scored 315-320 inches.  There were 150 or more in this herd. Finally, my brother killed a 322-inch bull.
Our guides were Robbie Parker and Clint Pignotta from Whitaker Brothers Hunting Company. The hunt was arranged through Worldwide Trophy Adventures and Tim Herald. Every detail was handled, including navigating through tag applications and arrangements with the lease holder/outfitter.
More than 200 animals were in the migrating herd. At least a dozen mature bulls with solid scores in the 300-inch range were seen each day. Our group of three had opportunities at 300 yards or less.
It truly was the hunt of a lifetime.
Be the first to know
Get local news delivered to your inbox!