Chef Darian Bryan of The Plating Society says it himself – the longest part of this recipe is cooking the pasta! It's packed with flavor and adds a satisfying, meatless alternative to your weekly dinner lineup. Chef Darian cooks it up here with orecchiette pasta, but you can swap in any of your family's favorites. 
Shrimp & pesto pasta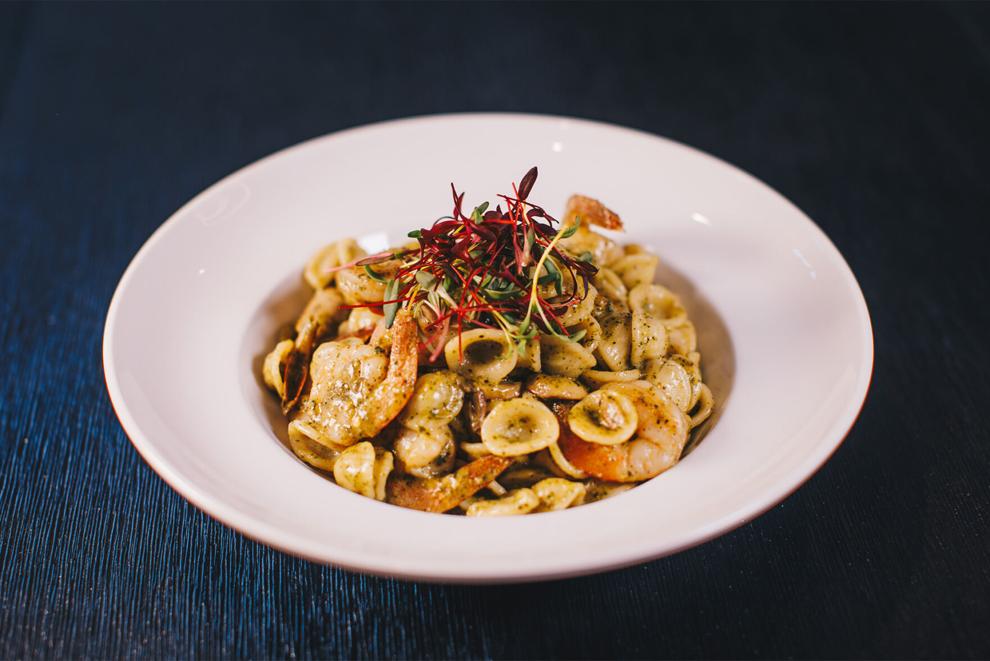 1 lb. orecchiette pasta – or whatever is in your pantry!
1 lb. medium to large shrimp, peeled and deveined
8 oz. small white mushrooms, sliced
2 cloves garlic, minced
½ cup basil pesto
¼ cup white wine
¼ cup chicken broth
1 tbsp. lemon juice
1 tsp. fresh thyme leaves
1 tbsp. extra virgin olive oil
Salt and pepper, to taste
Red pepper flakes, as desired
Cook pasta to al dente in salted, boiling water following the box's instructions.
While pasta is cooking, heat olive oil over medium-high heat in a large skillet. Add the mushrooms and cook until somewhat softened, about 5 minutes. Add shrimp and cook for 2 additional minutes, stirring frequently. Pour the white wine into the skillet and use the spoon to loosen any browned bits from the pan. Stir in the pesto, thyme leaves, chicken broth and lemon juice. Bring to a boil and reduce heat to low. Simmer for 1 minute.
When pasta is done, drain thoroughly. Stir cooked pasta into the skillet with the shrimp and mushrooms. If the pasta has cooled at all, keep the skillet over a low heat until warmed through before removing from heat.
Finish with salt, black pepper and red pepper flakes to taste. Serve immediately.
---