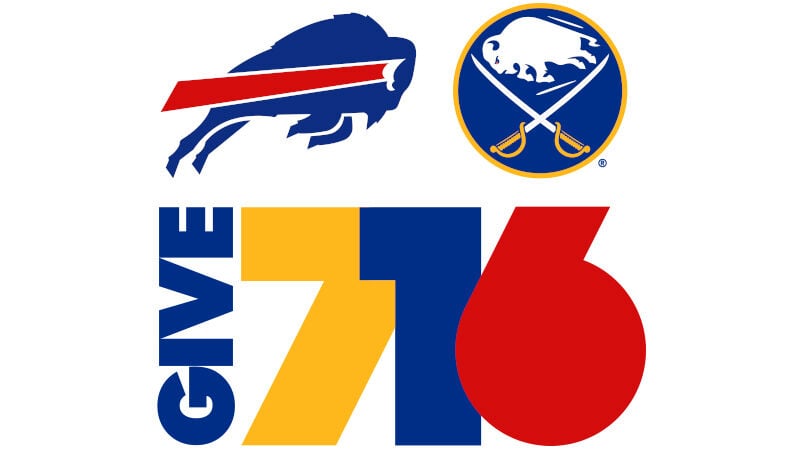 It was late December 2020 and Covid-19's grip on Western New York was tightening. Infection rates, hospitalizations and deaths were on the rise and the world was slowing down again.
At Pegula Sports & Entertainment, Bills and Sabres Foundation leaders were concerned about the fate of Western New York's charitable organizations, whose role in serving the community is as much a part of the region's fabric as their beloved sports teams. Would these non-profits survive at a time when they were needed most?
That question fueled an ambitious idea: Give 716, a one-day fundraising blitz to benefit more than 400 local charities. After months of planning, it launches at 7:16 p.m. July 15 and runs for 28 hours at Give716.org.
Give 716 aims to raise major dollars for a huge cross-section of organizations, many of whom are volunteer-run and don't have the resources to operate a major fundraising effort on their own. Donors can choose a single charity or split their donation among multiple entities.
"We wanted a way to harness the influence of our two brands to reach both new and traditional donors," explained Rich Jureller, president of the Buffalo Sabres Foundation.
They also understood the generous power of the Bills Mafia, who – in just one example last year – raised $1,000,000 to honor the passing of Josh Allen's grandmother, said Michelle Roberts, executive director of the Buffalo Bills foundation.
To tap into their fan base, the first 2,000 donors who give $71.60 or more will receive a limited edition T-shirt that includes both the Buffalo Bills and Buffalo Sabres logos (a rare combination, given the NFL's strict rules about logo usage).
There will be other surprises during that 28-hour period, including additional support from local corporate sponsors.
This unprecedented effort has involved cross-team help from all of Pegula Sports & Entertainment, Jureller said, including management, marketing, players and more.
"Our first call was to Kim Pegula," said Jureller. "We could not have done this without the support of the entire organization."
And despite optimism about the improving conditions as Covid-19's spread slows, the economic needs of local non-profits continue.
"The services these organizations provide are more important now than ever," said Roberts. "People are still feeling the effects of the pandemic. We want to connect our fans with those who need their help."
Jureller also noted that the intention is to involve the entire community, from corporate sponsors to small businesses to expat fans and beyond.
"This is not just a Bills and Sabres thing," Jureller said. "We want to bring the community together and get everyone's support. It goes well beyond what we can do on our own, and enables us to help far more organizations than we've ever been able to before."
To find your favorite charity and plan your donation, go to Give716.org.