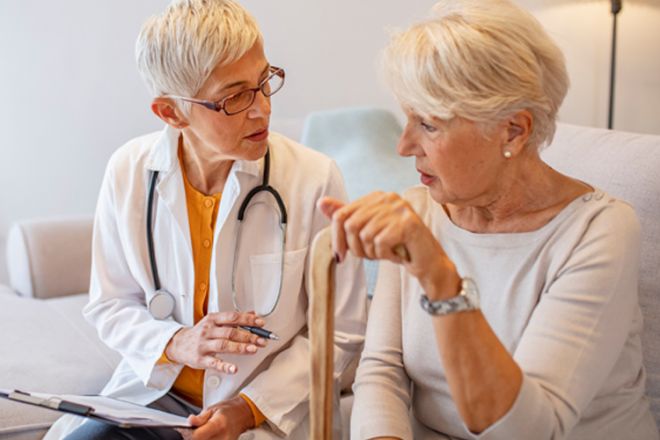 Memory impairment affects more than 40% of adults over the age of 65, which is roughly 16 million people in the United States. This means that for many seniors, it's not a question of if memory loss will occur, but when. Since mild forgetfulness is also considered normal as we age, it can be difficult for caregivers to differentiate between expected age-related memory loss and more serious forms of dementia or diseases like Alzheimer's.
"One of the indicators that it's time to have your loved one's memory impairment evaluated is when their executive function skills become poor—especially their safety and judgment, ability to regulate their emotions, and ability to multitask," says Elizabeth Laczi, PhD, director of memory care at Elderwood, a leading provider of senior care services across the Northeast. "Understanding what level of memory impairment, dementia or specific disease state your loved one is facing and coming up with a plan for care is critical for success."
Here are some signs that your loved one may have a form of dementia.
Missing medications, appointments or bill payments
While it may be normal for an elderly parent to forget they have an appointment or second guess if they took one of their medications from time to time, repeated forgetfulness or believing that they did something when they didn't can be a cause for concern.
"Some seniors can keep up with appointments or tasks with the help of lists and do quite well," said Laczi. "If you notice that without using these list making strategies, your loved struggles with their daily routine, this could be cause for concern."
If you notice your loved one is having doing more than one simple task at the same time, this could be a sign of dementia. For example, you might find that your parent can no longer have a conversation and do something simple like fold laundry or get dressed at the same time without getting frustrated. Or that it's taking much longer for them to complete routine tasks or has extreme difficulty when their routine is interrupted for any reason.
Trouble managing emotions
Inability to regulate one's emotions is a sign of mild to moderate Alzheimer's disease. This can be observed through unusual mood swings, emotional outbursts or reactions that seem inappropriate or unfounded based on the situation.
"For someone with dementia, a small disturbance such as someone else sitting in their usual chair can elicit a strong emotional response or an angry outburst," said Laczi. This type of reaction should not be ignored or chalked up to old age."
The National Institute on Aging lists additional signs of Alzheimer's disease here.
If your loved one is showing any of the signs of dementia, or you have concerns about their memory loss, you should first contact their primary doctor for an evaluation. Erie County and the Alzheimer's Association also offer resources and support groups for dementia caregivers.
The care plan for your loved one may change as their cognitive levels do or as their disease progresses but developing a thoughtful plan and sticking to it will help them to continue to live as fully as possible at each stage.
It's extremely important for caregivers to assess their resources and support network, and to be realistic about their ability to provide the required care. As dementia progresses, caring for your loved one can become more intense and take a mental and physical toll on the caregiver. There are plenty of ways to get additional support, including in-home care or services like adult day programs. These resources can provide medical care and social activities tailored to the memory impaired.
Respite care can provide primary caregivers with peace of mind for short stays, so they can take time to rest and rejuvenate, or take a vacation. Respite care usually takes place in a skilled nursing facility and offers a medically supervised environment, meals, social activities, medication management and assistance with bathing and dressing if needed.
Click here to find out more about the services Elderwood offers or to schedule a tour.
Be the first to know
Get local news delivered to your inbox!