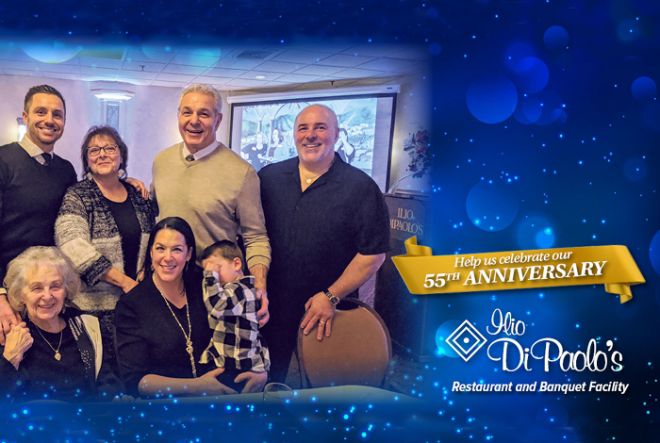 Marking 55 years as a Western New York mainstay, Ilio DiPaolo's Restaurant & Banquet Facility will hold a Mass of Gratitude at Our Mother of Good Counsel Church in Blasdell on Feb. 19 at 6:30 p.m., with a reception immediately following at the restaurant. Both are open to the community and patrons who have shown their much-appreciated support and "to thank the Lord for what he's blessed us with over the years," said Dennis DiPaolo, owner of Ilio DiPaolo's.
Starting out as a humble pizzeria with only four employees in 1965, Ilio DiPaolo's has become an institution in Blasdell, delighting customers with Old-World Italian dishes, warm family atmosphere and friendly service. The restaurant now employs around 100 workers, some of whom have been with them for 35-40 years.
"You need great people around you to be successful and we've been so fortunate to have phenomenal employees," said DiPaolo. "We treat every employee like family when they come through our doors and we work right alongside them to get done what needs to be done."
In recognition of the staff's continuous contributions to their success over the past 55 years, Ilio's thanked workers past and present with an employee appreciation party on Jan. 20. Over 200 gathered at the restaurant, including 99-year-old Molly Kosha, one of the original "pasta ladies."
Additional plans to celebrate the restaurant's impressive anniversary include spring dining specials for frequent patrons and other events throughout the year. Visit Ilio's website for upcoming details.
Be the first to know
Get local news delivered to your inbox!