By linking breakthrough research and clinical trials with advanced clinical care and technologies, Roswell Park Comprehensive Cancer Center is creating the best possible outcomes for people fighting cancer.
On one side, advanced research teams are working diligently to develop breakthrough treatments for a wide range of cancers. On the other, Roswell Park physicians are accessing that groundbreaking research in real time to treat patients with the most advanced therapies.
These therapies come to life via clinical trials.
"Not every hospital can do these kinds of trials," says Dr. Igor Puzanov, Senior Vice President of Clinical Investigation and The Judith and Stanford Lipsey Endowed Chair in Clinical Cancer Research.
"We can add a patient to a trial where we are testing something better and more promising. Elsewhere, a patient would only have the standard treatment available to them."
Dr. Puzanov has been at Roswell Park since 2016, though his interest in cell therapy dates to the early 1990s. With a degree in medicine from Charles University in Prague, followed by additional education in both Texas and Tennessee, Puzanov has been practicing for more than 25 years. At Roswell Park, he's helped develop several breakthrough anti-cancer drugs.
"Usually, when a patient is diagnosed with cancer, they are looking for the best, most specialized doctors," he says. "That's their motivation."
At Roswell Park, they often find an unanticipated bonus to that medical expertise: access to the latest clinical trials. Puzanov says it's important that patients consider clinical trial availability when choosing where to get care.
"It is centers of excellence, like Roswell Park, where all the new ideas are being developed," says Puzanov. "Typically, a trial is an innovation on a proven and existing therapy."
Roswell Park is one of only 51 NCI-designated comprehensive cancer centers ─ supported by the National Cancer Institute ─ in the country and the only one in upstate New York that offers this unique integration of research and care through trials.
There are additional benefits to being part of a clinical trial. Beyond the groundbreaking therapy they gain access to, Dr. Puzanov says patients also feel the impact from what is known as "clinical trial bias." Evidence shows that patients participating in a trial ─ and who have additional specialists and clinical research coordinators taking care of them throughout the trial ─ fare better overall.
"They just have a bigger team to help," explains Puzanov. "People involved in clinical trials do better because of this extra attention."
Promising research is underway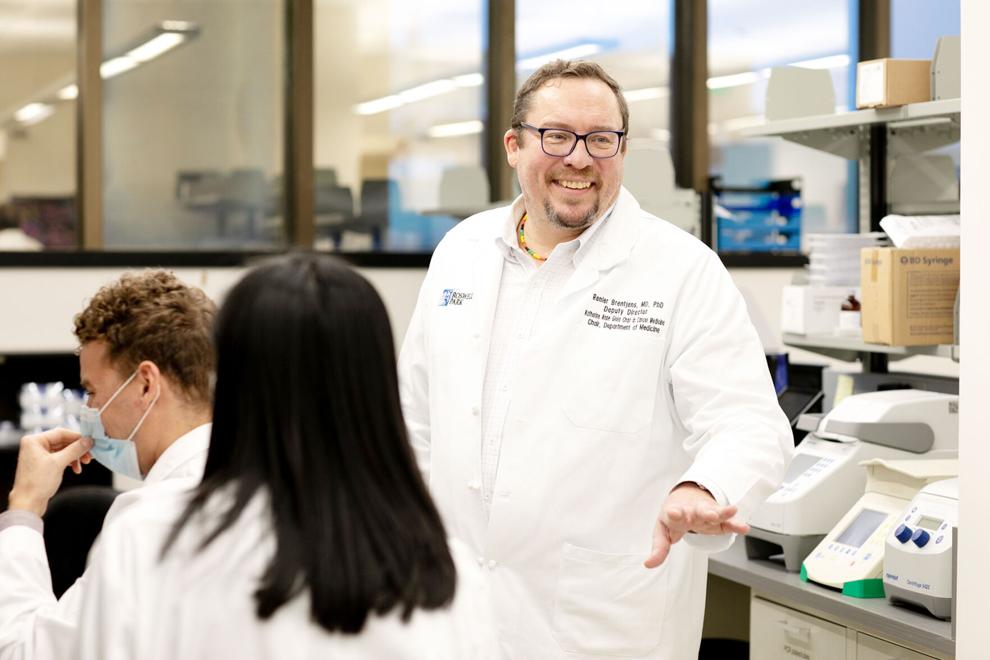 One type of breakthrough research currently underway at Roswell Park is the application of CAR T-cell technology to new types of cancer.
This work is being spearheaded by Dr. Renier Brentjens, a Buffalo native with an M.D. and Ph.D. in microbiology from University at Buffalo. Dr. Brentjens recently relocated to the region after spending most of his career at Memorial Sloan Kettering Cancer Center in New York City. His work there as deputy director of cell therapies improved the outcome for many patients with blood cancers.
In CAR T-cell technology, "CAR" stands for chimeric antigen receptor. Roswell Park researchers engineer these CAR receptors; they do not exist naturally. The CAR is then attached to a patient's own T-cell, turning it into a cancer fighter that recognizes a specific form of cancer and multiplies quickly to kill it. (See below for additional detail.)
Since their discovery in 1987, CAR T-cell therapies have been successfully developed and tested. In 2017, the first cancer treatment using this technology was approved by the FDA.
"This was a very big paradigm shift for oncology and pharmacology," says Dr. Brentjens.
Today, Dr. Brentjens' research is focused on applying the success he's seen in CAR T-cell treatments for blood cancers more widely to treat common tumor-based cancers. These breakthroughs would have untold benefits for a wide range of cancers.
"That's kind of the Holy Grail," explains Dr. Brentjens.
Bridging disciplines provides a holistic approach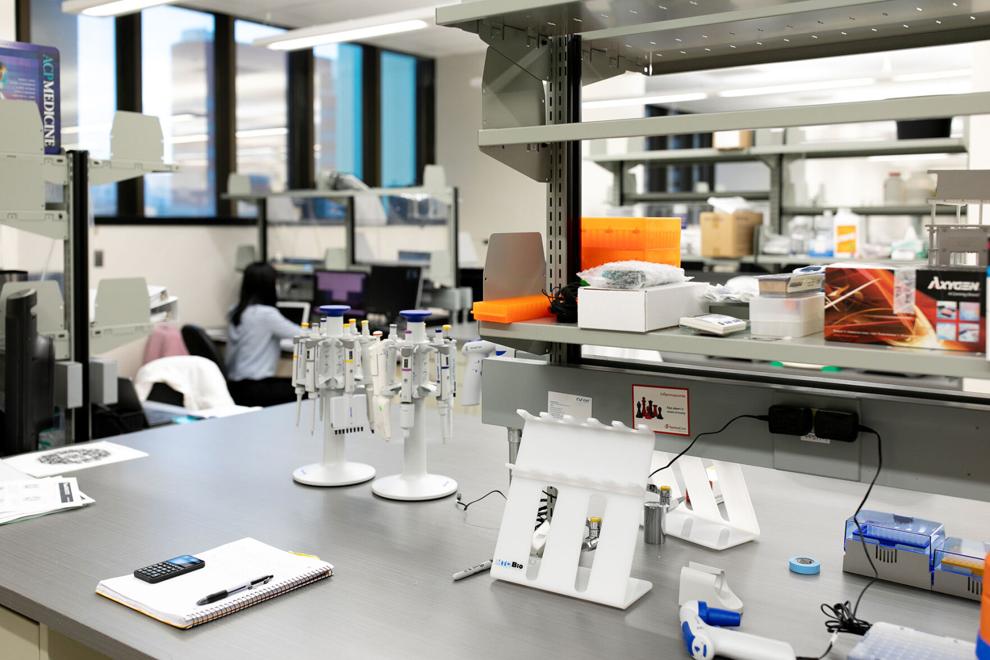 Roswell Park is also actively working to expand its clinical trial portfolio into one that's even more robust.
"The goal is to be able to provide virtually any cancer patient who comes to us with a trial that utilizes this type of technology," says Dr. Brentjens.
By building a team of research investigators while simultaneously developing a clinical team of physicians expert at administering and managing these cell therapies, Roswell Park's patients have access to the most up-to-date options.
The goal is to positively impact survival and quality of life.
"Fortunately, as an institution, Roswell Park has created a bridge between the scientists and the physicians," notes Dr. Brentjens. "Patients at Roswell Park are getting both sides of the equation."
Inside Roswell Park's cancer-fighting labs

Dr. Renier Brentjens, a principal investigator leading his own research laboratory at Roswell Park, explains how the new cell therapies serve a vital need.
"These therapies are especially effective in patients who've had some resistance to more commonly used methods of care," Dr. Brenjens explains. "Newer immunotherapies like CAR T-cells are designed to target cancer cells and leave normal cells alone."
The benefit is circumventing chemotherapy's potential negative side effects, which can diminish quality of life during treatment.
"Chemotherapies work, but they kill all kinds of cells with the hope that the patient's cancer cells also get wiped out. Then the normal cells damaged in the process must reconstitute on their own," Dr. Brentjens says. It's that damage to healthy cells which can result in negative side effects.
But how do these new, alternative cell therapies work to target cancer cells?
First the team targets a protein on the surface of a specific form of cancer. Then the team engineers a receptor that will successfully bind itself to that targeted protein.
The scientists also work to make the T-cells even stronger so they can overcome the defenses that tumor cells – and tumors themselves – create, Dr. Brentjens explained.
Once the research team thinks they've created a receptor that will work on a particular cancer, a series of trials occurs, testing the approach first in the lab.
When investigators are confident the therapies are ready to advance to studies in patients, the investigating team petitions Roswell Park, the National Institutes of Health and the FDA for the right to conduct a series of clinical trials.