Jim Sandoro can still picture it in the lobby. As a kid in the 1950s and '60s, he remembers walking into the glass-domed Bank of Buffalo at the northwest corner of Main and Seneca streets. 
"As you entered, it went up halfway to a mezzanine," Sandoro says. "It was all marble steps, and he was at the base of a stairway." 
The "he" is a 66-inch detailed bronze figure of Atlas, the son of Titan from Greek mythology. Atlas stood there for nearly 80 years, hands on his hips, supporting a spherical clock on his shoulders. 
The statue – believed to be circa 1895, the same year the historic building was constructed – was salvaged in the 1970s when the bank moved out and renovations began for a fast-food restaurant. 
A friend's father was working two doors down on Main Street and noticed Atlas standing at the curb destined for a dumpster. He offered a construction worker a couple bucks to help him carry the 600-pound figure to his car and kept it in his garage until he died and passed it down to his son. (The building was eventually demolished in 1989 and replaced with a parking lot.) 

"Knowing him and knowing the story, I always wanted it," Sandoro says. "But you don't push somebody. Now he's in his mid-80s and last year we were talking about doing some estate planning, and he said he would dispose of it to us."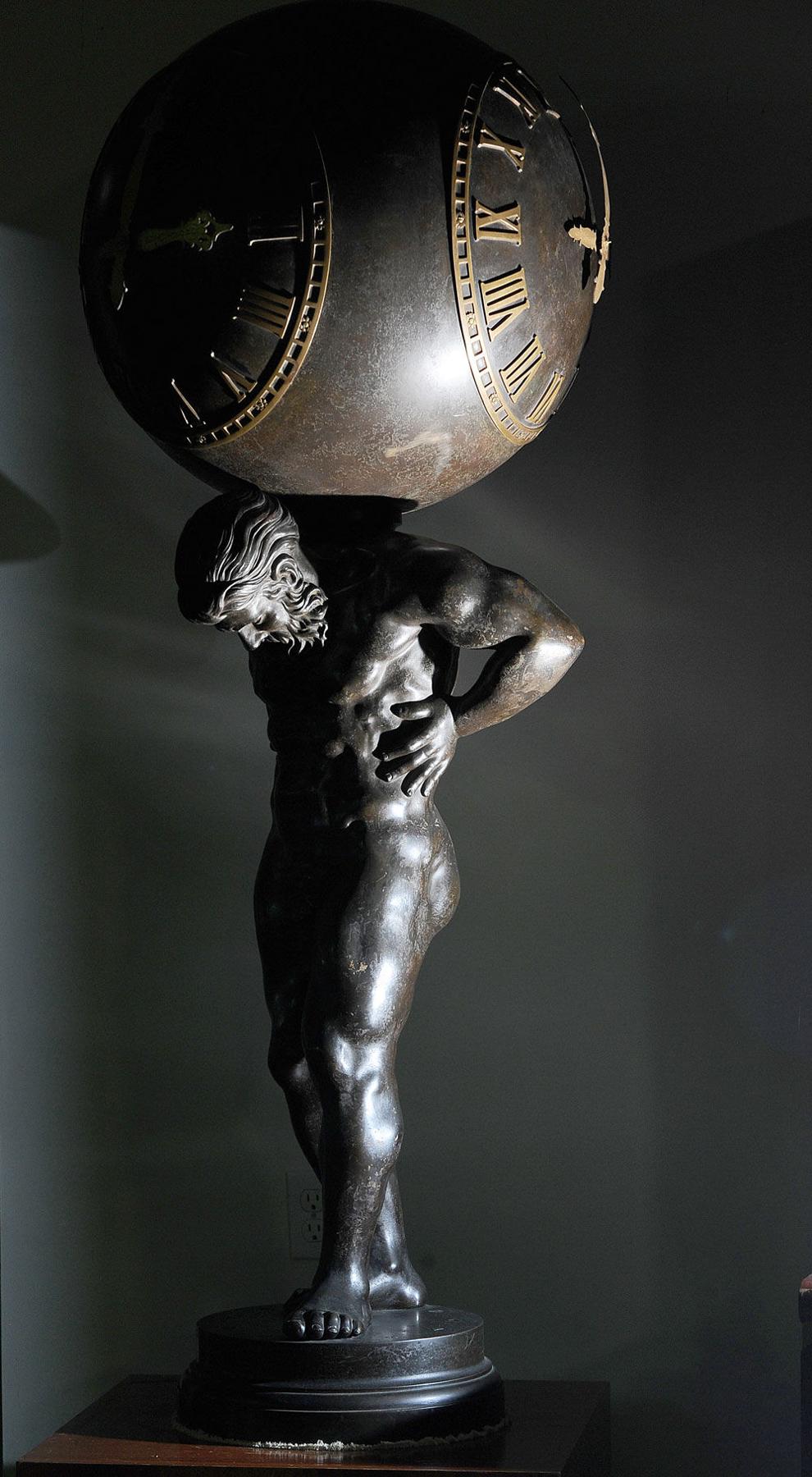 Sandoro plans to officially unveil Atlas to the public on Jan. 7. The museum will be open 11 a.m.-4 p.m., and visitors can find the newest addition to Sandoro's Buffalo history collection just before the opening to the Frank Lloyd Wright Gas Station. 
"I'm so glad we got it because it could have easily made its way out of Buffalo," Sandoro says. "But we saved it and are keeping it on Seneca Street, and that's very important to us. It's a historic street – one of the earliest streets in Buffalo – and we're part of it." 
Atlas arrived at the museum aesthetically in as good of shape as Sandoro remembers from the 1950s. Only the tri-face clock mechanism was repaired and made operational by local clock hobbyist Doug Dobe. 
But the statue is not signed by an artist, and local historical groups and preservationists have not had any luck finding pictures of Atlas inside his original home. 
"I know a woman who worked in the building; she remembers it and I remember it," Sandoro says. "But where's a photo? Someone must have one. That's what we really want, a picture of it." 
Anyone with information about vintage photographs of Atlas in the Bank of Buffalo can attend the public unveiling on Jan. 7, or contact the museum at (716) 853-0084 or piercearrowmuseum@gmail.com.