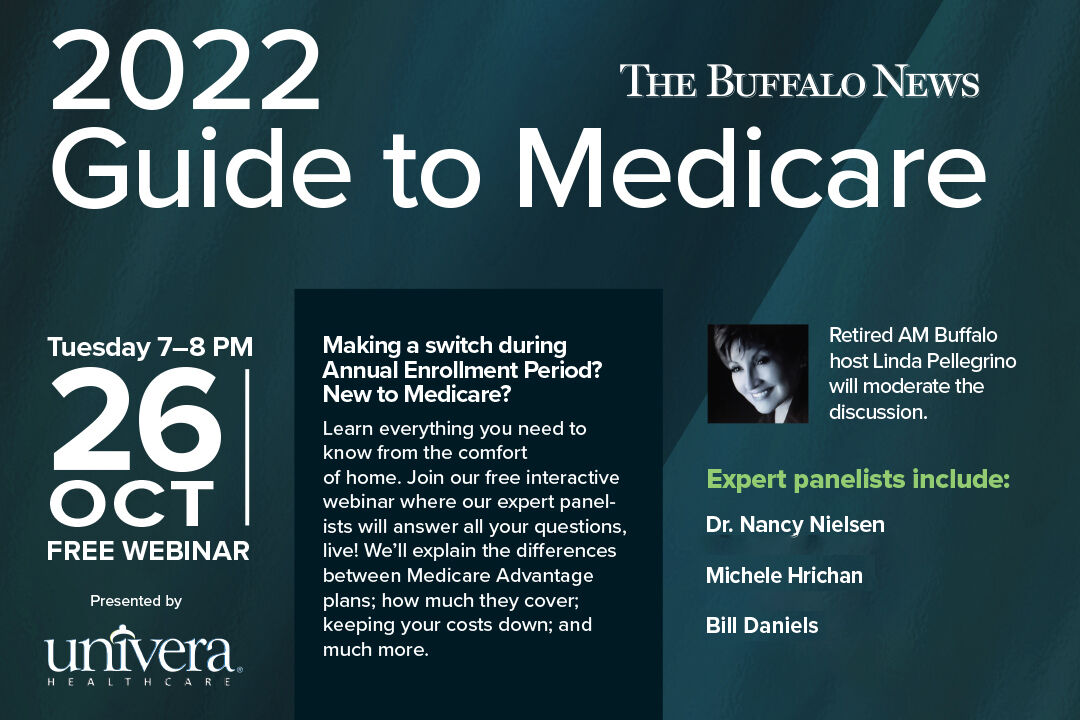 Navigating health insurance is an increasingly complex task. That's compounded when the option includes a shift to Medicare.
Whether a person is new to Medicare or making a change during the federal open enrollment period, having access to clear information and expert insight is a game changer. Without hiring a professional advisor, it can be challenging to pinpoint unbiased and accurate information.
The Buffalo News has partnered with Univera Healthcare to support seniors and other qualified Medicare applicants with the kind of expert advice they need. On Tuesday, October 26, Western New Yorkers will have the ability to attend a free webinar about Medicare coverage options; keeping costs down and more.
Expert panelists include Dr. Nancy Nielsen, former president of the American Medical Association and nationally recognized authority on health insurance. Dr. Nielsen served as senior advisor to the U.S. Department of Health and Human Services for two years, and today works as the senior associate dean for health policy at the University at Buffalo Jacobs School of Medicine and Biomedical Sciences.
Dr. Nielsen will be joined by panelists Bill Daniels, the coordinator of insurance, outreach and counseling for the Erie County Department of Senior Services, and Michele Hrichan, Univera Healthcare's Regional Medicare Sales Consultant. Both panelists will speak to 2022 Medicare Advantage plan options for filling the gaps in coverage.
Moderated by Linda Pellegrino, retired host of WKBW's AM Buffalo, registrants can ask questions as well as learn more about the transition to Medicare and its available options. "I've navigated this myself," said Pellegrino. "It's complicated but important. I'm so eager to share this opportunity with others who are struggling to sort through the wealth of information available."
Topics will include Medicare eligibility, the many parts of the program (identified by Medicare as Parts A, B, C, and D), the range of costs, understanding the difference between the Medicare Advantage Plans and Medicare Supplement Plans and more. Panelists will also respond to attendees' live questions.
"We are so pleased to work with such a wonderful panel of experts and The Buffalo News to present this very necessary opportunity to the public," said Hrichan. "We know how daunting this process can be. We want people to understand the options and resources available to them, despite how unique and varied their individual situations may be."
---
Univera Healthcare is an HMO plan with a Medicare contract. Enrollment in Univera Healthcare depends on contract renewal. Univera Healthcare complies with applicable Federal civil rights laws and does not discriminate on the basis of race, color, national origin, age, disability, or sex. ATENCIÓN: si habla español, tiene a su disposición servicios gratuitos de asistencia lingüística. Llame al <1-877-883-9577> (TTY: 711).