As fewer customers complete the entire car buying process at the dealership – from research to financing to signature – an efficient and trustworthy car buying experience isn't any less important. 
For more the 50 years, the family-owned dealer has innovated its sales and service capabilities to meet the evolving needs of its customers. Sometimes that's at the beginning of the process in the form of robust digital research tools. Other times that's closer to the finish line with mobile checkout. 
But regardless of how far along a customer is on their car buying journey, Towne's experienced staff is ready with a personalized path forward. 
"Somebody can come in and buy a car in five minutes, or somebody could come in and buy a car in five months," says Towne President Frank Downing. "We individually tailor our sales process around how a customer wants to buy a car." 
With a focus on efficiency, timeliness and transparency, Towne is taking its customer service to the next level in 2023. 
New Chief Operating Officer Dan Downing, Frank's cousin, has 35 years of experience in luxury brands. Now handling Towne's day-to-day operations, he's bringing the premium car buying experience to all eight Towne franchises. 
"Completely connecting the car buying process to save people time is our goal," Dan Downing says. "From front to back, sales to service, we're going to make it even easier for our customers." 
That investment starts with a sparkling new Hyundai facility on the corner of Southwestern Boulevard and Milestrip Road in Orchard Park, which is scheduled to be completed by April 2023. 
In addition to a fresh exterior and an enhanced customer service waiting area with work and charging stations, there will be two Direct Current Fast Charging stations for EV and plug-in hybrid vehicles available for the public. Dedicated new car delivery bays will ensure a warm and dry pickup and drop-off for customers, and eight new service bays will allow Towne to expand its video-based service consultations to all its stores by the end of 2023. 
In a video consultation, technicians first assess the vehicle with a walkaround recording and provide customers with an estimate. Once given the go-ahead, they continue to provide real-time updates with detailed video via text message. Customers can then pay from their phone so they can simply pick up their keys and go. 
"It helps with speed and transparency" Frank Downing says. "Instead of a service advisor telling you what your car needs and why, there's no mystery. Even when the car doesn't need anything, it's nice to tell customers everything is fine, thanks for coming in." 
Pick-up and delivery concierge service is also making its way to all of Towne's franchises, where Towne associates will pick up your car at home or work, service it and bring it back all in a matter of hours. 
"We will even come to you to appraise your car, too," Dan Downing says. "The timesaving element is important with how busy everyone's lives are. That's why we're doing everything we can just to make it easier to buy and service cars." 
For those in search of a new car, the inventory at Towne is building back toward pre-pandemic levels. So instead of ordering a car and waiting six months to a year for it to arrive, customers can pick a model from stock and drive it off the lot that day. 
"We're trending toward being back to normal," Frank Downing says. "There'll be more supply, there'll be more selection and there'll be more deals." 
And for used car buyers, Towne will be first to market later this year with a new program called iPacket. Instead of tracking down a vehicle's physical documentation and verification forms – which Dan Downing says takes an average of 11 hours –iPacket is a one-stop digital marketplace that compiles that information instantaneously.

Showroom showstoppers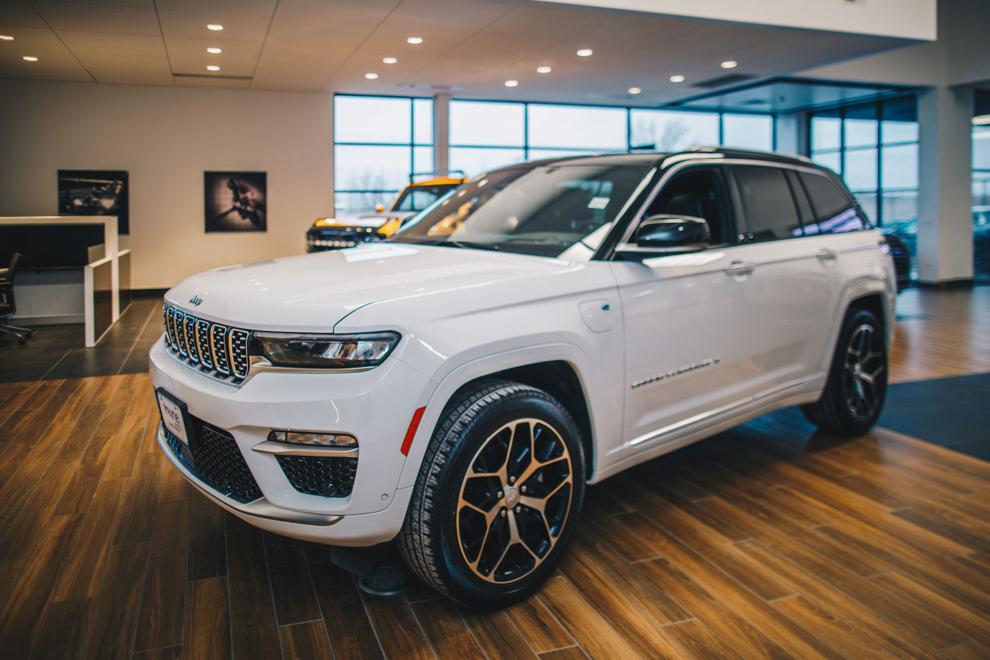 For Frank Downing, the fun thing about the car business is bringing something new to his dealerships every year that get car buyers excited. In 2023, that means more all-electric and hybrid models, plus the increased use of autonomous and assisted driving. 
With that in mind, here are five cars to check out at Towne this year: 
Whether after work or play, the heavy-duty Silverado 2500 HD High Country offers a comfortable spot to kick back and relax. With a Duramax 6.6-liter turbo-diesel V8 engine, 910 lb-ft of torque and 18,510 pounds of available towing, this pickup truck makes big hauls with little effort. 
Ideal for a four-season city like Buffalo, Towne has full-size Broncos in stock ready for delivery. The Bronco has purposeful design, rugged 4x4 capability, a terrain management system with up to seven G.O.A.T. (Goes Over Any Type of Terrain) modes and an option with removable roof and doors for an outdoor lifestyle. For further personalization, add accessories like the off-road light package or tube doors. 
Redesigned for 2023 with a bold new front end, this top 10 mid-size SUV is loaded with Hyundai's latest technology – including the Highway Drive Assist 2 (HDA 2). This autonomous driving technology assesses the driving environment by itself while you drive, ensuring safety and convenience from start to finish. 
This award-winning SUV is now electrified. The all-new Grand Cherokee Hybrid, which rolled onto Towne's lots late last year, is powered by innovative 4xe technologies without sacrificing its capabilities – a towing capacity of up to 6,000 pounds and a range of up to 57 MPGe. 
This crossover utility vehicle is equipped with Mazda's i-Activ AWD, a full-autonomous all-wheel drive system that combines excellent all-road ability with outstanding fuel economy. The Mazda Intelligent Drive Select technology (Mi-Drive) also allows you to customize your drive modes along various roads and surfaces.
---