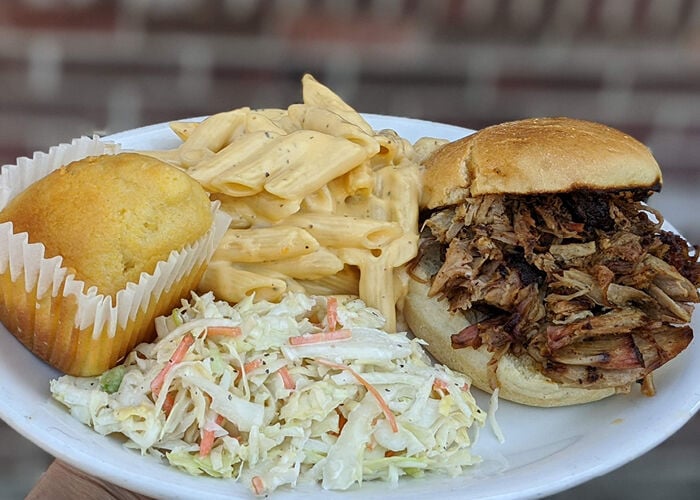 Your block party blowouts may be on hold this summer but that doesn't mean you have to give up on barbecue season. To help ensure you get your fix of authentic smoked flavors, Fat Bob's Smokehouse is making it easy for you to reimagine two seasonal staples.
What better way to make the most of these long-awaited months than with your favorite spot in the park with a picnic spread like no other. All you need is your appetite, plus a few friends with a hankering for barbecue thanks to Fat Bob's new ready-to-go picnic boxes packed with summer favorites. Order online for curbside pick-up, then grab your blankets, give yourself some space and savor the experience with pulled pork or pulled chicken sandwiches piled on Constanzo's rolls paired—in true barbecue tradition—with classic bites like mac and cheese and coleslaw.
There's no need to leave your backyard to make memories this summer. Whether you're grilling up a scaled-down bash with close friends or serving up dinner for family, Fat Bob's Grill Box will amp up your homecooked menu with four authentic homemade barbecue sauces, two spice rubs and a hot sauce.
For the complete experience without the fuss, opt for the Fat Bob's DIY Grill Kit that includes four sauces and two spice rubs, one rack of ribs, two half chickens and 1 lb. raw shrimp. To ensure the cook-your-own feast is ready to go come mini-party time, get your order in 24-48 hours ahead of time. Kits are pre-smoked and ready to hit your grill cold, with tips and tricks for getting it table-ready from the Fat Bob's pit masters themselves. If Fat Bob's famous mac 'n' cheese are a crowd pleaser with your crew, you can always round out your kit with other favorites.  
Safely savoring Fat Bob's with friends
While these mouth-watering fixes require little to no planning, we suggest you clear the air with some ground rules to ensure the fun goes on without a hitch. This way, everyone knows what to expect and can take a guilt-free rain check if preferred.
Cap your crowd with six peopleor less to avoid uncomfortable situations that could put you or your guests at risk. Bonus: All Fab Bob's packages are designed with up to six guests in mind!
Sprawl your setup before breaking into your picnic box or throwing your kit on the grill. Whether guests are enjoying their meals on blankets, chairs or tables, spread eating stations to adhere to social distance requirements. To avoid confusion when it comes to serving, assign one person to dish out all the goods.