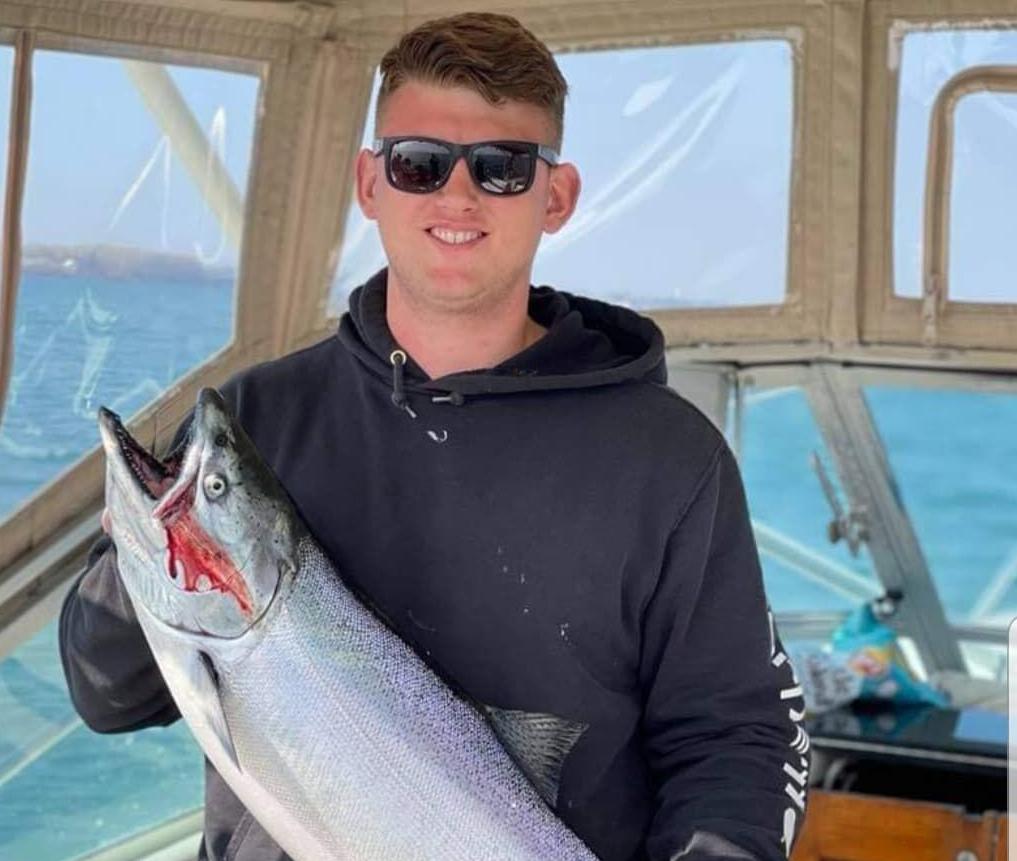 Walleye, northern pike, pickerel and tiger musky (inland) seasons open Saturday and the salmon are snapping on Lake Ontario. Perch action is starting to slow on Lake Erie, which is perfect timing for the walleye opener. Life is good.
Lake Erie and tributaries
This year's perch bite has been epic according to Capt. Joe Fonzi of Gasport. But it will be short-lived. The warm weather brought a bubble of warm water and triggered an early spawn, reports Fonzi. Last week, he boated 200 perch by noon, with half being spawned out fish. Things are slowing down, but there are fish available if you know what to do. Steve Brzuszkiewicz of Marilla picked a perfect time over the weekend to head out of Cattaraugus Creek to chase yellow perch. He headed east and tested 60 feet of water off Evangola where there were a dozen boats and limited action. He continued east to Cradle Beach and found some pods on his fish finder and pulled a dozen before heading to Sturgeon Point. There were no boats, but he connected on 20 fish before it was time to head home. Brzuszkiewicz had to work hard for them by often adjusting position. The perch were large with most being 12 to 13 inches in length. Craig Sleeman of Victor has been catching some perch off Cattaraugus Creek in 54 to 56 feet of water, but he is really looking forward to catching some Lake Erie walleye when the season opens on Saturday. Sleeman, who fished the National Walleye Tour last year, gave some tips for early season action. Tips can range from using blade baits in 8 to 10 feet of water off rock piles, where post spawn structure near the shoreline is prevalent to using 1/8th and 1/4-ounce hair jigs tipped with emerald shiners or night crawlers. Do not be afraid to target suspended walleyes during the day in 30 to 50 feet of water. These fish suspend higher in the water column this time of year. The water will warm on the surface prior to the depths, so presenting baits higher than normal could increase catch rates. Nighttime trolling floating jerk baits in 7 to 10 feet of water near structure also can help snag a limit of hungry predators according to Sleeman. In the streams, Shub Stevens with Catt. Creek Bait and Tackle reports that Cattaraugus Creek was very busy last weekend. Steelhead are being caught in the Zoar Valley area with chartreuse and white egg sacs. Smallmouth bass are being caught in good numbers at the Route 5 and 20 bridge using colored spinners, with gold being most productive. Catfish are being caught on nightcrawlers, but action has been slow. Wait for the water levels and temperatures to rise before things turn on. Staying mobile and changing baits often is key. Guide Scott Feltrinelli of Ontario Fly Outfitters found good action on several Lake Erie streams. He also found a few steelhead mixed in. Suckers are also in the streams. Water was low and clear but that will change with rain this week.
Mike Rzucidlo of Niagara Falls reports that he is catching good numbers of steelhead in the Devil's Hole area, reeling in three using spinners during his last trip to the NYPA fishing platform. The Artpark shoreline in Lewiston is loaded with lake trout – jigs and spinners will both take fish. Silver (white) bass are starting to increase in numbers. Capt. John Oravec of Tight Lines Charters reports that action continues to be consistent down river for bass and a mix of trout with an occasional salmon. On Saturday, he had brothers Wade and Vic Rowcliffe of the Rochester area on the Niagara Bar to catch several brown trout using shiners and minnows on three-way rigs. He found most of the fish on a ledge in 30 to 40 feet of water – brown trout, lake trout and a king salmon. They also ran into the river and targeted smallmouth bass using artificial lures like Neds and swim baits. In the upper river, bass action continues to be good. With the walleye opener Saturday, Joshua Marshall likes casting swimbaits off Broderick Park in Buffalo. Use big bright jig heads with 4-inch swimbaits. He will use multiple sizes and colors to see what works. The fish are there. If it is not being bitten in 10 casts or so, change baits. Cast, let it sink, and begin a slow retrieve with your rod tip down and occasionally pop it off the bottom according to Marshall.
Lake Ontario and tributaries
Karen Evarts of the Boat Doctors in Olcott reports that lake fishing is happening right now from 60 feet of water to 120 feet of water from Olcott to Wilson. Both charters and recreational guys are doing well using a mix of spoons and flies. Lakers are big, salmon are decent sizes. Best colors are blacks, whites, and chartreuse are working best. Capt. Joe Oakes of Newfane said fishing remains good out of Olcott, too. There are fish as far west or east of Olcott as you want to go. Best depths for salmon and lakers have been 50 to 120 feet. Brown trout action along the shoreline is good when there is a mud line. The rain in the forecast will help. Sticks, spoons and flasher-fly combinations are working right now. Dreamweaver spoons such as Seasick Wobbler, Fickle Pickle and UV 2 Face were Oakes' go-to lures. Capt. Rich Hajecki of Yankee Troller worked out of Wilson and he did well on Saturday in 80 to 90 feet of water. On Sunday, things changed and he moved west to 100- to 150-foot depths to do well on salmon. Flasher-fly was the top bait Sunday. Best downrigger was set at 75-foot with a Double Crush Glow 8-inch spin doctor with an A-Tom-Mik gold stud fly. The best diver bite was back 100 feet on a No. 2 setting, pulling Wonderbread SmartFish/A-Tom-Mik Glow Blue Hammer and an 8-inch paddle/MC Rocket in an A-Tom-Mik Stud meat rig. John Van Hoff of North Tonawanda reports he fished to the east of Olcott near Golden Hill 60 to 70 feet down over 80- to 90-foot depths, and he was 9 for 15 on king salmon. Magnum spoons worked best. Lyman plugs worked best off lead core line. Remember the start of the Lake Ontario Counties Derby is May 7. Check out loc.org for details. Evarts also reports that the smallmouth bite is good for big fish, catch and release with spinners or spinnerbaits. A few steelhead have been caught off the piers in Wilson and Olcott. Some perch in the harbors. Pike season opens Saturday for casters and live bait fishermen in the harbors of Wilson and Olcott. Trout are holding on in the Oak Orchard River according to Ron Bierstine with Oak Orchard Tackle. Visibility was 2 to 3 feet but that will change with rain.
Capt. Mike Sperry of Chautauqua Reel Outdoors reports that crappies are not yet on the beds. Most of the action is still in the canals in the early morning, late evening and after dark. As far as walleye, the season opens Saturday. The best early May bite is fishing shallow in the evening and after dark according to Sperry. Walleyes will be chasing bait in shallow water and feeding through the night. This is a good time for anglers to cast floating Rapalas, Thundersticks, Bay Rats and other stickbaits from shore and by wading out. Using 2- to 4-inch baits works good in the early season. You also can cast from a boat. Long line trolling shallow in the evening is a good method, too. Weedlines are still developing, with fish in and near them during the day. Slow trolling worm harnesses will work along weedlines. Use small blades on harnesses and troll slow. It can be a finicky day bite for a few weeks until the water warms up.