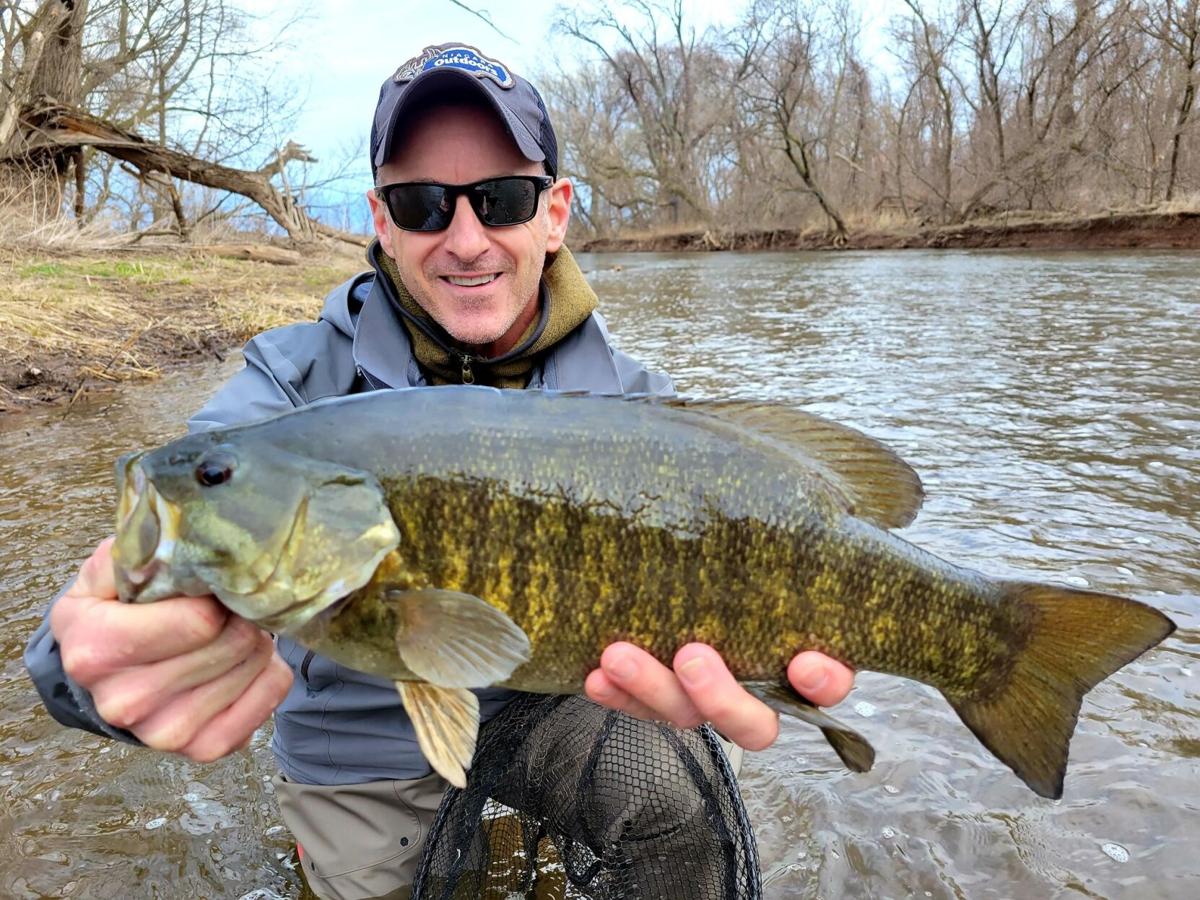 Mother Nature was not very forgiving in her timing when she decided to dump rain on Western New York. You might even be waking up to a few inches of snow for Thursday's inland trout opener, a bit of an April Fool's joke. Remember that the new inland trout regulations take effect; these do not impact the tributaries off Lake Erie or Lake Ontario, which fall under separate Great Lakes guidelines.
Nicholas Sagnibene of Ellicottville reports that the weather coming in Wednesday night and into Thursday is going to dirty up some things and raise the water levels. The streams are running about average right now with some stain on the lower ends. The forecast shows about three-quarters of an inch of rain or snow expected for this front, so he would expect most of the area creeks to be high and dirty. The farther up the system you go, the clearer and more fishable the water should be. Getting into Friday and the weekend, conditions will most likely get worse. Snowfall is in the forecast with cold temperatures making the fishing seem like mid-winter. He said the precipitation is much needed because will go a long way toward keeping the creeks in fishable shape soon. DEC will be stocking 1.8 million trout in the waters throughout the state this year. The fishing hotline number for the Randolph hatchery is 358-2050. The 60th Annual Naples Creek Trout Derby is kicking off Thursday in a virtual format. The Derby will be run from April 1-4 through a Fish Donkey app on your smartphone. Join "Naples Creek," register and follow the instructions. Make sure you have a measuring board. For more info, call Micah Moore at 585-704-7601.
Lake Erie and tributaries
Danny Colville at Colville Outfitters in Hamburg reports fishing is good in the tributaries with some immature fish at the mouths of creeks. A handful of spring spawners are coming in and quickly getting on to gravel. Colville said lots of fish are on beds in shallow water doing their thing. Leave those alone for the best shot at natural reproduction. Typical flies, jigs and eggs are working, but beads are really lighting it up, he said. Soft, hard and hybrid in Death Roe, BnR, Lazy Larry's and Lured Beads are producing best. Use 8-, 9- and 10-mm sizes in natural, lightly mottled selection with a yellow or orange base to take the most fish if conditions are good. Justin Stevens, with Catt. Creek Bait and Tackle, reports that streams took a pounding with the rain, but lots of anglers are still finding success on the Cattaraugus and Clear Creeks with egg sacs. Spoons and spinners have been working off the Sunset Bay breakwall as trout head to the mouth of the Catt. Suckers and carp have moved into Cattaraugus Creek. Fishermen are having fun catching suckers in numbers bottom fishing with night crawlers. No lake perch reports lately because of recent storms. When things settle down, it should pick right back up again.
Water clarity took a serious hit after the wind and rain last week. With more in the forecast, it will continue to have an impact on fishing success. Mike Ziehm, of Niagara Falls, reports that he was down in the gorge this week and found 1½ feet of visibility. He did manage to catch a small female steelhead using an orange/chartreuse No. 5 spinner. Some fresh fish should be around when the water starts to clear. Boaters have really been struggling, but a few fish have been caught on live bait such as minnows and MagLips. Brightly colored egg sacs are also producing a fish here and there, which is what Capt. Joe Marra, of Lewiston, was using last weekend down river with Anthony Gomez Jr. and Sr. from West Seneca. Capt. Steve Drabczyk, of Lewiston, found some steelhead in Devil's Hole. Speaking of Devil's Hole, the NYPA Fishing Platform, including the elevator and the fish cleaning station, should be open Thursday. Check the hotline at 286-6662 to see the status. The upper reservoir and the water intakes in the upper river are open as well. Some mixed smelt reports. We heard of one decent report before the water changed color, but most are coming up empty. Water temps are good and there are an awful lot of lanterns on the Canadian shoreline across the river.
Lake Ontario and tributaries
Kings are hitting off St. Catharines, Ont., according to reports this week, which means it will not be long before kings will find their way off the Niagara Bar, Wilson, Olcott and Point Breeze. Capt. Richard Brant, of Tonawanda, was out on the Niagara Bar fishing for lakers this week, trolling east in 65-75 feet of water on chartreuse and gold spoons. Todd Ceisner, with In-Fisherman, was trying to jig up bass and lake trout last week while fishing with Capt. Frank Campbell in the river and out in Lake Ontario. He pulled a walleye from the river, that was released immediately, and then had several hits on lake trout using a jig tipped with a plastic smelt imitation. Mark Mika, of Newfane, reports that he wanted to share some early season action out of Olcott. He boated 15 lakers, all big healthy fish, fishing with his brother Dave, of Tonawanda, and Paul Karelus, of Williamsville. They were fishing in 60 to 65 feet of water between Olcott and Somerset using spoons and homemade body baits. A dozen were taken on an old Sammy Pac 07 that he repurposed for some added fun. Karen Evarts, at The Boat Doctors, reports that steelhead fishing has been good at Burt Dam. Egg sacs or egg imitations like beads. Action was good off the piers but slowed after recent storm activity. Scott Feltrinelli, with Ontario Fly Outfitters, saw his first smallmouth of the year last weekend with some customers. After that last rain, lake run trout are dropping back and out of the system, while smallmouth have started moving in. It is a slow pick of scattered singles in the tributaries. He was with Jamie, from Grand Island, a first timer at fly fishing, and he caught three species. Feltrinelli said it could be winding down quickly. Over in Wayne County, Chris Kenyon, of Wolcott, sends word that perch are hitting on the east side of Port Bay and the south end of Sodus Bay near Oak Park Marina. Some crappies were caught off Bay Bridge at the south end of Sodus. The Niagara County Bullhead Tournament is coming up April 9-11. This is a shore fishing only event, with anglers vying for the best two  bullheads total weight to win the prizes. The contest starts at 5 p.m. on April 9. Weigh in on April 11 at the Wilson Conservation Club from 9 a.m. to 1 p.m. when the tourney ends. For more info, call Eric at 628-6078.