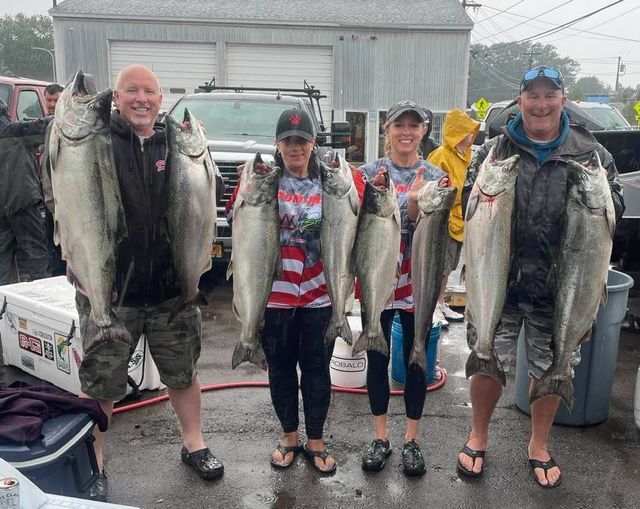 It is the last weekend for the Lake Ontario Counties Summer Derby and Michael Paddock of Albion is still leading the way with a 31-pound, 7-ounce fish. Will it hold up for the $10,000 grand prize? The derby ends at 1 p.m.  Sunday. It is not too late to enter.
Lake Erie and tributaries
Capt. Bob Rustowicz of Cheektowaga with his Forever Fishing Team of Tom Brunn and Gregg Shelvay hit the water Friday to fish for the biggest walleye in the Big Fish Friday contest as a precursor to the Sunset Bay Walleye Shootout. The good news is they were on good fish and figured out a pattern that they thought would hold for the main event. Their big fish on Friday at 10.6 pounds was the biggest among 140 boats. Mother Nature had other thoughts. Saturday was canceled and it was so bad that Sunday was, too. Near record rains caused floods in Cattaraugus Creek and damaged docks, forcing a cancellation and a drawing to determine tourney winners. "I can tell you we went east out of Cattaraugus Creek," said Rustowicz, keeping some critical information close to the vest as he prepares for the next tourney out of Dunkirk July 31-Aug. 1 (Bart's Cove). "The bigger fish were 10 feet or less from the bottom and we used stickbaits off downriggers and lead core line." Meanwhile, Capt. Kim Skoczylas of Sheldon had her all-girls Eye Candy team out between Eagle Bay and Dunkirk in 70 to 90 feet of water doing very well on walleyes, but nothing big enough for the Big Fish Friday. Using a goby-colored Moonshine spoon off the riggers, they caught plenty of walleyes. The other hot setup for them was a Yaleye stickbait in raspberry lemonade fished off eight colors of lead core line. She made sure that Kishel's fish scent was on all baits. Find out what happened to them in the Shootout on Sunday's Outdoors Page in the print edition of The Buffalo News. The international line off Buffalo continues to work for Capt. Ryan O'Neill of Buffalo Wings Waterfowl Charters. Best depths this week has been 55 feet to 58 feet of water, bouncing bottom with three-way rigs and worm harnesses. Anything green as far as his Colorado-bladed harnesses is his go-to. Included in his catch this week was an 11-pound lunker hauled in by Beth Krone of Dover, Pa. Another walleye option is in Buffalo Harbor. The walleyes are there,  according to Steve Brzuszkiewicz of Marilla. Recently he caught three nice 18-inch 'eyes working a drop-off in front of Gallagher Beach with his favorite firetiger rig. He went back to basics and worked the same area that was loaded with fish via rod in hand. The drop-off went from 27 to 32 feet of water. Some guys have been fishing from the middle to north gap in 20-26 feet of water, again bottom-bouncing with harnesses. Best speed is 1.8 to 2.1 mph. You will have to weed through the short fish.
Guide Nick Sagnibene of Ellicottville with 716 Fly Fishing reports that with the recent rain, all streams and rivers are running high and dirty. Around 2 to 5 inches fell on Southern Tier waterways, creating not only dangerous conditions but new stream channels, pools and riffles. It was one of the most intense "blowouts" we have seen recently, however it was much needed. With the drought conditions, this wall of water was needed for a good cleanup of grasses and such, which arrived thick and quick this year due to the weather and flows, according to Sagnibene. The Allegheny system will be high and dirty for the foreseeable future. Small brook trout tributaries like streams in Allegany State Park should be fishing great by this weekend. Targeting warm water species on the larger Allegheny and tributaries should be good by the end of this weekend. They will differ depending on the area you fish. Expect lots of debris and strainers if floating. The upper Cattaraugus system will remain high and off color for the next few days if we do not get more serious rainfall. Elton Creek will contribute extensive sediment into the Cattaraugus below Sardinia for the remainder of this week, so Sagnibene would count out fishing the junction of those two and down. Trout fishing in and around Arcade should be good in the next week. Flows will stabilize and temperatures should remain fishable. He expects to target the upper Cattaraugus system with streamers, from wooly buggers to articulated streamers (any size). The further up the tributaries you get, the clearer and less turbid the water. Now is a great time to fish hoppers, ants or beetle patterns along grassy banks and edges. Fish are poised to take advantage of any food falling in. Hoppers in size No. 10-14, beetles and ants in No. 12-16 will work. Adventure Bound in Ellicottville or Orvis Buffalo in Williamsville offer these patterns.
Fishing has been a bit tough the past week, but Lisa Drabczyk with Creek Road Bait and Tackle in Lewiston reports that anglers are hooking up with smallmouth bass on crayfish and minnows from boats and off the NYPA fishing platform. Some walleyes, too, using jigs and spinners from shore. From boat, try using a worm harness or a sparkle jig. Some of the walleyes have been taken at night. Casting from the sand dock with Fin-S Fish plastics is taking a few 'eyes. Bass downriver are coming on Ned rigs and swim baits in addition to the live bait options.
Lake Ontario and tributaries
Kyle Hovak of North Tonawanda and his Mean Machine shared information from last Friday's win in the Curt Meddaugh Memorial contest held by the Lake Ontario Trout and Salmon Association. He fished the river water on the Niagara Bar and used a north-south troll in 200 to 250 feet of water at the drop. A-Tom-Mik meat rigs deep on his riggers did the damage. It was a relatively slow bite, averaging one hit with each south troll pass. Temperature break was down about 80 feet. Hovak also won the LOTSA 3-2-3 contest for the best three fish over two days of fishing, weighing in his best three on Friday with a 61.53-pound total. Meanwhile, Matt Dunn of Newfane and his Streaker team won the Big Fish LOTSA tourney with a 25.75-pound king salmon on Sunday after the Saturday contest was postponed. He, too, was fishing the Niagara Bar in 130 to 220 feet of water and almost all his salmon came on a 300-foot copper line outfitted with a white spin doctor and a meat rig with N & D cut bait. He ended up with 57.58 pounds for his best three fish. Out of Olcott, Karen Evarts at the Boat Doctors reports that the water is messed up with some cold water inside. Some trollers found 42-degree water from the top down 120 feet. Look for the bait. Fishing is slowly starting to get better.
The walleye fishing has been good, according to Capt. Mike Sperry of Chautauqua Reel Outdoors. Trolling crankbaits off lead core in 13 to 17 feet of water on the south basin has been working. Getting baits down near the bottom is the key as well as a consistent trolling speed around 2 mph. Experiment with colors as the preferred color changes quickly. The white perch are always aggressive and will hit cranks. Some nice-sized crappies are available with a trolling presentation. The lake level is up at least 18 inches over normal. Watch out for floating debris.
Capt. Jeremy Newman with Doc's Bait and Tackle in Honeoye reports that they had to fight the elements this week to get a bite. Several days of much needed rain and high winds made fishing difficult, but not impossible. On Honeoye and Conesus lakes, the bass have been holding in deeper water, but the rains stained the water, pushing many in shallow. The usual bag of tricks worked all week,  according to Newman. Chatterbaits, spinnerbaits, swimbaits, topwater and drop shots are working. On the drop shot rig, Newman is hooking up significantly more using 2 to 3 feet between the hook and weight. Several bass with bloody tails were boated showing continued signs of later-than-usual spawning. The walleye population continues to show signs of improvement. Twice this week, one customer got a walleye limit while bass fishing. Crappies are schooling, but it has been hard to find a keeper. Try using a bigger bait to scare off the smaller ones.