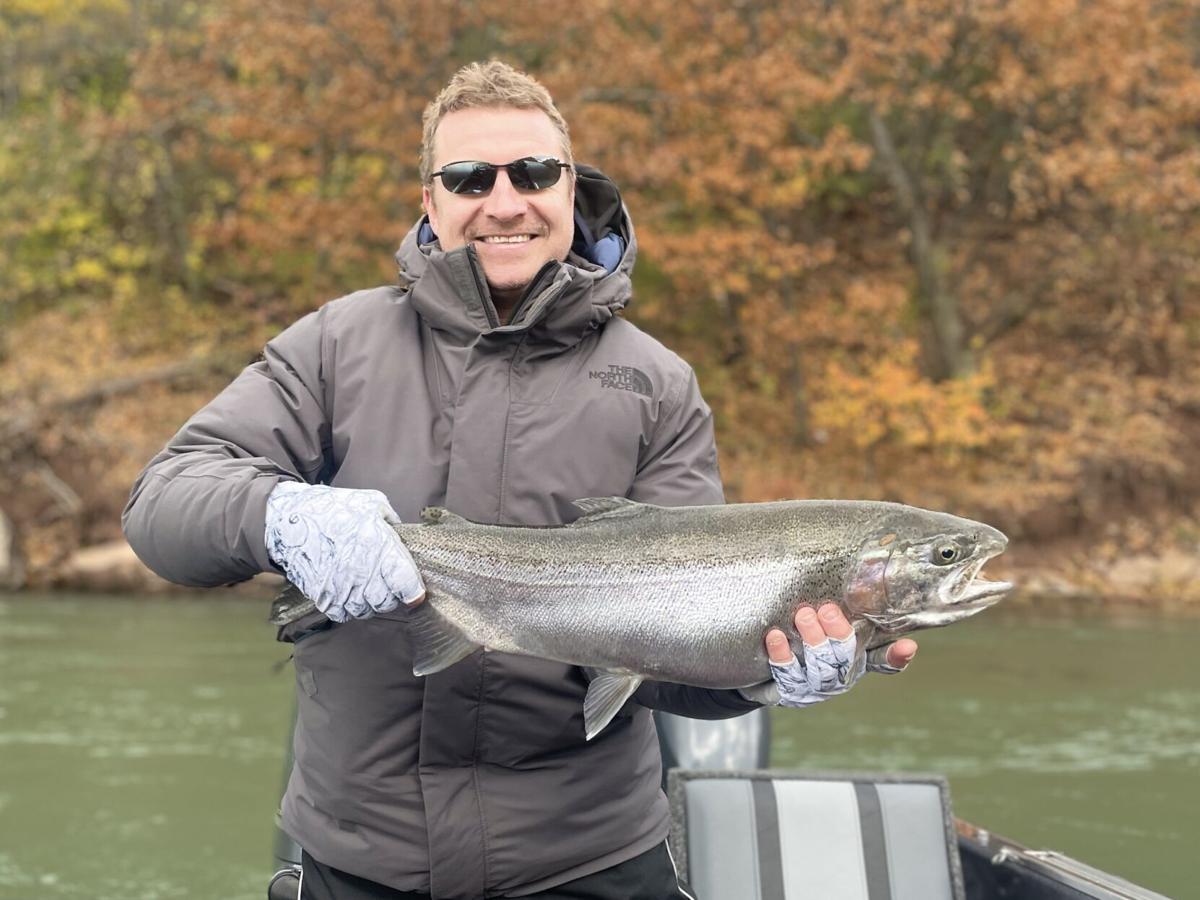 There are still plenty of angling opportunities available in Western New York, but you may have to seek the best spots and brave a bit of inclement weather. Some seasons close Nov. 30, but others open Dec. 1. Happy Thanksgiving.
Lake Erie and tributaries
Clear Creek has been fishable, according to Shub Stevens with Catt. Creek Bait and Tackle of Irving. Pink egg sacs under a float have worked well. In Cattaraugus Creek, it has been hit or miss in most areas. Gowanda and Versailles areas have been productive, and anglers are seeing a lot of fresh steelhead. Chartreuse and pink have been hot colors on the Catt, according to Stevens. Blake Kowalski of Tonawanda assisted Ben Moyer of Pennsylvania and Peter Brookes of Virginia to catch about a dozen steelhead in Lake Erie tributaries using primarily beads over the weekend. According to DEC's Lake Erie Unit for the tributaries, October creel census results were down from previous years but some of that could be blamed on high water events. Catch rates were around .23 fish per hour. Rates varied from stream to stream. Buffalo and Cayuga creeks saw catch rates that were .47 and .38, respectively, for October. In Cattaraugus Creek, the catch rate was .17 fish per hour. Capt. Ryan Shea of Brookdog Fishing Co. reported success on Lake Erie for bass, finding them in the same spots using the same presentations as a few weeks ago. Live bait (goldens, suckers and chubs) on the bottom worked best in 35 to 45 feet of water around shoals. The regular bass season closes Nov. 30, and it reverts to a catch-and-release season (artificial baits only) around the state, except on Lake Erie, where regulations allow for one bass per person per day with a minimum size of 20 inches starting Dec. 1. Live bait and artificial lures can be used. No reports on yellow perch, but if the weather cooperates, the fish are still there.
Lower river trout action has been fair around Devil's Hole and Artpark, according to Lisa Drabczyk with Creek Road Bait and Tackle. Shore anglers are floating beads and casting spinners for the most success. Steelhead is the primary focus, but lake trout are tough to keep off lines. Lake trout season opens Dec. 1. Mike Rzucidlo of Niagara Falls caught steelhead with Kwikfish on Tuesday off the NYPA Platform. Turbid water has made for a slower bite. The NYPA fishing platform will shut down Dec. 1 for the season. Boat anglers are using live bait like emeralds and goldens, but Kwikfish, MagLips and beads are taking trout. Capt. Ryan Shea of Tonawanda reported conditions were great on Tuesday, boating steelhead and other trout. In addition, down river action for brown trout is picking up. Several Pennsylvania outdoor media visited Western New York the past week and caught brown trout, steelhead and a mix of other fish while fishing with Capt. Frank Campbell and Capt. Joe Marra, both of Lewiston. Writers included Peter Brookes of Virginia, Doyle Dietz and Wade Robertson of Pennsylvania. Water temperatures are close to the 50-degree mark, with the closure of the regular musky season, including the upper Niagara River and Lake Erie, on Nov. 30. If you still have that musky itch, the lower Niagara River and Lake Ontario remain open to musky angling through Dec. 15. Some perch are being caught off the north corner of the Lewiston Landing area. It's better from boats.
Lake Ontario and tributaries
High water is a concern in some of the bigger streams, and canal releases have been cut back in some areas. Ron Bierstine with Oak Orchard Tackle reports that there is lots of water in the Oak, which is slightly high and stained with about 2 feet of visibility as of Tuesday. Heading into the weekend, it looks seasonably cool and mostly clear with a slight warmup toward the end of week. Fishing pressure is light with a few cars seen at each parking spot on the Oak. The salmon run is almost over. Patience and persistence are emphasized by Bierstine. Flows in the smaller waterways bumped up slightly from the most recent rain, but seem to be sliding back to medium flows. Most fishing pressure has been to the east. According to Scott Feltrinelli of Ontario Fly Outfitters, flows in streams to the east that are receiving Erie Canal water releases are higher than expected. Fishing pressure has been up, impacting access areas. Wooly buggers are taking brown trout. There was enough water in smaller tributaries around Wilson and Olcott for outdoor writer Ben Moyer of the Pittsburgh area to reel in his first chinook salmon on a fly. He also caught a small brown trout while fishing with Kowalski.
Guide Nick Sagnibene of 716 Fly Fishing reports that inland stream angling has been slow. He has seen tremendous swings in water conditions, going from extremely high and turbid to low and clear and back. Combine the current water conditions with brown trout beginning their annual spawn and it's a recipe for slower catch rates. High water has allowed fish to travel into their spawning zones where they most likely will remain for the next few months. Fall/early winter fly patterns can vary with the weather, according to Sagnibene. If the water is high and cold, plan to work streamers or nymphs much deeper and slower than normal. Putting flies into strike zones during colder periods is key. Heavier nymphs, cone or tungsten beadheads or adding small split shots will help get the flies down quicker. Standard nymph patterns like pheasant tails, stoneflies and copper johns are good bets. Weighted wooly buggers are always in the box during this time of year. Fish are very transitory right now, which allows you to target areas that normally don't produce or hold trout. If the water is cold, focus your efforts on the slower sections. The end of riffles and slower seams, where pools begin to develop or pockets of slower water around rocks and debris, are good target areas. A trout's metabolism will begin to slow now. They will not move much for food so finding key holding water based on current conditions will greatly increase your success rate when fishing. Pay close attention to the spawning redds when walking the creeks and the fish that may use them.