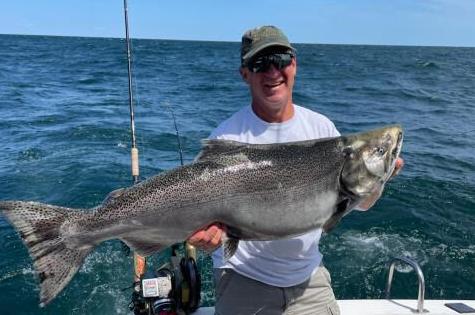 It is derby time on Lake Ontario with the start of the Lake Ontario Counties Trout and Salmon Derby, as well as the Greater Niagara Fish Odyssey Derby on Aug. 20. The LOC ends Labor Day and has a $25,000 grand prize. Check out loc.org for details. The Odyssey, which ends Sept. 5, has seven species categories, kids are free, and everything is being run off a new Fishing Chaos app that will allow you to take pictures and measure fish, as well as keep a leaderboard. Check out fishodyssey.net or the Fish Odyssey Facebook page. On Lake Erie, the Innovative Outdoors Walleye Challenge will be held out of Dunkirk with Big Fish Friday this Friday and the main event Saturday. Check out innovative-outdoors.com for more info.
Lake Erie and tributaries
Fishing information was a bit tougher to get this week with the Innovative Outdoors Walleye Challenge this weekend. Rob Oram of Franklinville reported the fishing hasn't been that consistent this year along New York's shoreline. Barcelona has been the best place to be for catching numbers of fish. There are fish out of Cattaraugus Creek area in the 70 to 80 feet of water range. Oram fished out of Sturgeon Point last weekend and found very few fish all the way to the roundhouse off Buffalo. When you do find fish, they don't seem to stay around for long, and they are always on the move. The laker bite has been good out of Dunkirk in the 100-130 feet of water with spoons. Shub Stevens of Catt. Creek Bait and Tackle reports that walleyes are being caught in numbers out of the Catt. Best depths are 60-75 feet of water and purple and watermelon harnesses are working well. The perch bite was excellent, according to Stevens, with several crews catching their limit in 50-65 feet of water using golden shiners for bait. Catfish are still being caught along the Hamburg shoreline area. Target 20-40 feet of water slow trolling at .5 mph and dragging cut bait. Douglas Rods will be hosting one of its Big Money Open Tournaments on Sept. 18 out of Buffalo Harbor. Go to douglasoutdoors.com for details.
The Deer Doctor – Peter Fiduccia from Northeast Woods and Waters TV Show – came and fished the lower Niagara River for bass last week targeting smallmouth bass. He was fishing with son Cody and wife Kate, on the boat of Capt. Frank Campbell of Lewiston. Conditions weren't the best, but they still managed to catch more than two dozen bass, with the largest being between 4 and 5 pounds. Crabs fished off three-way rigs caught the most fish along with drop-shot setups using the Strike King Dream Shots as bait. Walleye can be found in the typical haunts. Use a worm harness fished on the bottom. Mike Rzucidlo of Niagara Falls reported that he's been picking up a few bass on jigs from a boat in the upper river and more small bass onshore at Artpark. No walleyes the last few times out, but he didn't try the night bite yet.
Lake Ontario and tributaries
Some easterly wind earlier in the week rolled the lake over and charters were heading out deep to more stable water. According to Capt. Tim Sylvester of Tough Duty Charters in Olcott, he had a banner day on Sunday, before the lake rollover, that included six mature king salmon. One of those salmon tipped the scales at 36 pounds. Too bad it wasn't during the Fall LOC Derby or the Fish Odyssey. Sylvester reported there were two distinct bands of fish – from 4 to 8 miles offshore and 10 to 12 miles offshore. That will change after the most recent winds. Karen Evarts at the Boat Doctors said boats were still doing well out deep even after the lake rollover Tuesday. Hot colors are blacks, purples, greens and blues. Most of Sylvester's fish came from down deep. He was using 400-foot copper line, riggers from 65 to 105 feet down, and divers back 180 to 240 on a No. 1 or 2 setting. Meat was working on the divers and copper lines; spoons off the riggers. The LOC winner last year came out of Olcott when Tim Anderson of Ohio reeled in a 31-pound, 7-ounce salmon while fishing with Capt. Vince Pierleoni of Thrillseeker Sportfishing. Wilson Harbor was producing some big perch last week along with some bass, according to Evarts. Capt. Richard Hajecki of Crazy Yankee Sportfishing reported he enjoyed some very good trips out of the Oak/Point Breeze last weekend out deep at the 27 to 30 lines. Most fish were taken from 70-120 feet down in the water column. It was a mix of spoons and flies for the most part. Best fly was an A-TOM-MIK Stud fly. Best spoons were DW Glow Roy Boy in the morning and DW UV Green Jeans later in the morning. Capt. Tom Murray of Catch'N Hell Charters out of Point Breeze did well, too, with the Meyer family from Eastern Pennsylvania and New Jersey. They scored four king salmon (all 17-20 pounds) and a trophy sized steelhead weighing in at 16 pounds. They fished a little west of the Oak between the 27-29 lines. The fish were biting on a deep rigger set at 120 feet down, flasher/meat rig and wire dipsy (280-300 feet out) with a gold 42 second paddle with mirage fly or a NBK paddle with a mirage fly. A 600-foot copper line rigged with a Jill Bill meat rig also caught fish.
The south basin walleye trolling bite has slowed down some in the last week. Capt. Mike Sperry of Chautauqua Reel Outdoors said they are still getting fish but not like two weeks ago. The most important thing is to get the baits running close to the bottom in 14-17 feet of water. The floating weeds make it a challenge some days keeping you busy cleaning lines. Experimenting with different colors until a pattern is established is key. Boat speed is a big factor, too, according to Sperry. Seems like slower is better this year, such as under 2 mph. Musky fishing has picked up some in the last week. Casting is still the best option, but trolling is picking up some fish as well. Finding green healthy weeds is important in the casting program on the north and south basins. 
Finger Lakes (Conesus and Honeoye)
Capt. Jeremy Newman of Doc's Tackle in Honeoye reported mixed reviews from staff and anglers. It seems to be feast or famine in the fish catching arena with not much middle ground, especially as it relates to bass. The vegetation is so thick it's frustrating many anglers. Don't quit fishing though, just learn to fish in the grass, Newman said. Heavy jigs and flipping soft plastics are getting bit more often than other methods. He would encourage you to use at least a half-ounce weight to make sure you get to the bottom, and fish faster than normal. It has been his experience this past week that they chomp on the initial fall or not at all. Cooler weather and rain in the forecast should help moving forward.