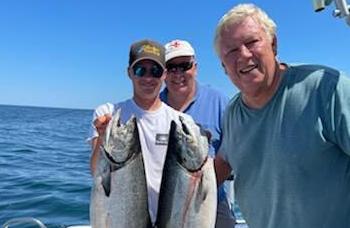 Some stable weather is finally arriving on the local fishing scene and fishing should be good as we get into gear for the last full month of summer. Lake Ontario is turning on and the Lake Erie walleye bite is getting better, too.
Lake Erie and tributaries
In the Barts Cove Walleye Invitational Tournament on Day 1 last weekend, the Forever Fishing team ran to Barcelona from Dunkirk on a flat lake and caught more than 20 walleye and three steelhead. Their total for the three biggest walleye was 20.24 pounds. Everything was caught off a deep rigger and big dipsey divers in 60 to 80 feet of water. Sunday (Day 2) started with 2- to 4-foot waves and rain with thunder and a couple water spouts, so Bob Rustowicz of Cheektowaga, Tom Brunn of South Wales, and Gregg Shelvay of Hamburg (the Forever Fishing team) ran to Van Buren Point, staying closer to the tournament port of Dunkirk. Fishing was a lot slower with the weather and the cold front moving through. They picked away on six fish by 10:30 a.m. and then the fish got lock jaw. The team didn't catch another walleye till 2 p.m. Their three biggest walleyes weighing in at 15.54 pounds for sixth place gave them a two-day total of 35.78 pounds. The team ran Bombers and Yaleye mooneyes to win this event for the second year in a row. Overall runner-up was Dennis Alguire and the Alguire team with 35.22 pounds. Winner of the second day of the contest was Triple Threat, led by Peter Szkalanka with 18.54 pounds for their best three fish and they finished third overall with 33.76 pounds. Meanwhile, John Van Hoff of North Tonawanda hit the lake over the weekend and started fishing out of Cattaraugus Creek towards Sturgeon Point near the international border around 70-71 feet of water. Using 10 colors of lead core line, divers back 200 to 220 on a 2.5 setting, and riggers, they limited out on walleyes in quick fashion. They used all stickbaits – Thundersticks, Bombers and Renosky lures. Colors didn't seem to matter. Out of Cattaraugus Creek, walleyes are being caught around 65-80 feet of water according to Shub Stevens at Catt. Creek Bait and Tackle. Try using purple and watermelon worm harnesses. Anglers also are catching steelhead, lake trout, and brown trout on spoons about 50 feet down. The catfish have been more active on the lake. Fishing from banks and beaches is most productive at night, says Stevens. Raw shrimp is working best.
To show how much things are messed up this year, some early king salmon were caught in the river the last week or two off the NYPA fishing platform in the gorge, unusually early and probably due to a recent cold-water surge after a wind event on Lake Erie. As far as other action in the lower river, Mike Rzucidlo of Niagara Falls reports it has been the same bite for the last three weeks. He has been catching one to three walleyes and five or six smallmouth bass from shore in the gorge using jigs and spinners. The water has a bit of color to it with about 4-5 feet of visibility. Lisa Drabczyk with Creek Road Bait and Tackle in Lewiston says that the crab bite is picking up for bass this week, from Lewiston to the Niagara Bar. A few walleyes are being caught by boaters in the river targeting them. The Niagara River Anglers still have a few openings for a kid fishing contest age 12 and under on Aug. 14 at the club's nature preserve in Porter. If you are interested, call Paul Jackson at 998-8910.
Lake Ontario and tributaries
Capt. Tim Sylvester of Tough Duty Charters reports that he had a nice king salmon bite over the weekend and into Monday of this week, 70 to 85 feet down over 450 feet of water. Spoons on the riggers, meat rigs on the divers and long lines off the back of the boat. He was using 300- and 400-foot coppers with flasher-flies and meat rigs, with both working well. Steelhead, coho salmon and kings were hitting Sunday with a more mature king bite on Monday. He was fishing out deep off Olcott in 450-foot depths and beyond. According to Karen Evarts at the Boat Doctors, greens and chartreuse color patterns for meat heads, flies and spoons were hot this week. Ray Mahtook of Youngstown was fishing out of Wilson over the weekend with some friends from New Jersey, including their grandsons Nick and Tom Destefano at 12 and 15 years of age. They had a blast catching a mixed bag of chinook and coho salmon, as well as steelhead from 325 to 400 feet of water. Dave Lortscher of Doc's Tackle reports he fished both Sodus Bay and Lake Ontario out of the bay over the weekend. The lake proved to be good smallmouth fishing last weekend with most fish being caught in 12 to 22 feet of water. Drop Shot set-ups and Ned rigs worked well tipped with a natural color plastic. A few anglers noted success with a natural color bait with chartreuse tip. In the bay, largemouth bass were king with occasional good pike taken. Flipping creature baits between the weed mats and Texas rigs or drop shots around structure all proved effective according to Lortscher.
Not much has changed since last week. Capt. Frank Schoenacker of Infinity Charters reports that walleye action has been up and down, with inconsistent weather being the biggest factor. He did catch walleyes to 26.5 inches last weekend. The big one was caught on a pink jig by Mark Falkey of Phelps, jigging in 20 feet of water. Walleyes are still going after trolled crankbaits on the south basin according to Capt. Mike Sperry of Chautauqua Reel Outdoors. Hot-n-Tots and Flicker Shads off lead core has been working. Deep diving cranks like Walleye Divers long lining off braid or fluorocarbon are catching fish. Sperry insists getting baits near the bottom. Worm harnesses will catch fish along the weed lines at first light, but plan on catching a pile of white perch. For a chance at a musky, Sperry likes casting Leo jerk baits over and near weeds or work deep diving crankbaits parallel to the weed lines.
Guide Jeremy Newman at Doc's Tackle in Honeoye reports a fantastic week of fishing in the Finger Lakes. Last Saturday on Honeoye Lake, Arcadia Bass Anglers held an open tournament. Jeff Tietjen of Penn Yan won with five bass totaling 16.49 pounds. For that lake, overwhelmingly 13-14 pounds wins an event, so making this total is quite impressive. Crappie and bluegill fishing has been very good and fatheads and rosie reds are still doing the trick. The walleye stocking program continues to show great benefit and anglers targeting them are catching them consistently. On Conesus Lake, Newman says that they are catching smallmouth bass in 9 to 12 feet of water on topwater baits throughout the day. This is very odd according to Newman as traditionally this time of year, bass hang in the thermocline. Heavy jig-and-pig presentations are getting largemouth bites, too. You can also hook up with a drop shot rig. Newman recommends downsizing your bait and let it soak.