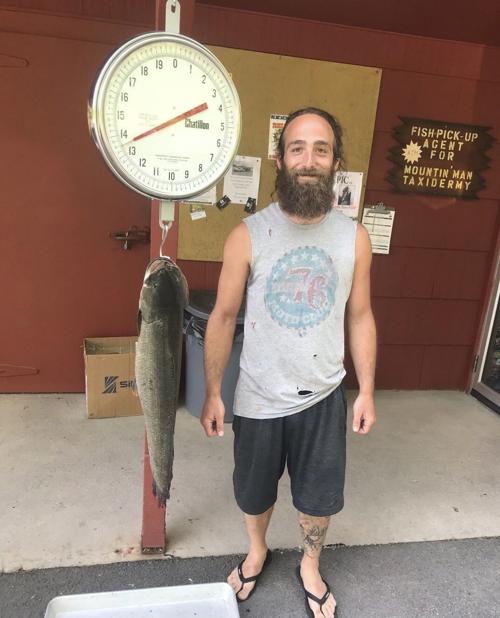 Record bowfin caught in Monroe County
The first state record fish for 2021 has come to the scales, this time in Monroe County. Chase Soptelean of Brockport was fishing for northern pike in Yanty Creek with cut bait when something hit his offering. After reeling it in, he realized it was the largest bowfin he has ever seen. After having the fish weighed on a certified scale June 13, he decided to check the record books. He found that his 13-pound, 8-ounce bowfin beat the previous record caught in 2006 from Lake Champlain by 10 ounces. It measured 30.5 inches. He proceeded to contact the state's Department of Environmental Conservation to begin the process needed to confirm a record fish.
Bowfins are odd-looking fish that are often referred to as living fossils, dating back millions of years. They are native to New York and can be found in slow-moving rivers and lakes. They also can gulp air at the surface of the water.
Reelin' for a Cure Aug. 20
The Six Annual Reelin' for a Cure women's tournament is scheduled to be held out of the ports of Wilson and Olcott on Aug. 20 from 6 a.m. to noon. Weigh-in will take place at Krull Park at 1 p.m. Up to six women can be on a team as they compete for the best six salmon and trout based on total weight. Cost for a team is $250. Some charter captains have donated their boats for teams to use. You can also hire a charter boat or use someone else's recreational vessel. It doesn't have to be a charter captain to compete. A male captain and mate can be used.
The tournament is multifaceted. Foremost, they are fishing for a cure for all women's cancers. The event is a fundraiser with the money going to a particular organization. This year, it is Hope Chest Buffalo. The tournament is also a vehicle for exposing women to fishing. More than 150 women participated last year. This year, more than 30 teams are already registered and tournament organizer Stephanie Pierleoni of Newfane hopes to have a record turnout. For more information, visit www.reelinforacure.com or call Pierleoni at 481-6388.
Fall LOC Derby offers $25,000 grand prize
If you enjoy competition fishing for salmon and trout, you will want to mark your calendar for Aug. 20 through Sept. 6 for the Fall Lake Ontario Counties Trout and Salmon Derby. This is the big one for Chinook salmon with a special focus on this premier fish for this Great Lake.
A grand prize of $25,000 will be up for grabs for the largest salmon overall and the category will feature double the prize structure starting with a $5,000 check for the first-place salmon (runner-up overall). Other species categories will be rainbow/steelhead and brown trout.
Check out www.loc.org for registration outlets and weigh stations, as well as the breakdown of the nearly $70,000 prize structure. Included in the list of prizes is $1,000 in daily awards, $500 for the largest salmon and $250 for the largest rainbow/steelhead and brown trout. For the Fall Derby, minimum weight for a salmon is 25 pounds; 10 pounds for a trout. There are two Lake Ontario Trout and Salmon Association prizes in this derby, too – $500 for each week for the largest salmon caught by a LOTSA member.  
If you were wondering what is happening with the border for anglers and other recreational boaters, Canada Border Services Agency has been sending mixed messages. Here is the original statement:
"Travelers arriving by marine mode will be required to provide proof of a valid COVID-19 molecular test result taken before arriving in Canada. They will also be required to submit their mandatory information including their proof of vaccination and suitable quarantine plan in ArriveCAN before or when entering Canada. If a boat does not land in Canada, doesn't make contact with another boat, doesn't moor or anchor while in Canadian waters, other than anchoring in accordance with the right of innocent passage under international law, the travelers will not be required to submit a pre-arrival test or their mandatory information via ArriveCAN."
We decided to contact CBSAand this was what they told us:  If you plan on fishing in Canadian waters, you must possess a fishing license for the province you will be fishing. In addition, you will need proof of a negative Covid-19 test (no more than 72-hours prior) and have an ArriveCAN application filled out with the closest marina to where you will be fishing. You must also have a full vaccination (with proof), taking all necessary precautions should you encounter border enforcement officials. For more information contact 204-983-3500.
However, a second contact was made with Louis-Carl Brissette Lesage, a spokesman for CBSA, and he said you can now enter Canada for leisure and touring, including pleasure fishing (known as loop movements), however you must not land in Canada, make contact with another boat, continuously remain on your boat when in Canada, and not moor or anchor in Canadian water. The link can be found at https://www.cbsa-asfc.gc.ca/travel-voyage/pb-pp-eng.html#s07.