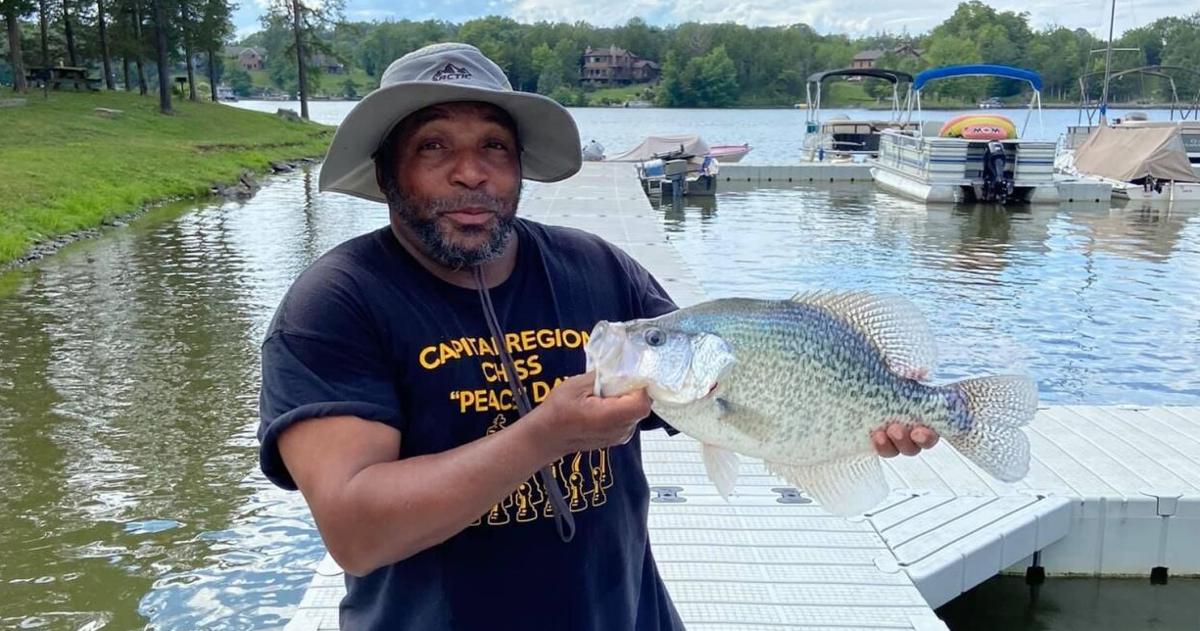 Record white crappie caught
The second record fish for 2021 has been certified by the state's Department of Environmental Conservation. Roy Isaac, 62, of Albany reeled in a 4-pound, 7-ounce white crappie from Sleepy Hollow Lake in Greene County on Aug. 21. For a complete list of state record fish, check out https://www.dec.ny.gov/outdoor/7935.html.
As the story goes, he was fishing in the residential lake, the guest of a friend, off a marina dock. He kept hooking and reeling in bigger and bigger crappies using shiners as bait. Fishing with an ultra-light rod outfitted with 4-pound test line, he hooked into the biggest one of the day, stretching 19 inches long.
Isaac knew it was a big one so he took it to an official scale to weigh it. The previous record was 3 pounds, 13 ounces – set in 2001 in the same body of water, and tied in 2013 with a fish caught in Kinderhook Lake in Columbia County.
Douglas Rods Big Money Open Sept. 18
Bass anglers looking for a big money tournament on Lake Erie that they can fish can start practicing for the Douglas Rods Big Money Open Tournament out of Buffalo on Sept. 18. Entry fee is $400 for this two-person team format. Cortland's Caleb Konrad, one of the organizers, the tournament will be capped at 50 boats. With a full field, first place will be $10,000. The contest will be held out of Sun Life Marinas (Safe Harbor), 1111 Fuhrmann Blvd. from 7 a.m. to 3 p.m. Weigh-in will be at 3:30 p.m. Tournament will be based on a team's best five bass.
This is the fourth of four tournaments being run by Douglas Rods. The first three were in Oneida, Cayuga, and Keuka lakes. Konrad said they averaged about 30-40 teams. No decision has been made as to whether they will allow Canada to be eligible waters. For more information, contact the Douglas Outdoors offices at 315-695-2000 or check out douglasoutdoors.com.
Early Canada Goose season
With sweltering heat and humid conditions, who is already thinking about waterfowl hunting? The first waterfowl season of the year – the early nuisance goose season – begins Sept. 1 in upstate New York. This special season allows waterfowlers to target resident Canada geese and allows for a relaxing of some of the regulations. For example, hunting begins a half-hour before sunrise, but it extends to a half-hour after sunset. The daily bag limit is 15 birds per day per person (except for the Lake Champlain Area, where it is eight). Hunters may use electronic calls during the September season, and they may use shotguns capable of holding more than three shells. However, a semi-automatic shotgun capable of holding more than six shells in the chamber and magazine combined may not be used at any time.
Remember that nontoxic shot is required. Hunters must possess a state hunting license, a Harvest Information Program (HIP) number, and a current Federal Migratory Duck Stamp that is signed across the face of the stamp. The early season extends to Sept. 25. For more information, visit https://www.dec.ny.gov/outdoor/28888.html.
Reelin' for a Cure attracts 40 teams
An event-record 40 teams were registered for the sixth annual Reelin' for a Cure ladies' tournament, held Aug. 20 out of the ports of Wilson and Olcott. Up to six women could be on a team as they competed for the best six salmon and trout for the morning, total weight. Scoring is based on 10 points a fish and a point per pound. A male captain and mate can be used on a team, but they cannot reel in fish.
The winning team was Trolling for Tatas, fishing aboard the Salmonboy with Capt. Joe Oakes of Newfane. The leading ladies were Stacey Austin, Jassy Moberg, Anjolie Plante and Charlene Loeschke, all from Wilson. Their best six fish weighed 116 pounds for a total score of 176 points.  Runner-up was OBLBR, with Capt. Matt Yablonsky of Wet Net Charters at the helm and a score of 161.71 for six fish. Third place was Breakway Babes, fishing on the boat of Capt. Jeff Parrish of Breakaway Charters, with a score of 155.26.
The tournament is a fundraiser focusing on a particular benefactor relating to cancer in women. This year, money raised went to Hope Chest Buffalo. The tournament is also a vehicle for exposing women to fishing. Approximately 175 women participated. For more information, visit reelinforacure.com.