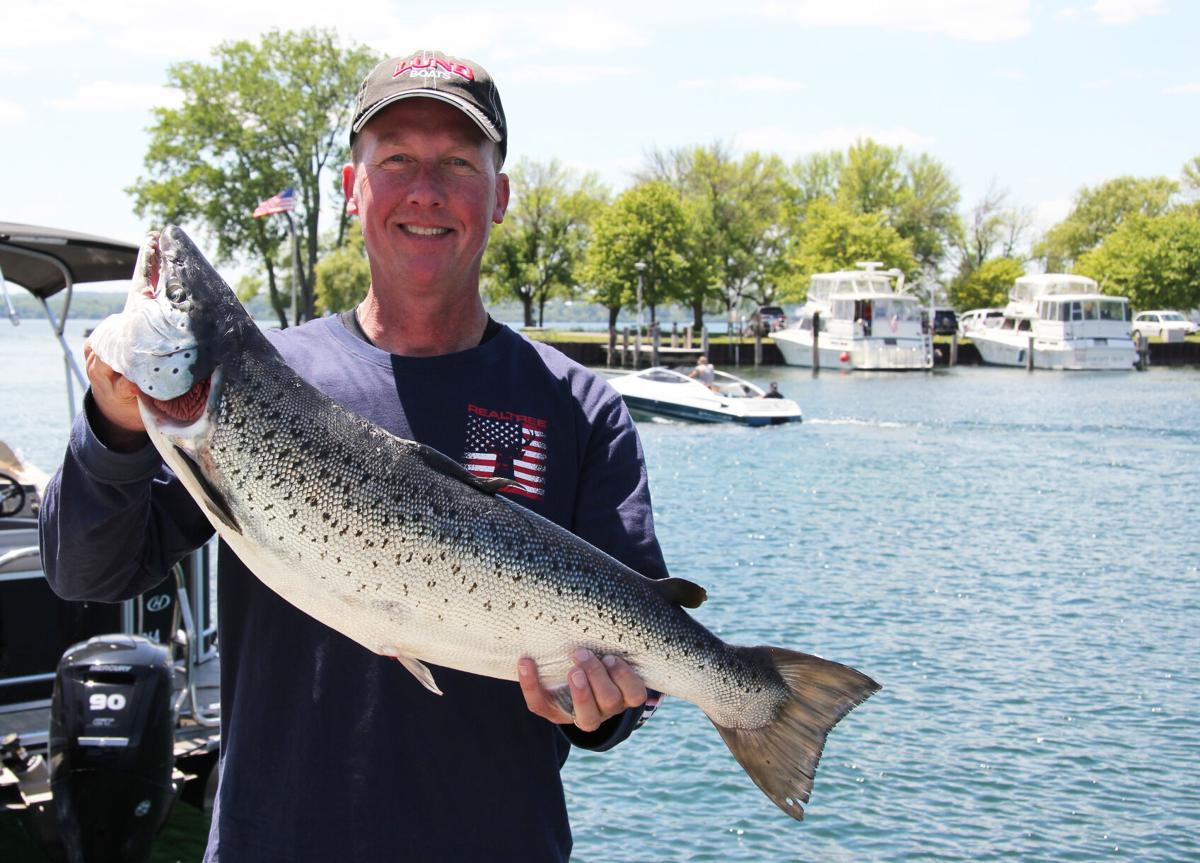 Rest of story for National Lake Trout Derby Winner
Rick Willower of Geneva won the $10,000 prize at the 57th annual National Lake Trout Derby over Memorial Day weekend on Seneca Lake. The landlocked salmon weighed 13.13 pounds.
Here is the rest of the story:
Willower, a state trooper, was fishing with his sons, Jake and Luke; his father, Jerry; and his brother, Scott, on May 30 in 30 feet of water with downriggers and planer boards using small spoons for lures. Suddenly, one of the lures on an in-line planer board went off and started to scream off line from the reel. Willower grabbed the rod and the line broke. However, they could see the planer board floating so they turned the boat around to grab it, reeling everything else in.
When they arrived at the planer board, Willower realized the other end of the line that broke off was still attached to the planer board, and he began to bring the fish to the boat hand-over-hand. He finally brought the winning fish close enough so they could net it. The rest is derby history. For a complete list of derby winners, go to https://www.laketroutderby.org.
Wilson Kids Derby June 19
The 36th Annual Wilson Conservation Club's Kids Fishing Derby is scheduled for from 8 a.m. to noon June 19. You must fish in waters located within Niagara County. Kids ages 3 to 14 may participate. The contest will be based on length. No salmon and trout may be entered. There is no registration involved.
The measuring station will be at the Wilson Conservation Club, 2934 Wilson Cambria Road, Wilson (Route 425) and the awards ceremony will be at 1 p.m. Get your fish to the club by noon. The club will be offering archery shooting for the kids and there will be a raffle for a fishing charter.
Update on Youth Big Game Hunting Pilot Program
With the passage of the state budget last April, a new Environmental Conservation Law was created that allows for a 2-year pilot program in Upstate New York. The law allows 12- and 13-year-old junior hunters to hunt big game with a firearm or crossbow under adult supervision. However, the legislation requires each county to "opt in" to the program by adopting a local law allowing for 12- and 13-year-olds to hunt deer in accordance with ECL 11-0935.
Allowing 12- and 13-year-olds to hunt is nothing new in the Empire State. They have been hunting small game with a firearm for nearly two decades and they have been hunting big game with a bow and arrow for several years – all with adult supervision and other stipulations. One thing they have not been allowed to do is to hunt big game with a firearm or crossbow. New York is the only state that did not allow this for this age group.
Upstate counties across the state have slowly been jumping on the youth bandwagon. As of Thursday, 26 counties have passed local laws, with more on the way. If you would like to see which counties, check out https://www.dec.ny.gov/outdoor/46245.html.
Fishing 411 airs Niagara Bar TV show
Nationally syndicated television show "Fishing 411," with Mark and Jake Romanack of Michigan, was again promoting Western New York this week on the World Fishing Network and the Sportsman Channel with a dynamic show on Niagara Bar spring salmon fishing, filmed last year during the pandemic. If you would like to see the show, check out https://www.youtube.com/watch?v=muC1_uar6CQ or tune in to catch a replay on Sportsman Channel.
The Romanack father-son duo have been regular visitors to the region as featured attractions in the Greater Niagara Fishing and Outdoor Expo held at the Conference and Event Center Niagara Falls (set for Feb. 17-20, 2022), as well as recognizing the waters of Western New York as one of the top freshwater fisheries in the country. They give the "411" on the area and provide tips on how to make your next fishing trip more successful.