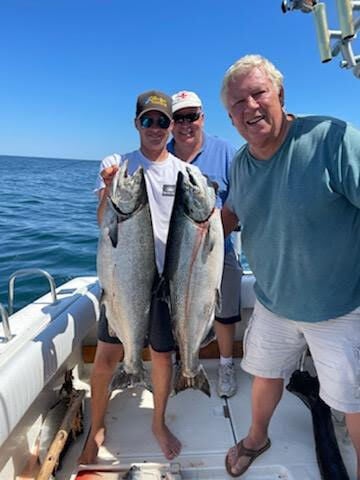 Fish Odyssey expands days
The Greater Niagara Fish Odyssey Derby, to be held out of Erie, Niagara and Orleans counties, is making some significant changes as it enters its 46th year. At the top of the list is an expanded time frame to try to catch a winning fish. This year's contest is scheduled from Aug. 20 to Sept. 5. The species categories will remain the same for the adults and junior anglers. The Adult Division includes, salmon, brown trout, lake trout, steelhead, walleye, smallmouth bass and carp. The Youth Division features salmon, trout (brown, lake and rainbow/steelhead), carp, bass (largemouth and smallmouth), walleye, sheepshead and panfish.
Another change will be the incorporation of a smartphone app called Fishing Chaos. This will be the only way people will be able to register for the event (kids 15 and under are still free; adults are $30 for the entire derby or $15 for one day) and the only way that fish can be entered for the family competition. This year's derby will be based on length, and you must use an approved measuring board to take photos of your catch. This will allow for more fishing time (you don't have to submit your catch to a weigh station) and, if you so desire, you can release the fish after you record the information in the app. You will also be able to fish, and register a catch, 24 hours a day.
Download the Fishing Chaos app on your phone and get started by seeking "Greater Niagara Fish Odyssey" under tournaments. You can also check out the website at www.fishodyssey.net or the Fish Odyssey Facebook page.
Hunting, trapping licenses on sale
The state's Department of Environmental Conservation has announced that hunting and trapping licenses are on sale online and at license-issuing agents across the state as of Friday. Deer Management Permits are also on sale, antlerless options that are available in designated Wildlife Management Units through lottery drawing. When you apply does not affect your chance for selection. The deadline to apply for the first round of DMU permits is Oct. 1.
You can also purchase a license by phone at 866-933-2257. DEC has announced expanded call hours starting this week from 8 a.m. to 7 p.m. Monday through Friday, and from 9 a.m. to 5 p.m. Saturday until Nov. 30.
To apply, you need complete contact information, your DEC customer ID number (if applicable), proof of residency (such as a driver's license or a non-driver's ID with a valid New York address), and a valid credit card. If you are not already entered in the automated license system, individuals are required to provide proof of a hunter or trapper education certification or a copy of a previous license. For more information on the state's available Hunter Education Program, visit https://www.dec.ny.gov/outdoor/7860.html.
Sept. 1 deadline for pheasant program
The state's DEC is accepting applications for sponsored pheasant hunts, but only through Sept. 1. These upland hunts must be free, noncompetitive events that are coordinated by an organization, club, group or individual for youth, women, first-time hunters, veterans or people with disabilities. DEC will provide up to 50 pheasants for a sponsored hunt free of charge.
This is a great way to increase recreational hunting opportunities and promote participation in the shooting sports. Each year, Reynolds Game Farm in Ithaca raises 2,000 additional pheasants for these sponsored hunts. For program requirements and to download an application, visit https://www.dec.ny.gov/outdoor/49071.html.