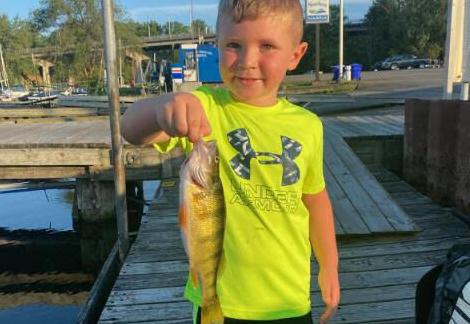 SWA First Responders Day Sept. 11
The Southtowns Walleye Association of WNY will be paying tribute to those people who sacrifice every day all year long by hosting First Responders Day on Lake Erie on Sept. 11. The club is planning for fishing out of all Lake Erie ports in New York waters from 7 a.m. to 1 p.m. At 2 p.m. there will be a fish fry and picnic at the club located at 5895 Southwestern Blvd., Hamburg.
If you would like to fish, contact Steve Haak at 225-0229 or call the club at 649-8202 and let them know which port. You could also contact Haak if you would like to donate your time with your boat on the water. Donations for the event can be made in care of Southtowns Walleye Association of WNY. For more information, check out southtownswalleye.org.
The Lake Ontario Trout and Salmon Association will be holding its monthly meeting at 7 p.m. Sept. 9, returning to its location at the North Amherst Fire Company, 2200 Tonawanda Creek Road, Amherst, for the first time since the pandemic began. The seminar is open to the public and is free. For more information, visit the club's website at lotsa1.org.
Guest speakers are scheduled to be Wade Rowcliffe of Rochester and Scott Rohe of Cheektowaga, discussing fall and winter fishing techniques in the tributaries of the western basin of Lake Ontario. Rowcliffe grew up on Oatka Creek and applies his knowledge to Lake Ontario tributaries such as the Genesee and Oak Orchard rivers. Rohe is a regular on 18 Mile Creek in Niagara County.
Hamburg Gun Show Sept. 11-12
Gun shows are back in business and the next biggie is the Hamburg Gun Show Sept. 11-12 at the Hamburg Fairgrounds, 5820 South Park Ave., Hamburg. Due to the size of this 300-table show, organizers have moved the event into a bigger building next to the gaming facility. Saturday hours are 9 a.m. to 4 p.m. and Sunday hours are 9 a.m. to 3 p.m. Admission is $7. Kids under 12 can attend for free when accompanied by a paying adult.
Erie and Niagara County Pistol Permit clerks will be on site both days. As with all gun shows in New York, a National Instant Background Check must be completed for all gun sales or transfers. If you would like to secure a table, cost is $50 each. Contact Bruce Johnson at 542-9929 for more information or visit NFGShows.com.
Allied Sportsmen Deer Day Sept. 12
Deer season is just around the corner, and it is a perfect time for the Allied Sportsmen 4th Annual All-Deer Tune Up on Sept. 12. The club is located at 12846 Clinton St., Alden, and registration will be from 8 a.m. to noon. The shoot includes 15 3-D deer targets in various hunting scenarios out to a maximum of 35 yards. Range finders are welcome, but broadheads are not. Cost is $12 per round, including five shots at the Sasquatch at 50 yards.
Also, part of the special Deer Day at the club will be the Second Annual Archery Flea Market. Bring your used archery equipment to sell, trade or give away. Contact John Floriano or Kevin Ulrich at 430-1059 for information.
DEC announces deer season
The proposed mid-September antlerless deer season for specific Wildlife Management Units has been approved and will be held from Sept. 11 to Sept. 19. Due to an overabundance of deer in certain areas, firearms hunters will be able to hunt antlerless deer in WMUs 3M, 3R, 8A, 8F, 8G, 8J, 8N, 9A and 9F. Archery hunters also will be able to hunt in WMUs 1C, 3S, 4J and 8C. Deer management permits and deer management assistance program tags only for this new license year may be used for the special hunt.
Daily hunting hours for this season (and moving forward with the new change) is from 30 minutes before sunrise to 30 minutes after sunset. Hunters must wear a fluorescent orange or pink hat or vest when hunting deer (another change). This also allows for 12- and 13-year-old juniors to hunt if the county has passed the new local law allowing them to hunt with a mentor with firearms. For more information, check out dec.ny.gov/outdoor/28605.html#deer.