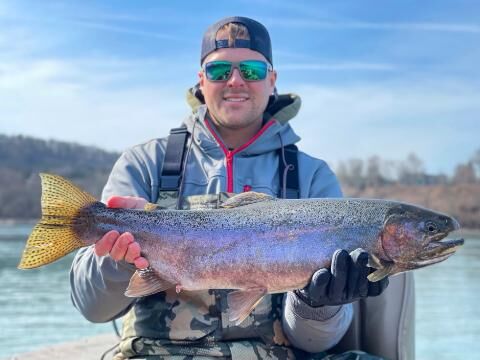 If you are an Empire State bear hunter, or you are a deer hunter who happened to be at the right place at the right time during last fall's big game season, black bear harvest numbers were better than average in 2020, according to the state's Department of Environmental Conservation.
New York hunters successfully tagged 1,723 bruins. In the Northern Zone, 571 bears were taken compared to 326 in 2019. The five-year average is 459. In the Southern Zone, 1,152 bears were estimated to be taken, just slightly off the record total of 1,179 reported in 2019. The five-year average is 1,035 black bears.
Some interesting numbers from last season:
• The greatest numbers of black bears reported on a single day was 116, taken on Sept. 12 – opening day of the early bear season in the Southern Zone.
• The heaviest dressed-weight bear tagged was a 550-pound boar, taken in Greenville, Orange County.
• The number of tagged bears harvested in 2020 was 13. It included two bears from Pennsylvania and one from New Jersey.
• DEC wildlife biologists collected teeth from 911 black bears last hunting season. Hunters who reported their harvest and turned in a tooth for age analysis will receive a 2020 Black Bear Management Coordinator patch.
• The top bear county in the Southern Zone was Sullivan, recording 215 bears. The top county in Western New York  was Steuben with 82 bruins. In the Northern Zone, St. Lawrence County was tops for bears with 122 tagged animals. For a complete black bear breakdown for the season, check out dec.ny.gov/docs/wildlife_pdf/bbrpt2020.pdf.
One sure sign of spring is local fishing groups getting salmon and trout pens ready to accept stocked fish from the Department of Environmental Conservation's fish hatcheries, from Youngstown at the Niagara River in Niagara County to the Black River in Jefferson County and many points in between along the south shore of Lake Ontario. The purpose of the pens is to hold the salmon and trout to a larger size and improve their survival rate. At the same time, holding the fish should aid in the imprinting process so fish will return to these stocking sites.
The Lake Ontario Trout and Salmon Association will again oversee the net pens in 2021, with the project expanded to include nine pens. Five pens will hold the 111,000 Chinook salmon being stocked this year in Olcott. Four pens are expected to hold 17,000 steelhead. This is the first time that all Olcott fish will be held in pens.
If you would like to assist with putting the pens together, show up at at 9:30 a.m. March 27 at the Town of Newfane Marina in Olcott. Other Western Basin pen projects at Point Breeze in the Oak Orchard River, Wilson Harbor (Bootlegger's Cove Marina), Youngstown in the Niagara River, and the Genesee River at Rochester will be announcing plans soon. Salmon and trout traditionally arrive in April via stocking trucks.
If you plan on attending the Olcott work party, dress appropriately and be sure to wear a mask and bring wire cutters.
Hunter education program returns to in-person
The state's Department of Environmental Conservation will be returning to in-person, instructor-led hunter education program courses starting April 1. DEC also will continue to offer online hunter education courses through a private vendor.
In-person hunter education program classes are free and taught by volunteer instructors. Courses will be offered for firearms, bowhunter, trapper and waterfowl hunter education. Registration is required. All in-person courses also require homework to be completed before participating in the in-person class. To register, sign up at dec.ny.gov/outdoor/7860.html.
Zoar Valley rafting begins March 27
Jim Redline with Zoar Valley Canoe and Rafting says the company will begin its 39th year of water adventures March 27 and they will run through May. Whitewater rafting through Zoar Valley, courtesy of increased Cattaraugus Creek flows, is an exciting opportunity. Spring is the best time. It takes from two to four hours to complete the 10-mile trip. If you prefer a milder version, a 6-mile run in the lower section is available.